What is #SecondHandSeptember?
Second Hand September is a campaign, organised by the charity Oxfam, which aims to raise awareness and reduce the environmental impact of throwaway or "fast" fashion.
In the UK alone, 11 million items of clothing end up in landfill EVERY WEEK 😲  But what does that actually mean? 
Based on weight (approx. 300,000 tonnes) that's a sizeable iceberg or a large cargo ship every year. In monetary terms (approx. £140 million a year), it's up there with Euro Million's biggest jackpots, and more than twice as much money as was raised by Comic Relief this year.
And it comes at a huge cost to the environment. Not only in terms of waste added to landfill sites, but also in the form of resources used and pollution created in the production process.  
Oxfam's campaign encourages people to pledge not to buy any NEW clothes for the whole month of September.
How can I get involved in #SecondHandSeptember?
Think you can go 30 days without buying new clothes? Then take Oxfam's pledge.
But there is a whole lot more you can do… Not only to support #SecondHandSeptember, but to live more sustainably all year round. 
Here are our top tips on how to be kinder to the environment and to your wallet, without having to sacrifice on style…
How would you like to get your hands on a share of £30 billion…? 
That's how much unused clothing is estimated to be hiding in wardrobes across Britain. So let's get at it!
As you move from your summer to your winter wardrobe, have a good clear out. You'll likely find that you have a few favourite pieces you wear all of the time. And a big pile of stuff, probably lurking at the bottom or back of your wardrobe, which you haven't worn in years. Perhaps they no longer fit, be that your body or your style, or maybe you never really loved them to start with. Either way, it's time to let go!
And don't stop there. Take a good look around your house too. Ridding yourself of unnecessary clutter can not only give you more space and cash (ka-ching), but will also do wonders for your mood and energy levels. Read more tips on How to Instantly Energize Your Home
Work your way through your home room-by-room. If it's not useful, being enjoyed or loved…it might be time to let go, and let someone else find use and joy in it.
Charity shops will gratefully receive your donations and can be found on most, if not all UK highstreets. Or earn some extra cash to put towards your next holiday, big purchase or household bills by selling your unused items for FREE on Friday-Ad.
You can list items on Friday-Ad in just 4 simple steps: 
Add a title, short description and some pictures
Add your details (location, how you want to be contacted, etc.)
Easy 🙂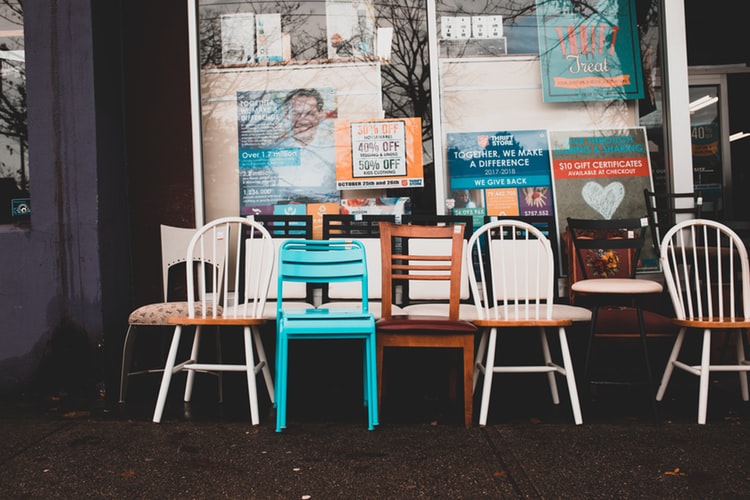 "One man's trash is another man's treasure" – Not only does it feel good to find a preloved bargain, but it makes sense economically and environmentally. 
It's no wonder the second hand market is booming. Due in part to the state of the economy and an increase in ethical buying. It's supported by online marketplaces such as ebay, Facebook and Friday-Ad, which make buying and selling second hand easier than ever.
Not only is buying second hand considered acceptable, but it's bang on trend. It makes a statement about your individual style as much as your stance on environmental issues. And no one wants to be left behind.
Second hand fashion is expected to be bigger than luxury by 2020. Brands are catching on and starting to offer subscription rental services, to secure a share in this market and entice environmentally minded shoppers. Read more on taking a stand against throwaway fashion.
But it doesn't stop at fashion. About a third of consumers say they now buy second hand more often than they were even a year ago, with books, CDs, DVDs and jewellery most popular. Check out our list of 12 top selling second hand items
As a parent, I am definitely fueling this trend. Since my son was born 5 years ago, I have bought and sold more second hand than I ever did before. 
And it totally makes sense, especially for baby and kids' stuff. Whether it's expensive prams and travel systems, car seats, cots, walkers, toys, clothing or bikes, scooters and skateboards – they grow in and out of them so fast, they've barely had time to use them. 
Many of the second hand items I have bought and sold still had labels on, or were in such good condition, you would have struggled to tell they weren't new. And the ones that weren't like new, were still good enough for my little boy. In fact, he loves the hand-me-downs as much, if not more than brand new things. 
Buying second hand enabled me to give him some of the top range products, I would not have been able (or willing) to pay retail price for.
So, if you haven't already, it's time to join the second hand revolution! Before you make your next purchase, think about whether you could buy what you need second hand, and browse Friday-Ad to find some bargains in your local area. Why not give your home a cosy make-over in time for the colder season with our #SecondHandSeptember ideas and interior inspiration?
3.  Upstyle, upcycle, recycle, freecycle ♻️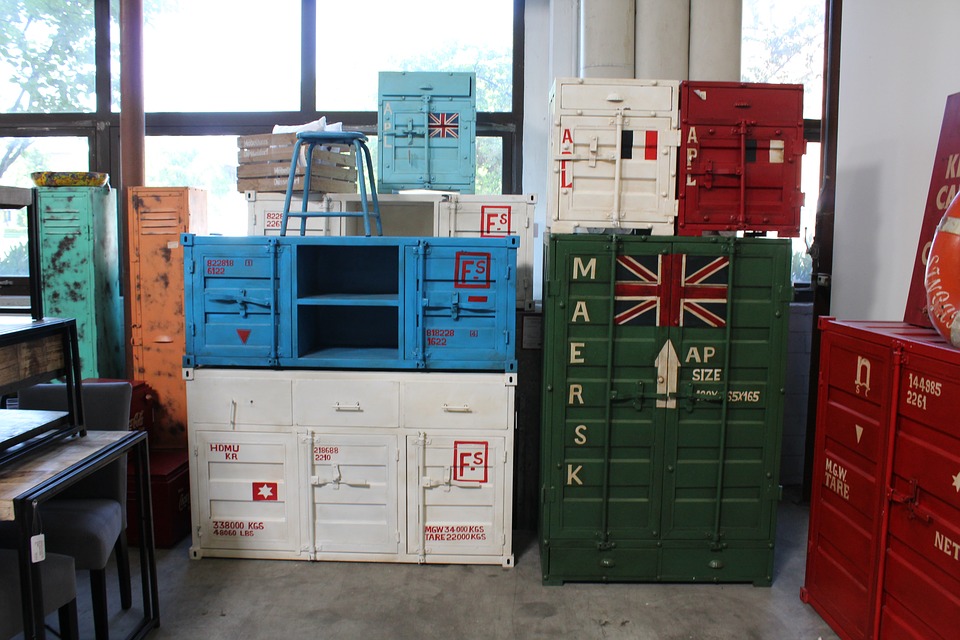 Buying and selling second hand for many isn't just about finding a bargain. Lots of people enjoy giving retro, vintage, antique and even junk items a make-over to create their very own style, and reuse something that still has lots of life in it.
Whether it's upstyling vintage fashion or taking on a bigger DIY project to upcycle some old furniture or build something new out of free to collect pallets, tyres or similar "junk" – salvaging something and adding your own personal touch, ideas and creativity to make something bespoke is immensely rewarding.
Engaging in such creative activities can also help to relax the mind, reduce stress and anxiety, increase self-esteem and give a sense of achievement and satisfaction. 
And the benefits don't stop there. Reusing items not only prevents them from going to landfill. It also reduces the use of raw materials, and lowers air and water pollution and even greenhouse gas emissions created in the production of new goods. Recycling is therefore vitally important for our environment and central to living more sustainably. 
It doesn't have to be daunting. You won't need loads of tools, materials or skills. You can start small, explore, find your own style and see where it takes you…
Check out our blog for upcycling inspiration and guides, or follow us on Pinterest for upcycled fashion and more upcycling ideas to make your home your own.
When you're ready to get started on your first or next project, check out Friday-Ad for materials and tools to transform vintage clothing, furniture or free to collector treasures into something special…
4. Share your Second hand Treasures to WIN £100!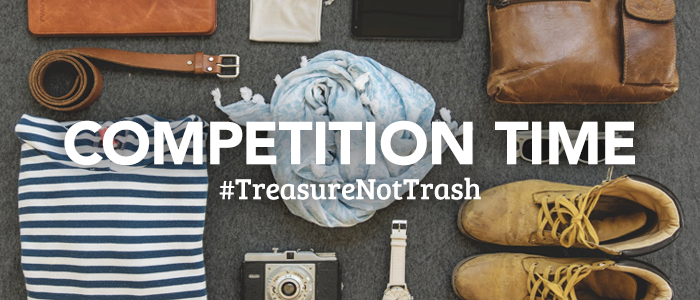 We want you to embrace 'second hand' and inspire others!
Share any of the following on Facebook, Instagram or Twitter with #TreasureNotTrash and tag @TheFridayAd: 
Your

Friday-Ad

listing (e.g. For Sale, Motors, etc.)

Photos (or videos) of:

Second hand bargains you have found

Preloved items you are selling

Past or current upcycling projects 
1st Prize: 
One lucky winner will receive £100 shopping vouchers (in time for Christmas)
They'll be able to choose between £100 worth of vouchers from either:
Love2Shop

to spend at over 20,000 UK stores, restaurants or attractions;

or 

Wearth

an online marketplace selling eco-friendly and ethical UK brands
Runner-up prizes:
Five runners up will each WIN an insulated travel mug made from recycled coffee cups (woohoo!) from Oxfam's online shop – available in white or black.
 Find out more about our #TreasureNotTrash competition.