Stars such as Lewis Capaldi and Kylie Minogue are among the Glastonbury artists that have decided to donate their clothes to Oxfam as part of an anti wastage campaign.
Support against climate change was the primary theme at this years 'Glastonbury Festival' which took place in Somerset from the 26th June. This included contributions from a whole array of celebrities who were on board with taking actions to help save our environment.
Kylie Minogue who was one of this year's main performers decided to donate a sun visor which she had brought to the festival but did not wear on the stage. At the same time rock legend Robert Smith who front lines 'The Cure' gave away a 'Disintegration Era shirt' which he had worn earlier this year at Sydney Opera House.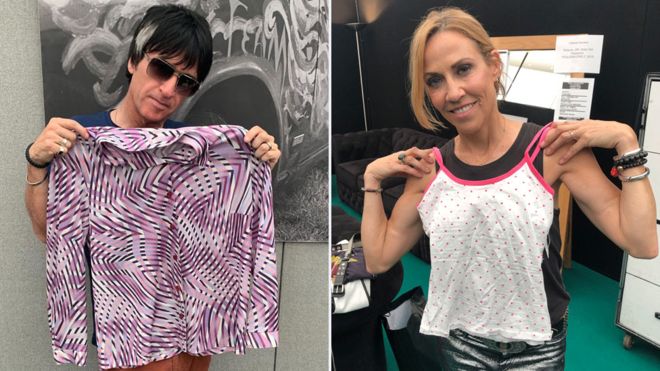 Other Glastonbury stars who joined the campaign included rising pop star  Billie Eilish who donated t-shirts, Frank Turner, Sheryl Crow and Gabrielle Aplin who gave away her fabulous gold sparkly jumpsuit" and explained she wanted "someone else to feel as good in it as I did". She added: "I believe passionately in sustainability. Chucking perfectly good clothes in landfill really has to stop."
Lewis Capaldi also jumped on the bandwagon and so did Loyle Carner, who gave away a T-shirt with "fcuk Boris" written on it.
All of the items donated from these celebrities will be available to purchase on Oxfam's online shop in September as part of their campaign 'Second Hand September' which was launched during Glastonbury Festival with the hope to encourage the public to start buying second hand over brand new to stop wastage, promote sustainability and help those living in poverty.
Could second hand clothing be the next big thing?
Although purchasing second hand clothing is nothing new, according to research, the sector has been growing enormously due to the internet. According to the US fashion resale service 'Thredup', the second hand market generated 360 billion US dollars across the world in 2017. In addition to this, second hand items are growing 35% against just 8% for brick and mortar stores. The study predicts that by 2022, the market is expected to grow to generate around 400 billion US dollars, with fashion (apparel, footwear and accessories) leading the way. 
The industry is booming so much that it could overtake fast-fashion within the next 10 years. The fashion resale market is growing 21 times faster than retail has over the past three years, according to research from retail analytics firm GlobalData.
This is really positive news for environmentalists. Not only this, but this means that fashion enthusiasts with an influx of clothing items could be able to sell their unwanted pieces easier than ever with the rapid growth of buyers choosing to purchase preloved clothing over brand new. Be bang on trend and join the sustainable fashion revolution today. Browse Friday-Ad's fashion section today! Or, if you have clothing to sell, sell it for free today.