'Never let a good crisis go to waste' – Winston Churchill. In challenging times and with an economic recession very likely ahead, now is a time where this Winston Churchill quote is the perfect strapline to follow in helping your business to succeed in the year ahead.
For most businesses, it is clear that the pandemic has had a severe impact on many plans ahead for the rest of the year. However, the businesses or service providers that will manage to succeed during this very challenging time are the ones that use it as an opportunity to refocus efforts, perhaps even reinvent themselves.
The pandemic appears to have exaggerated areas in decline, while at the same time accelerating emerging trends. While some might see this as a bad thing, in actual fact it has forced businesses to rapidly deal with issues and cut costs and inefficiencies much quicker than they would have done otherwise. Businesses have had to be ruthless in many cases, but those that have reacted swiftly and adapted sufficiently will thrive coming out of the crisis; rewarded with much more robust and efficient organisation.
"In many ways the pandemic has only accelerated trends that were already in evidence […] Covid-19 can provide an opportunity […] to refocus […] efforts", says Philip Almond, director of marketing at Cancer Research UK. 
The charity has seen its plans for 2020 greatly affected with £44m worth of research funding already pulled, which Almond accepts is "unlikely to be the last of it", especially with a recession looming.
"It does give an opportunity […] to really look fundamentally at what is working, what is not […] We really have to focus on what's working and getting costs down. It's a chance to get to grips with these issues even more quickly.", Almond concludes.
Top tips from Friday-Ad for small businesses!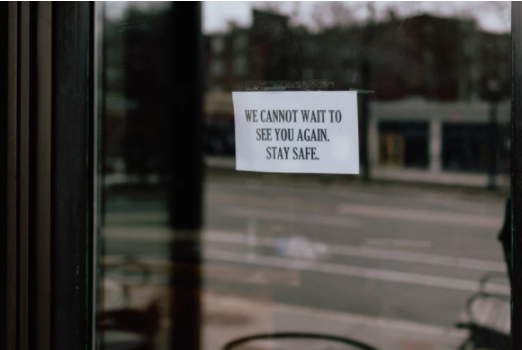 Time to rationalise
It's time to take a long hard look at yourself and be honest about what you do well. What works well and what doesn't? What has taken up too much of your time and effort for too little pay-off for example. This period is a great time to look at your costs and resources and identify what is a must have, what's a 'nice to have' and what's downright frivolous or pointless. Make a list of strengths and how you can build on them, as well as a list of weaknesses and unnecessary costs then plan out how to tackle these. Do you spend too much time taking bookings? But is a receptionist too expensive? It could be time to look at investing in an online booking app perhaps to streamline what you're doing and focus on your business. Are you spending ages trying to attract new customers via social media and advertising in every directory going? Look at where most of your customers come from and don't be afraid to be ruthless with the rest. Rationalising is all about finding value – doing more of what works and less of what doesn't!
Become more tech savvy
For many small businesses such as independent retailers it is now vital to adopt better technology. Many traditional businesses and sellers have been guilty of neglecting this area such as their ecommerce set-up, heavily relying on footfall and in-store sales. This is a big risk to take post-lockdown, with a large chance of there being a second wave of the virus later on in the year (potentially during the otherwise lucrative Christmas trading period). Not only can a good web presence or online shop increase the likelihood of your survival during a second lockdown, adapting your business to be online will open up a whole new audience and many more potential customers. So whether it's survival or growth you're after, online is the way!
Read these case studies of businesses moving online during Covid-19:
How to get your fitness business online
Property Maintenance company moves their expertise online during Covid-19
Invest in powerful marketing!
Now it is even more essential that you engage with your customers and keep them up to date with the products or services you offer. Email marketing for example is an effective way to help get the message across, keep in touch with existing customers, reach out to new customers and build awareness of your brand and business.
Find out why other business owners use email marketing and what benefits small businesses can expect.
Change what you say about your business
As we step into the recovery stage of the pandemic, creating messaging such as 'business-as-usual' may no longer be suitable. You might want to consider adjusting  messaging to be appropriate to the way in which your customers now think about the products and services that you offer, and to suit their current circumstances. A lot of small businesses have had to 'pivot' in various creative ways in order to stay relevant (and in business) during Covid-19. If this applies to your business you should think about changing aspects of your messaging in order to fit your new business model.
Have you started doing deliveries or take-away during lockdown and are continuing to do this? Have you made shopping in your outlet safe and compliant with social distancing? Have you changed your opening hours, the way you take bookings or service your customers? Let people know about it!
Lockdown has been challenging for all of us, and people, including your customers, are struggling with ongoing uncertainty. Make customers feel reassured by showing your awareness as a business to the 'new world' we now live in, and how you are helping to ease the transition. They will repay you with their custom and loyalty.  
What does success look like for the rest of 2020? 
If your business has been impacted by the crisis (and what business hasn't?!), chances are your targets and aspirations for 2020 have changed significantly. Take stock of where you are now, set some new clear aims and a time-frame to deliver them. It's time to dust yourself off and look forward, but be realistic about the challenging times ahead. It's likely to get worse before it gets better, so be selective. Pick a few things that are essential for your business to get right for you to achieve these outcomes. It may now be improving your website's functionality in order to take more transactions online so you might want to invest more time and money into this area. By identifying just a few priorities it will help you focus and channel your efforts and investment. 
Businesses that will turn the Covid-19 crisis into an opportunity and come out stronger, more efficient and more profitable, will do so by identifying necessary changes, setting clear priorities, adapting quickly and effectively communicating with customers, showing their sensitivity and relevance during these challenging times and beyond!
Want to promote your business for free?
Beth is part of the marketing team at the Friday-Ad. She researches and creates much of the content for the Friday-Ad blog and e-newsletters, covering topics from small business advice to upcycling, pet care, fashion and more. She has a degree in Media and Communications, as well as a lifelong passion for animals and running. What Beth loves best (aside from Marmite) is finding second hand bargains and the stories behind them!