Email marketing with Friday-Ad is a quick, easy and low-cost way to flexibly promote your business in your local area and beyond!
Beth is part of the marketing team at the Friday-Ad. She researches and creates much of the content for the Friday-Ad blog and e-newsletters, covering topics from small business advice to upcycling, pet care, fashion and more. She has a degree in Media and Communications, as well as a lifelong passion for animals and running. What Beth loves best (aside from Marmite) is finding second hand bargains and the stories behind them!
Communicating with customers is more important than ever according to the majority of small businesses, captured in a study by IAB UK. Almost two-thirds feel concerned about what the future holds for their business, and 50% believe digital advertising will be vital in supporting their business and recovery post-coronavirus.
There is now more opportunity for smaller businesses to get more value from digital channels such as email marketing. 
According to IAM UK 58% of small businesses are keen to diversify their marketing and communications during the pandemic. One in seven SMEs describe their knowledge of and ability to use digital as 'not good'. This is where advertising platforms such as Friday-Ad can offer support and help small businesses get the digital exposure they require.
Our June offering…
Friday-Ad is here to give extra support to small businesses at this time by offering a FREE email feature to up to 140k readers (worth £50) when you purchase a '28-day homepage premium ad' for just £15 on Friday-Ad! Find out more about this offer
What will you get from email marketing?
Email marketing with Friday-Ad will get your business in front of 1000s of customers in your area. We can target customers you need with our relevant and engaging messaging.
CREATE DEMAND
By proactively marketing your products or services to our engaged audiences, you'll trigger a thought process with thousands of NEW customers, who weren't looking or buying before. 
TURN LEADS INTO BUSINESS
Convert customers straight away with direct links back to your business profile or website embedded in the emails, allowing customers to see everything you have to offer, make a purchase or enquire.
KNOW YOUR CUSTOMERS
Show all you can offer by including different products or services in
the emails. We can tell you what customers responded to, so you can understand what your customers want. We'll deliver a completely transparent report from how many customers opened your email to how many responded by clicking through, so you know how your investment paid off.
GET THE BEST RESULTS
Depending on which email package you choose, we can help you design and build your email free of charge. We use our expertise to deliver the best results possible and grow your brand to a whole new audience. 
Examples of email marketing on Friday-Ad…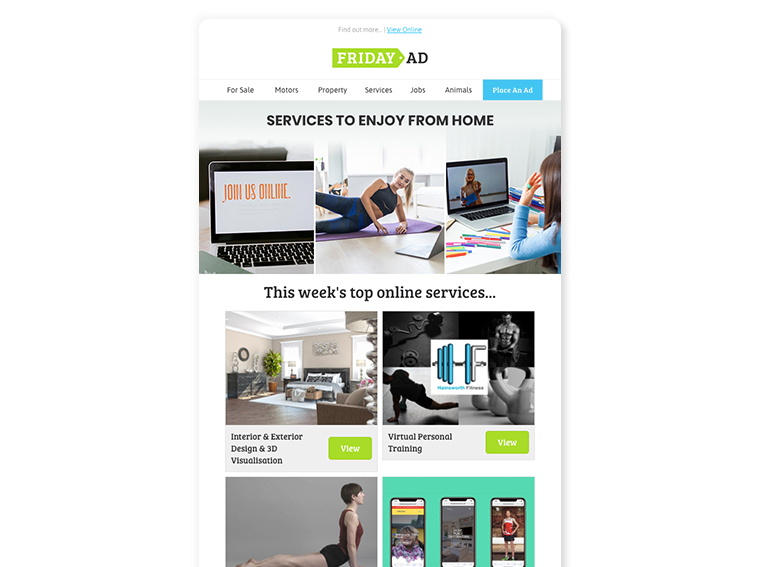 Email advertising slots..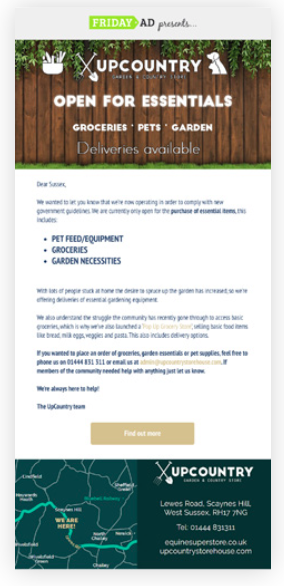 Get ahead of the competition, grow your business and increase your profits!