With all of us spending many more days at home. Now more than ever is the perfect opportunity to improve the look of your garden and most of the days you spend there! Upcycling is a great way to creatively re-use anything at home that could be going to waste and make it into something more special. We spoke to professional upcycler Kristen Hubert who has some brilliant upcycling ideas to freshen up your garden this summer!
Kristen Hubert is a blogger and small business owner who is passionate about upcycling and helping small upcycling businesses.
Upcycled Cot – Garden Bench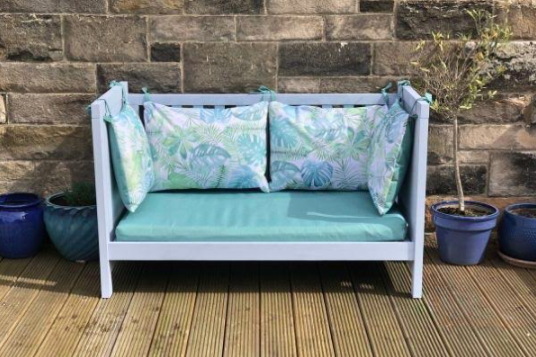 I love all my upcycled planters, but the big money saving project this year has been my upcycled cot bed garden bench! I started with my son's wooden cot bed – the type that is designed to turn into a junior bed. I started by taking off one side.  I then painted it with outdoor garden chalk paint in a summery pale blue shade. I used some equally summery waterproof fabric to create a cover for the existing mattress (which became the seat cushion) as well as some tie-on cushions for the back and sides.  I am beyond pleased with how this turned out and it is so comfy with all the cushions.  Full tutorial here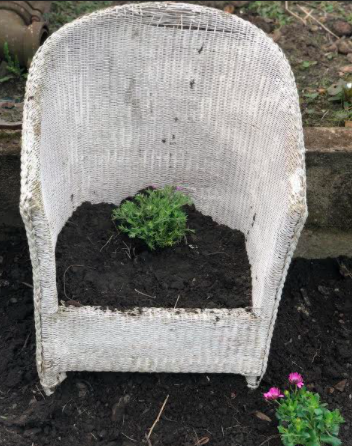 I turned two very different broken chairs into two very different garden planters.  One was a dining chair that had had multiple repair jobs but just wasn't holding up and the other was an old wicker chair that had lost one of its legs!
I removed the seat from both, one with a screwdriver, the other with a hammer (very satisfying!) and experimented with two different ways to turn them into planters. For the wicker one I dug it into the ground and essentially filled the seat with earth so the plant is still really growing in the ground.  For the dining chair I gave it a lick of paint and a base and planted up a succulent garden.
You can get all the instructions for how I made both chair planters here.  
I like them both but because the plant in the wicker chair still has some growing to do before it gets looks impressive the succulent chair garden is my favourite just now – instant gratification!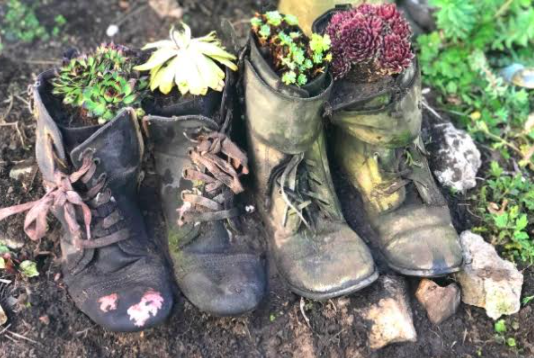 While I was on an upcycling planting roll as it were, I decided to return to an old project from last year that didn't entirely hold up.  I had four old leather ankle boots I had turned into boot planters last year.  
They worked great initially, but unfortunately, we have a fox (yes a fox!) that lives in a den at the end of our garden (we live in the middle of a city too!).  She thinks my boot planters are brilliant playthings and has battered them about no end.
So I decided to do some boot planter reinforcement work. I joined them all together (safety in numbers!) on an offcut of pallet wood which I then dug into the ground for extra security.  
looking for more upcycling tips?