Bhavik Soni is a Creative Writer at Auto Monkey, where you can find the latest social media trends, news, analysis and tips on how to use Twitter, Facebook and other social media tools to promote your business
Pinterest is a force to be reckoned with and a useful tool to help you promote your business – easily, effectively and cheaply. What's not to love?! 
The platform has over 459 million monthly active users (= lots of people 'hang out' there) and it's growing rapidly. Pinterest is a great place for people to save and share products, trends, inspiration and ideas that they love. For businesses, Pinterest offers access to new potential customers and a way to engage with existing ones. 
The impact of COVID-19 has digitised much of our lives and increased the importance for small and large businesses alike to "go online". In order to succeed in the new "digital first" world, you need to engage with customers where they spend most of their time – online. Maintaining a strong and active presence on Pinterest can help you do that.
It makes perfect sense for a business to use the platform to market itself, just like it uses (or should use!) other platforms like Instagram and Facebook. But you can use the platform to promote your business using a personal account, so what are the benefits of using a Pinterest business account? 
Advantages of business over personal Pinterest account
1) It's free and legally required
The cost of setting up a Pinterest business account from scratch or converting your personal Pinterest account into a Pinterest business account is zero. You will get access to a lot of features which are simply not available to personal account users. 
If you want to use Pinterest to make money, either for building your brand or by driving traffic to your website, then you're required to set up a business account and agree to Pinterest business-specific terms of service.  
2) Format more suited for a business account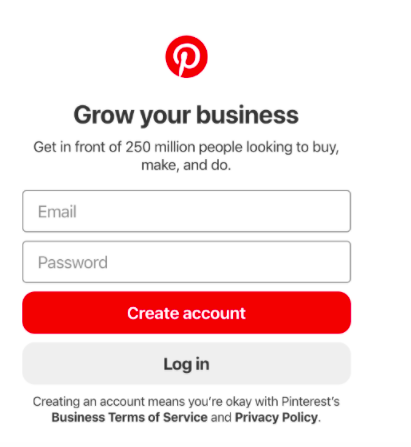 is about how easily people can people discover your content (be it goods or services). 
A Pinterest business account enables you to display all your latest pins in a visually stunning interface on the header of the page your header more commonly known as the profile cover. 
A business account will look more professional when compared to a personal normal Pinterest account. The user interface also is a lot more user friendly which generates traffic for your business account. 
3) More visible account information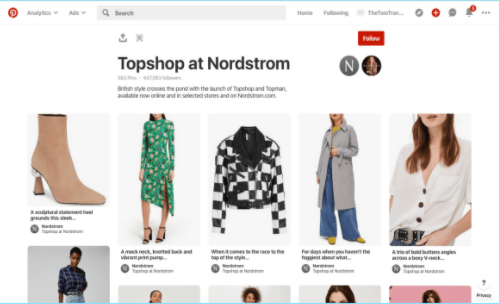 A business account will give you bold and big text font for the name of your business, a much bigger display picture, bigger location text, bigger about you text along with your website link in a big and bold font. 
The big and bold text format allows people and other businesses to easily spot the details of your business like name, location, what you provide. This makes them more likely to clock  click on your profile and check out your business when compared to other less detailed Pinterest accounts. 
4) Custom business Name
A personal account has a limitation of names. While your original name never changes, the name of your business can change many times over the course of the business.   
In the personal account, you have to fill in the first name and last name columns and there are strong limitations to edit your name. On the other hand,if you have a Pinterest business account you have the option to create a custom business name. 
5) Drive website traffic
If you have a website to promote then the Pinterest business account is the best solution for you for the simple reason that you will be able to include the address of your verified website on your Pinterest business profile. Businesses who have opted for a Pinterest business account over a personal normal account have reported substantially higher traffic to their websites from Pinterest. 
Besides, a business Pinterest account allows you to userich pins', a certain type of pin that contains more information when compared to good old-fashioned normal pins. 
The extra information included in rich pins makes it more actionable to users. Such pins by showcasing more information about your product or service make the users more likely to click, which leads to more traffic on your Website. 
6) Access to Pinterest Analytics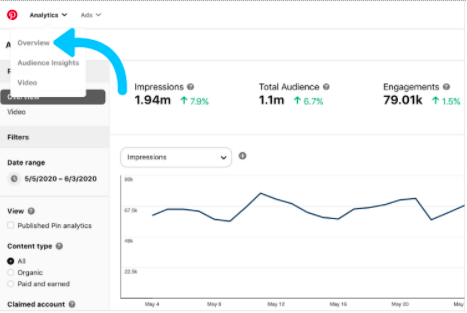 This is the best feature of a Pinterest business account without a shadow of a doubt. With Pinterest Analytics, you can view a whole range of parameters and see how your business account is performing. For example, 
Individual Pin Analytics:

Every Pin is important and analyzing how well it performs in the field is even more important. This is an important part of trying to find out what worked and what didn't work. Each Pin has certain metrics that tell you how well they are doing like- Saves, indicate the number of times users have saved your pin. It also shows you 'click analytics' which indicates that users have shown interest in your Pin. 

Audience Insights:

In the Audience Insight section you can view the details on your audience likes the most popular categories and their related interests. You can find the gender variance, age distribution, locations (Both national and international) and what type of devices your audience uses to view your Pinterest business account. 
Besides the above metrics, you get access to engagements, impressions, save rate, total audience, video views, monthly views, and a lot more. Having a birds-eye view of your analytics is a great way to find what content is working and what is not. This gives you the required data to change your marketing strategy if things are not working out. 
To view these analytics go to your profile page where you will find an analytics button on the left side.
7) Running ads 
One of the best benefits of using a Pinterest business account is the ease of running ads and promoting your Pins. You can build ad campaigns around generating traffic, brand awareness, conversions or focus on a super niche genre with your ads. 
Wrapping it up
Pinterest gives a higher return on ad spend for retail brands compared to the rest of social media platforms and one of the most efficient costs per conversion rates among various social media platforms.
Do you run a business or service and want more people to know about you? Target the right customers by advertising for FREE on Friday-Ad…