Weekend jobs are popular choices for students and for people looking to earn a bit more cash on top of their regular employment. Many employers, such as high street retailers, cafe's, restaurants and pubs specifically advertise for weekend help as this tends to be the busiest time of the week for them. There are plenty of weekend jobs available, so if you are thinking of applying for a weekend job check out our list of the top 5 most popular choices.
Retail Work. Retail work is the most popular weekend job choice. Retailers find themselves busiest over the weekend as many people who work during the week do their shopping over the weekend, so there is always plenty of weekend jobs available. There is a wide variety of choice within the retail section, if you are interested in fashion then you could apply for a position within a clothes store. If games are more your cup of tea then then you could apply at a gaming store and so on. Working in retail gives you invaluable experience future employers will be looking for, so even if you want to enter a completely different field of employment, retail work will still look good on your C.V.
Bar work.  Bar work is the second most popular weekend job option. Nightclubs and Pubs are always busiest over the weekend when many people hit the tiles to blow off steam from their working week. If you are interested in bar work then you must be prepared to work late nights in a busy environment. It also helps if you are a people person and are comfortable in meeting and working with new people. Bar work is a great option if you are hoping to hone your people skills and looks great on a C.V if you are intending to enter a public relation role or the entertainment industry. Bar work can provide valuable experience such as timekeeping, working under pressure and gaining interpersonal skills.
Restaurant work.  Restaurant work is another popular option for a weekend job. As with bars and clubs, restaurants see a spike in trade over the weekend when most people have more leisure time. Working as a waiter, waitress or other associated roles is a good way to get your foot in the door if you are considering a career within the industry. Many top Restaurant owners and Chefs have started as waiting staff and worked their way up from the bottom- and gained valuable experience of all the different compartments within the restaurant industry as well, which has helped them achieve success within the industry. Restaurant work will provide you with a wide variety of skills, including customer service, people skills, how to work effectively under pressure and time keeping skills that will be much sought after by future employers.
Creative weekend money earners. If earning a little extra money is your goal and you have a creative talent, it would be a good idea to turn your hobby into a business opportunity. Homemade gifts, such as cards, candles, cakes, picture frames and paintings are very popular so there is a vast creative market people can find their own niche in.
Odd jobs or Domestic Help. Offering your services to others who do not have the time or ability to perform chores or certain jobs is a great way to earn some extra money. From mowing lawns, to dog walking, babysitting, taking in extra ironing or using your own skills and abilities to help others.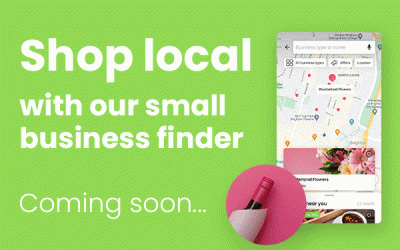 Our Friday-Ad app is launching an exciting new feature exclusively for Brighton. A new 'small business' finder!This is to coincide with Small Business Saturday, an event which takes place on the first Saturday of December for small businesses to run any offers.Our...
read more