Brighton born and bred Charis Williams (AKA The Salvage Sister) is a designer and TV presenter who has featured on Channel 4's Fill Your House for Free and UKTV Home's The New Reclaimers. She is extremely passionate about saving furniture, textiles and raw materials from landfill. She uses her eye for colour, pattern, shape and design – along with her creative flare and self-taught know-how – to the undesirable & unwanted desirable again.
Find yourself a vintage suitcase and get busy! The one I have here is pretty sturdy and has a hard backing, so there was no need to strengthen it. If yours is too flimsy to hold the weight of the shelves you may want to think about a hard backing.

I used some offcuts of wood to make shelves that fit snuggly inside the case and some 'ski' brackets.

I worked out where I wanted the shelves to sit and made sure my wall fixings would be covered by the shelves. I fixed the suitcase to the wall by drilling holes in the wall and using raw plugs and screws, I also put metal washers on the back over the screws to strengthen the hole and make sure the holes in the suitcase would not have too much pressure exerted on them.

Once my suitcase was on the wall I took my ready make shelves and brackets and then fixed them in place using brass flat head screws which complimented the look of the vintage case.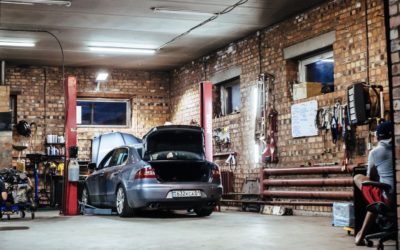 We all know how important it is to go to the doctors for a checkup to make sure everything is running smoothly. Well, the same goes for our cars! When a car is designed, manufacturers set out a service schedule for the car, which they believe will keep it running...