We're celebrating the launch of our brand new Friday-Ad buying and selling app! 🥳
It's only been around for a few weeks, but the app's already had several thousand downloads. Our early users love it, and we've had some great feedback!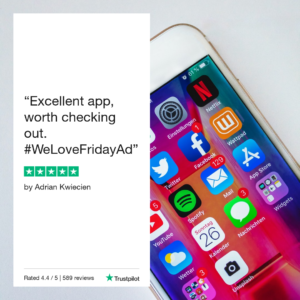 The app currently features over 24,500 ads from the Friday-Ad For Sale section. It's FREE to place an ad via the app, and all ads will automatically also appear on the Friday-Ad website, giving seller more eyeballs on their ads. 👀
Equally any ads placed in the For Sale section on the website will also show in the app. Premium ads and boosters are currently only available on the website.
Nearly 2,000 ads have been placed via the Friday-Ad app since it went live, and ads viewed over 33,000 times, with some 15,000 product searches performed.
The app makes buying and selling locally easier than ever, as you can now: 
Place ads in seconds straight from your phone
Safely chat with buyers and sellers through the app
Get new product and message alerts sent straight to your phone, so you never miss out on products you love 
More features coming soon…
We'll be looking to add more product categories and app features in the coming weeks, so watch this space! 
Coming soon: Dedicated sections for "Free to collector" items and Motors  
Find out more about our new app or download it now and try it for yourself.