Turn your Clutter into Cash ££ 💸
and win £50 to boot!
Buying, selling and sharing locally has just got even easier thanks to the Friday-Ad App! 📲 Place a FREE ad in seconds straight from your phone. Chat to local buyers and sellers safely via in-app messaging. Get handy alerts on the go, so you never miss out on items you love, or a quick sale.
We'd love 💕 you to try our app for yourself to see just how easy it is. That's why we're offering you the chance to WIN £50 just for listing something for sale via our new app. It couldn't be simpler!
Let's be honest, we could probably all do with a good clear out right now. So grab your phone and snap 📸 what you no longer need, or maybe never needed in the first place…? 🤔 Then list your unwanted presents and unused stuff for sale with the Friday-Ad App to start turning your clutter into cash £££. 
Need a little extra motivation? We've got you covered! To help get you started, we'll enter you into a draw to WIN one of three £50 Amazon gift vouchers every time you list an item for sale via the Friday-Ad App. Bish, bash, dosh! 💸💸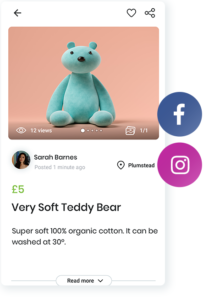 Get started now:
1. Grab your phone and download the Friday-Ad app, if you haven't already. 
2. Snap what you'd like to sell and place a free ad in seconds straight from your phone.
3. That's it! You're in the draw to win £50.
Want a quick sale? Share your ad with people you know on social media or via WhatsApp to get even more views. Just follow the prompts in the app.
Terms & Conditions
This Competition is op to entrants must be aged 18 years or above and resident in the UK.
Entrants into the Competition shall be deemed to have accepted these terms and conditions.
To enter the Competition, place an ad via the Friday-Ad app.
The Competition runs from 20 November 2020 until midnight on 31 January 2021. Entries received outside this time period will not be considered.
Three winners will be selected at random from all valid entries received. The Organiser's decision is final and no correspondence will be entered into.
The winners, who will be announced by 12th February 2021, shall be the owners of the Friday-Ad accounts used to place the adverts.
The three winners will receive an electronic £50 Amazon gift voucher each. No alternatives or cash prizes are available. We retain the right to substitute the prizes with other prizes of similar value in the event that the original prizes offered are not available.
All winners will need to supply their full name, address and contact details, on request by The Organiser, to claim their prize.  Failure to respond or provide the necessary details within 5 working days of the Competition closing, will result in the prize being forfeited.
By submitting an entry to the Competition, you grant Friday-Ad:
Permission for your entry to be published on the Friday-Ad website, blog and social media pages including but not limited to www.friday-ad.co.uk, blog.friday-ad.co.uk, Friday-Ad's Facebook, Twitter, Instagram and LinkedIn pages. You grant Friday-Ad a non-exclusive, irrevocable, royalty-free, worldwide, perpetual license (with a right to sub-license) to use, republish, edit and/or modify your Competition entry in any/all media (including in electronic format, hard copy and in Friday-Ad publications) for purposes connected with the Competition and as described in these Terms and Conditions; and
The right to use your name, location and your social media handle for the sole purpose of identifying you as the author of your entry and/or as a winner of the Competition.
You own the copyright to your Competition entry as its author. Your entry must be your own advert on Friday-Ad, must not be copied, and must not show inappropriate or dangerous behaviour, or otherwise be obscene, defamatory, distasteful, offensive, or in breach of any applicable law or regulation. If we has reason to believe your entry is not your own or otherwise breaches these Terms and Conditions, then The Organiser may not consider it and may disqualify it.
Entries on behalf of another person will not be accepted and joint submissions are not allowed.
We take no responsibility for entries that are lost, delayed, misdirected or incomplete or cannot be delivered or entered for any technical or other reason.
No purchase is necessary.
The winners may be required to take part in promotional activity related to the Competition and the winners shall participate in such activity on The Organiser's reasonable request. The winners consent to the use by The Organiser and its related companies, both before and after the closing date of the Competition for an unlimited time, of the winners' voice, image, photograph or video and name for publicity purposes (in any medium, including still photographs and films, and on the internet, including any websites hosted by Friday-Ad and its related companies) and in advertising, marketing or promotional material without additional compensation or prior notice and, in entering the Competition, all entrants consent to the same. 
The Organiser shall use and take care of any personal information you supply to it as described in its privacy policy, a copy of which can be seen at https://www.friday-ad.co.uk/privacy-policy/, and in accordance with data protection legislation. By entering the Competition, you agree to the collection, retention, usage and distribution of your personal information in order to process and contact you about your Competition entry, and for the purposes outlined in these terms and conditions.
The Organiser may pass entrants' details to third parties and/or otherwise engage third party providers in connection with this Competition where the third party is acting on The Organiser's behalf for the purposes of administering this Competition and/or any subsequent publicity, and/or for the purposes of sending you The Organiser's marketing materials; and/or as otherwise required by law. 
The Organiser of the Competition is the Friday Media Group, whose registered office is at London Road, Sayers Common, West Sussex, BN6 9HS. Any complaints regarding the Competition should be sent to this address. Facebook, Instagram and Twitter are not sponsoring or otherwise involved with this competition. 
The Organiser accepts no responsibility for any damage, loss, liabilities, injury or disappointment incurred or suffered by you as a result of entering the Competition or accepting any prize. The Organiser further disclaims liability for any injury or damage to you or any other person's computer relating to or resulting from participation in or in connection with the Competition. 
The Organiser reserves the right at any time and from time to time to modify or discontinue, temporarily or permanently, this Competition with or without prior notice. The decision of The Organiser in all matters relating to the Competition is final and binding and no correspondence will be entered into.