If you're looking to sell your car and want to get the best possible price, you should explore the option of selling it privately. While trading your car in when you buy a new one or selling it to a car buying service requires less effort, you will get a much lower price.
A little extra effort can go a long way in getting a fair price for your car and there are some simple thing you can do to increase the value of your old vehicle. This guide shows you how you can sell your car in 10 easy steps, making sure you get the best deal. It will take you through the following steps:
We've also included a checklist summarising the steps.
Please note that your car must be roadworthy and that you must have the right to sell it.

Step 1: Value your car
In order to work out a realistic price for your car, the first thing to do is to check the prices of other similar cars being advertised privately. It is easy to do this online by looking at adverts on sites like Friday-Ad, Gumtree and eBay.  
Try Autotrader's online tool which will give you an estimate as to how much your car is worth based on the make, model, age, and mileage.
It might also be worth checking out some adverts in specialist magazines, especially if your car is a more expensive vehicle, a specialist vehicle or a sports car.
Make sure you value your car realistically but competitively. Once you have an idea of how much your car might be worth you can set a target price for yourself. It is worth advertising the car at a little above this figure as buyers may want to negotiate so they feel they are getting a good deal from you.

You should note that you can't sell a car with outstanding finance. This must be settled before you can proceed with the sale.
Step 2: Get your car ready for sale
One of the easiest and most effective ways that you can add to your car's value is to present it well. A clean car free of too much wear and tear will convince a potential buyer that it is in good condition and has been well looked after.
Give your car a clean on the inside and out. Get rid of any rubbish and make sure you remember to give it a good hoover. A professional valet service could well be worth it.

An air freshener is a small expense that can make a big difference to your interior – this is especially important if you have a dog that travels with you in the car sometimes.

Check the oil levels, screen wash, coolant and brake fluid. Top these up if necessary.

Check that all the lights are working, including the indicators, brake and reverse lights.

Is there anything in your car that is showing particular wear that could be replaced cheaply? For example, a new set of mats could make a huge difference and won't cost you an arm and a leg.

Make sure you check your tyres. Get yourself down to a petrol station (you'll need enough fuel for a couple of test drives anyway) and make sure the tyres are properly inflated. Make sure that the tread depth of each of your tyres is at least 1.6mm and double check that you've got a spare ready for action.

If there is any damage to the paintwork, alloys or there are any noticeable dents, it might be worth getting these repaired. This is likely to make a big difference with newer or expensive cars, however, older cars are less likely to increase much in value by having some chips repaired. Do your research before you book non-essential repairs like these in and make sure you will make your money back.

Is your cars MOT coming up? If it is, it might be worth getting that done before you put your advert up. Cars that have had a recent MOT and service are more attractive to buyers. As a general rule, if the car will need an MOT in the next three months, get it done before you sell it.

A step that is often overlooked is to clear your entertainment or Bluetooth system of any of your data. Cars are getting more and more sophisticated hands-free, entertainment and sat nav systems in-built. If you have a newer car with any of these features, you should definitely wipe them of any of your details. If you forget to do this, you could unwittingly reveal the details of your phone contacts and the locations of the homes of your friends and family.

If you follow these steps, you could really impress a potential buyer and you might add hundreds of pounds to the overall value of your car.
Step 3: Find all the relevant documentation
It is important to gather all the relevant documents for your car before start advertising and inviting buyers to test drive it. Dig out the car handbook, MOT certificates and service records dating back as far as you can find, and any other service or maintenance records for any major work on the car. You can get any MOT and service certificates stamped retrospectively if these are missing. You'll need to hand all of these over when you sell the car and it will save you searching for them in a rush (if you haven't already got them neatly filed away of course).

While these documents are proof that the car has been properly maintained and looked after, it is important not to let buyers make copies of these before you have sold the car to them.  
Step 4: Where to advertise your car
The easiest way to advertise your car is online. There are many sites where you can place ads. Here are some of the top examples you might want to consider:
Of course, we recommend Friday-Ad as a great place to advertise your used car. It's free to put your car on the site which attracts millions of visitors every year so your ad will be seen by plenty of potential buyers.

Other options include eBay which will allow you to auction your car (you can set a minimum purchase price to avoid disappointment here) or sell it for a fixed amount.

Gumtree is another popular option for used cars.

Don't discount other options such as print advertising or even sticking a "For Sale" poster in your car window if you don't need to make a speedy sale. The disadvantage of advertising in print is that you don't get as much room to show off pictures of your car.
Step 5: Post your ad
There are some things that your used car advert must include:
Make of vehicle

Model of vehicle

The year of manufacture

Colour of vehicle

Condition of vehicle

Details of when the car had its last service/MOT
Be as accurate as possible when you're describing your car and avoid making any false claims. Make sure that it's easy for interested buyers to contact you and include the city or area that you live in so that local buyers can find you more easily.
Photographs are an essential part of your advert so include lots of them. Take several of the exterior of the vehicle from different angles and get some clear images of the boot, the front of the car and the rear passenger area too.

Make sure you don't give details away in your advert or over the phone such as your car's vehicle identification number which could allow your advert to be cloned.
SELL YOUR CAR ON FRIDAY AD FOR FREE
Step 6: Test drives
When it comes to meeting interested buyers, remember safety first. Always take full contact details when a buyer is coming to meet you (including name, contact number and address) and meet somewhere familiar to you, ideally your home.
Before allowing anyone to test drive your car, check that they are covered either by your insurance or their own. You might need to get some temporary insurance to cover the test drive. Also, ask to see a driving licence. Genuine buyers will completely understand your caution here and should be happy to do so.
Always accompany the buyer on the test drive and only give them the keys once you are in the passenger seat.

If you are at all nervous about this prospect, ask a friend or family member to come too.
Step 7: Negotiations
If you have taken the advice in Step 1 to price your car a little above what you feel your car to be worth, you should have a little room to do some haggling. If a buyer successfully negotiates with you, they will feel that they have bagged a bargain and you will still have the price you want. If a buyer refuses to offer a reasonable price, stand firm. There will be other buyers.

Step 8: Payment
Never hand over the keys until you are certain that the payment has been made in full. Perhaps the best way to take payment is via an online bank transfer. These can take place almost immediately these days.
If the buyer wishes to pay in cash, consider arranging to meet at the bank and for them to hand you the money there and then. You can then deposit this straight into your account.
If the buyer wants to pay by cheque, wait until this has cleared before you hand over the keys. Remember that even if the funds are marked as arriving in your account, they have not cleared until they become available to you.

Be very wary of offers to buy your car without it being seen in person or a payment method you're not familiar with. You can check the FSA register of payment services which are authorised in the UK if you're not sure whether or not to trust a payment method.
Step 9: Receipt
If you've made a successful sale, congratulations! But don't let them drive off just yet. Make sure that you print off two copies of a seller's contract and make sure that you and the buyer sign and date both copies. This downloadable contract from the AA is a readymade document that will do the job. Give one to the buyer and keep one yourself as proof of purchase.
Along with the receipt, hand over the car's handbook and the keys. Make sure that they also take MOT certificates and the servicing history with them too.
Give the buyer the V5C/2 section of the vehicle's proof of keepership document. This will suffice until the DVLA records are updated

Make sure that you hang on to the buyer's details (the full name, number and address that you took when arranging the test drive) with the receipt.
Step 10: Who you should notify
The final step is to tell the DVLA that the vehicle has changed hands. If you don't do this, you might end up with the new owner's driving offences.
The easiest way to do this is online. Fill out the form on the government's website and their records will be immediately updated. They'll also send you a refund for any unused vehicle tax, usually through the post in the form of a cheque.
If you prefer, you can send your physical V5C form to the DVLA via the post and they will update their records from this. This does take a little longer, however.
Don't forget to inform your insurer that you have sold the car too.
We've summarised this information in a handy checklist.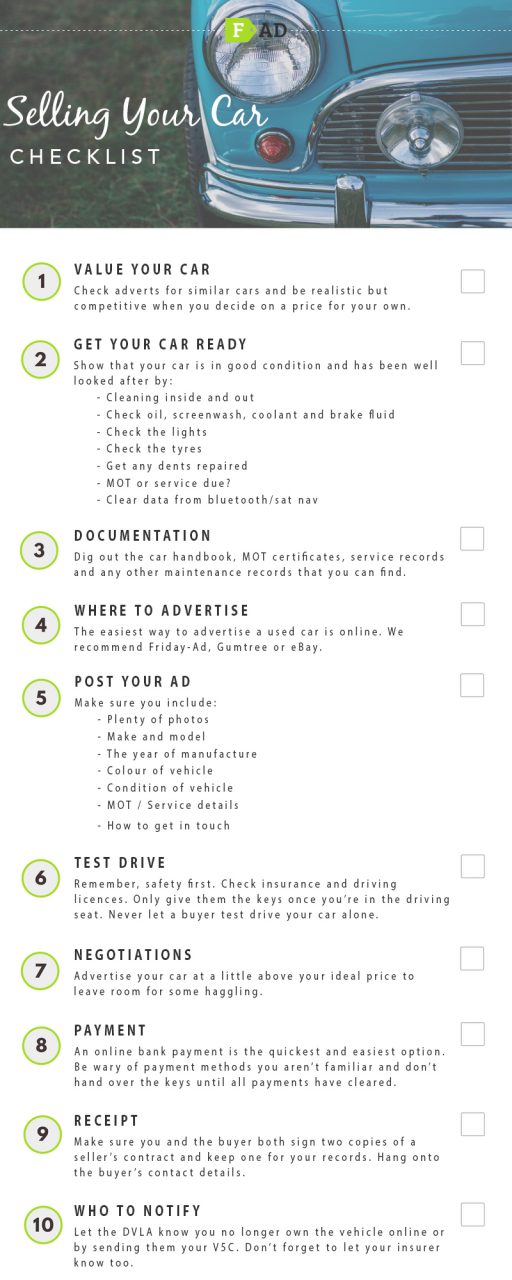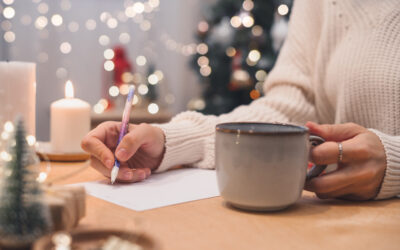 The festive season is upon us, and before you know it, it's going to be Christmas Eve. As we all know, no family gathering is complete without some last-minute panic and chaos, and keeping up with festive traditions, both well-known and unique, is no mean feat. But,...
read more