Planning a party for your little one can be great fun, but also it can also be a little bit stressful, because there's a lot to think about. Whether it is your child's first birthday party or their tenth, you want it to be an enjoyable and memorable occasion. Here are some suggestions to help plan the perfect party.
Venue – A party at home will be fine for a small number of guests, such as family members and one or two friends. If you're inviting your child's whole class, it's a good idea to have the party at a location other than your home, as this gives you more space to entertain. You could have a pool party, hire a local hall, or choose another location.
Theme – If your little one would like their party to have a theme, there are so many options to choose from. You can then have your decorations, cake, invitations and games fit the theme. For example, a princess party could have each guest be given a toy crown to wear during the party, and guests at a pirate party could each be given a black bandana and eye patch to wear. If your child has a favourite book, such as Dr Seuss' The Cat in the Hat, you can pick decorations that are blue, red and white, or even ask guests to wear these colours.
Invitations – It may sound obvious, but these should include your child's name and which birthday they are celebrating, the date, location, and start and finish times of the party, along with your name and phone number so they can RSVP. You should tell guests if they need to dress up for a themed party, and also ask parents to give you details or any special dietary requirements or allergies that guests have.
Decorations – Items such as balloons, banners, party poppers, party hats, tablecloths, paper plates, plastic cups, and piñatas all help create the perfect party atmosphere. Pick some that incorporate your child's favourite colour of cartoon character and they are bound to win his or her approval.
Party food – When it comes to feeding guests, the best advice is to keep things simple. Opt for 'finger food' such as sandwiches, cocktail sausages, mini pizzas, sausage rolls, cheese on cocktail sticks, fairy cakes and chocolate fingers. Hopefully parents will have made you aware of any special requirements, but if you have any concerns, a quick phone call is always a good idea.
Cake – When someone suggests a birthday party, this is often the first thing that is thought of. You could hire someone to make a cake featuring your child's favourite character or have a go at making your own. If you're not a confident baker, remember that a simple sponge can be decorated and look lovely. Whatever you do, your child will love it!
Entertainment and games – Musical chairs and pass the parcel should be an essential part of any party. You could hire a DJ or play your own music through a portable CD player. If your budget allows, you could also hire a bouncy castle or a magician for that extra wow factor.
Party bags – These don't have to be expensive. Shops usually sell multipacks of bubbles, colouring pencils or crayons and other items that you can buy and split between the number of bags you require. If you're naturally creative, you could make your own bags, or something to go in the bags. This gives each child in attendance a little reminder of how much fun the party was!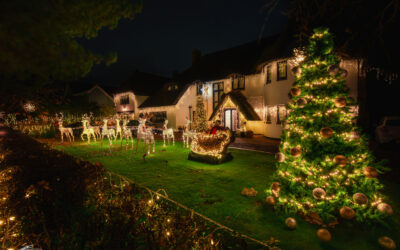 People across Sussex have decided to put up their Christmas lights earlier this year. After a tough year behind us they have decided to spread some festive cheer around the community. Louisa Light from Burgess Hill decided to create a Facebook group for anyone...