My Name is Katie Thomas. I am a qualified Norland Nanny and I am currently nannying in London. I have a passion for supporting parents, and love looking after my tiny team, providing age-appropriate, fun, learning activities to support their development.
With the summer holidays in full swing and lockdown eased, you may be considering or even planning a children's party.  
I have a particular interest in and love throwing a party (for any occasion) but with lockdown starting to ease a little, who wouldn't love a socially distanced party to celebrate (following all the government guidelines, of course)?
Some things to think about…
What party theme have you chosen in response to the child's interests?

What is the age range of the children attending the party?

Where will the party be held?  

If you decide to hold your party outdoors, do you have a contingency plan for the unpredictable British summertime? 

Does your child have any special requests?

In line with government guidelines, how many adults/children will be in attendance?
Create a party plan
Create a time plan for the day of the party, from the arrival of your guests, to the games you'd like to play, to when you'd like to serve your food. Include a plan for every eventuality, for example if pushchair access is required, or if there is a summertime storm!
A plan of all the things you need to do and who could help, leading up to the day of the party, will help with any last minute worries. This will ensure a smooth party day. As with all things relating to children, planning ahead is essential. 
Think about your budget. Include a list of the resources and food for the party and the overall total cost. 
It's always important to request information about emergency contacts and medical information for your guests. Think about a safe place to store this information. 
The theme 
Include your child in the planning process by asking them to choose the theme. Parties don't have to cost £££££, nor do they have to be extravagant. Think back to 'the good old days', with a traditional children's party of games and fun food in the familiar surroundings of your own home or garden (the perfect lockdown venue, so you can ensure hygiene standards and government guidelines are followed at all times!)
The theme will form the basis of your party. Think about decorations, the games and most importantly – the cake! 
For the purpose of this little blog post, I have created an 'Animal' themed party project, full of games, ideas and activities.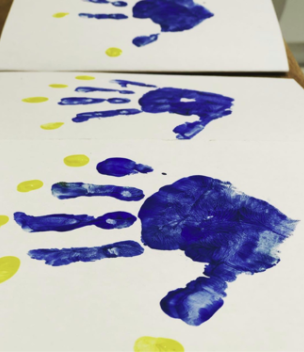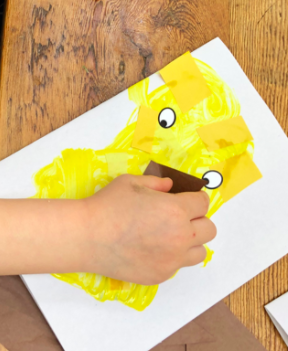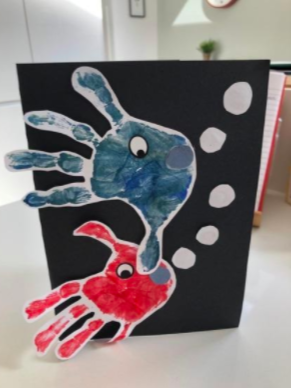 Have fun with the invitations. These can be a summer holiday project in themselves! Let your child express themselves and show their little pals exactly how they would like to celebrate.  
On invitations, provide your address or the location of the party, the date and time, a contact number to RSVP to and, importantly, always remember to ask if any partying little people have any dietary requirements that need to be catered for and for emergency contact details. 
We took inspiration from our local visit to a duck pond, so have chosen to send little ducks for our invitations. We simply used a handprint and decorated the bird with feathers and cut up pieces of tissue paper! This is also a great activity for supporting motor skills.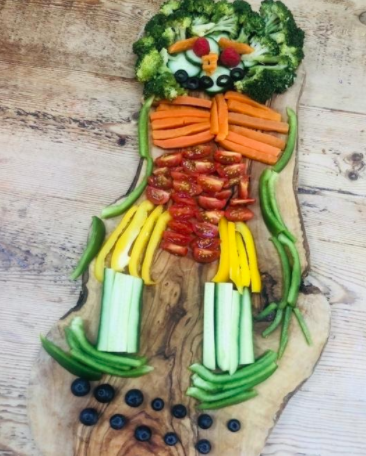 Create a full menu for your party. This will help with budgeting and ensure that you have catered for all dietary needs.  
Food at a children's party can be fun and healthy; it doesn't have to be filled with food colouring and sugar! 
Make sure the food looks fun and interesting. Be creative and see if you can link shapes and colours to your theme. Cookie cutters are a great way to help with this! 
We often have names for our party food, such as 'giraffe grub' or 'camel crudités'. Ask your child to create labels for the food – this is a fun way for older children to practise writing and spelling and for younger children to get creative and practise their motor skills. These extra little details will make it a party to remember! 
Homemade food is always the best, as you can control exactly what is being eaten. I find 'picky bits' are the best kind of party food, so children can choose what they would like, thus allowing them to feel a sense of control in an unfamiliar environment and with lots of new people around the watering hole!
Little extras to think about include the use of disposable biodegradable crockery (we always want to protect our furry friends) as well as age-appropriate napkins, bowls and drinking cups, which will help to decorate the table as well as assist with the washing up at the end of the day! You should also supply hand sanitizers and antibacterial wipes (preferably biodegradable) at key contact points. 
We have decided to add masks to our table layout for a wild watering hole adventure!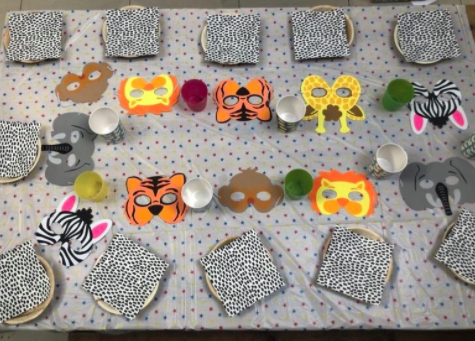 Looking for party services?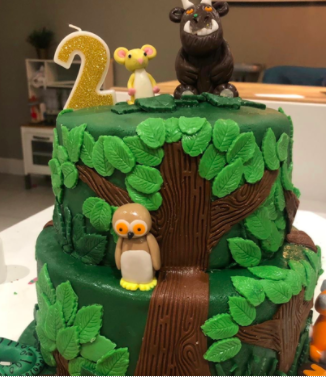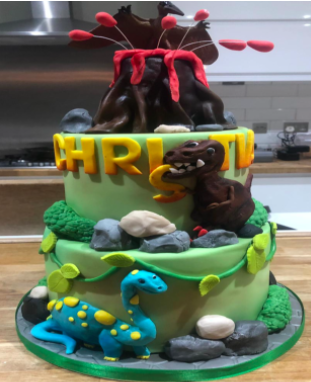 The cake is always the centerpiece at any party. Ask your child what cake they would like. Get them involved with the ingredient purchasing process, exploring quantities of food.  This will allow your child to feel they have contributed to their own party. 
How big would you like the cake to be in comparison to the amount of people you are feeding? Will you be giving each guest a piece of cake to take home? Again, you must keep in mind any special dietary requirements and the cost of the cake. 
Baking is a great way to develop a child's measuring skills, gross and fine motor skills and knowledge of where food comes from. This is another fun activity you can do together ahead of the big day. 
Party games and activities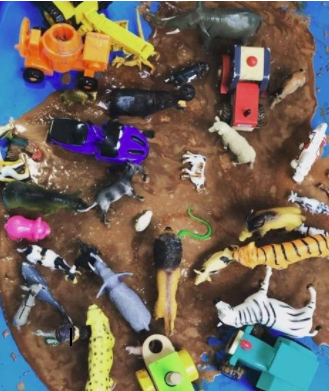 Animals 'Stuck in the mud', using cornflour mixed with coco powder this is the perfect messy activity to link to children's games. Remember to wash your hands thoroughly before and after use – following the government's handwashing guidelines.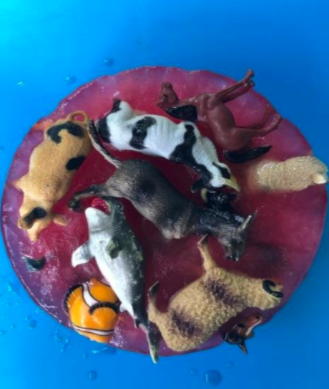 Another take on children's games and being frozen is animals musical bumps! Animals 'Frozen in Jelly', is as simple as it sounds. Simply place toy animals in jelly and freeze. Remember to wash your hands thoroughly before and after use – following the government's handwashing guidelines'.
When thinking of party games, add the resources that you will need to your plans. Think about your budget. Are there any games that your child would particularly like to play? Ensure that you include the number of adults that may like to join in too!
From 'Pass The Parcel' to 'Stick The Tail On The Donkey', there is such a long list of games that can be played at parties! Homemade games are always the best. Don't feel you must always entertain. Allow children to explore independently, with activities left for them to explore at their own leisure.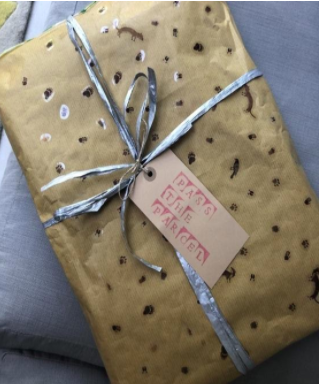 A classic, but one that never gets old, is 'pass the parcel'. 
This doesn't have to be over-thought and can be so much fun to put together. Why not create your own wrapping paper, by using brown paper packaging and allowing your little people to decorate the wrapping themselves? We have used animal footprint stickers – an activity that older children can complete whilst you are planning the rest of the party! 
You'll need to plan age-appropriate themed gifts inside the parcels, such as an animal book or cookie cutters, rather than   sweets or plastic toys. The excitement of a new book is so wonderful that children and adults alike will be thrilled to receive a lovely new book for bedtime! 
To create the labels, we simply used letter stamps. My eldest charge loved getting involved with choosing each letter to spell new words! This is a great way to keep up letter recognition in the summer holidays.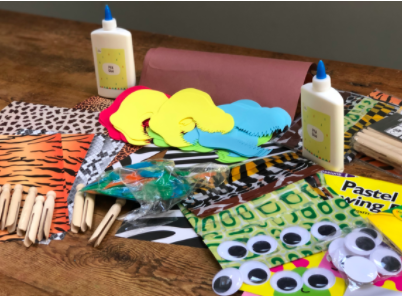 Animal arts and crafts are always a winner! Who doesn't love making a dinosaur mask or a tiger puppet made from a wooden peg? Raid your arts and crafts cupboard and save any left-over plastic bottles, boxes, tubs, tubes and containers. These can be transformed into the most incredible animals, animal homes or whatever the child may wish to make. Remember, 'one man's rubbish is another man's treasure!'
Animal print fash(lion) show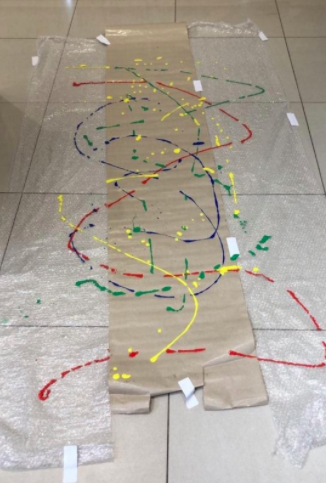 A fun and creative party activity is a fashion show with costumes made by the children themselves. Provide materials (these don't need to be expensive – you could use leftover material, or clothes from your local charity shop) and allow the children to go wild with their creativity.
Alternatively, you could upcycle an item of clothing in your wardrobe into something new and exciting for no cost at all! Then turn up the music and strut your stuff
down your homemade catwalk. 
We created our catwalk by laying out some wrapping paper and using bubble wrap (we just used the materials we had to hand) but you could also use the reverse side of spare wallpaper. We covered ours in paint and created our own catwalk masterpiece – the ideal catwalk for any small person's party!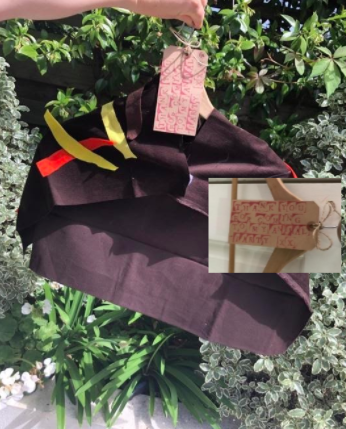 The item of clothing or accessory made by each child at the party is the perfect and unique reminder of a wonderful animal themed party. No need to send children home with a plastic bag filled with sweets and plastic toys!
We used the same stamps for our pass the parcel label and upcycled spare coat hangers to create our own hanger complete with a clothing tag to allow our friends to remember this special day.