We're embracing a digital only future…
With our use of digital technology on the rise, notably accelerated by the pandemic, and environmental concerns high on everyone's agenda, we want to do our bit to save the planet and improve the ease and convenience of the Friday- Ad for our loyal supporters…
In the age of high-speed internet and mobile devices, people are doing more and more digitally than ever before. You can bank online, order a pizza from your phone, and even find a date for tonight right from your device! It's not surprising that we're now embracing a digital only future!
We have decided to stop printing the weekly Friday-Ad paper, and we'd love you to be part of our digital journey!
We are passionate about the environment and reducing waste and we're excited to be able to show our customers how they can contribute to 'going green' with us by moving to our digital editions. Moving online will also offer our users more convenience and access to better features available with the Friday-Ad online.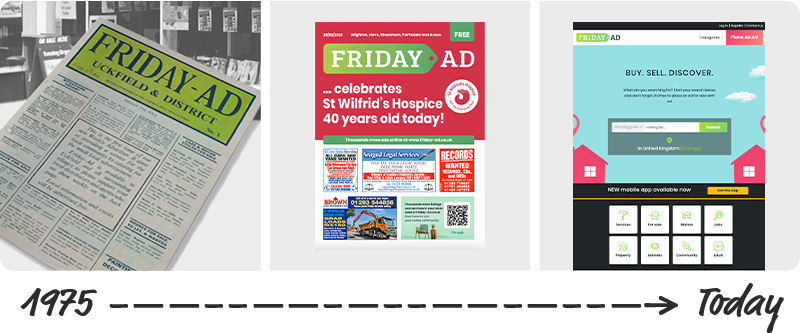 What will using Friday-Ad online give you?
You'll get more than news and classified ads. Friday-Ad.co.uk is a community hub, a place for local people and businesses to come together to buy, sell, share and advertise their services.
Here are just a few extra benefits using the Friday-Ad online will give you…
1. Access to endless amounts of ads..
On Friday-Ad.co.uk there is NO limit to choice. Browse through thousands of ads within our huge variety of categories such as for sale, motors, property, jobs, services and more. With Friday-Ad.co.uk our 'search' and 'filtering' options allow you to find just what you're after!
2. Being a member is FREE
Whether you're looking for bargains, selling pre-owned or handcrafted items, or advertising your business, join over 80,000 people advertising for free today, and reach over 1.5 million users every month!
3. Set up search alerts!
Got your heart set on something specific? Quickly create a search alert and get notified every time an item matching your criteria is advertised. You'll never have to miss out on your dream items again!