This Month at Friday Ad we are highlighting the top industries within the UK and this week we will be concentrating on healthcare jobs and social care jobs. With the growing number of elderly in the UK (due to advances in medicine and are increasing life span) the numbers of people entering different sectors in the Health and Social care sector has skyrocketed in the last ten years and in 2014 it is listed as the 4th most popular field of employment.
The job market is getting more competitive and more and more people are having to battle it out in order to secure the jobs they want. In 2014 the top 4 categories of the job section of the Friday-Ad job section are: Hospitality & Catering, Engineering & Construction, Transport and Health and Social care. If you are considering applying to enter any of these fields then keep a look out for our quick guides to the top 4 job categories of 2014 to find out more information about the jobs available in each sector and the salary brackets. All of us at Friday Media Group wish you the very best of luck in your job searching!
Jobs in The Health and Social Care Sector:
Doctor, Nursing, Occupational therapist, Carer, Support Worker, Social Worker, Child Care Assistant, Health Care worker, Community Worker and psychological therapist.
Top Job in the Health and Social Care Sector: Carer.
Description of Carer role:
The job of a carer can be an extremely demanding one, which can involve looking after mentally and physically disabled adults and children, the elderly and the vulnerable members of society. Due to the growing number of people living into advanced age the number of care establishments (such as care homes and supported accommodation) in the UK have grown enormously and therefore so too have the number of people working as Carers. As a Carer you will have a variety of things to do and no shift will be the same as your role will be as varied as the needs of the people you will be looking after or supporting. You will often help people wash and dress and will sometimes need to provide personal care to incontinent individuals and offer assistance in maintaining hygiene. You might also need to support people in eating and drinking and helping them go about their daily activities. You will also help with mobility to physically impaired people. As well as helping with essential tasks you might as help to cook or clean for the people you support or simply provide companionship. Other duties may include taking clients shopping and helping with odd chores. You'll often be the first to alert nurses or doctors about new health problems – and you'll be liaising with these other professionals to work out the right care plan for your clients.
Potential Salary:
As a beginner, you're likely to think your pay hardly reflects the social importance of your work. In many cases junior care assistants are paid little more than the national minimum wage, with £6-£7 per hour or annual salaries of around £11,000 commonplace.Local authority care jobs tend to start at £12,000-£14,000, but with experience and qualifications this can rise to between £18,000 and £21,000 – more if you move into a managerial role. There are often opportunities for overtime, with night shifts and weekend working paying a slightly higher hourly rate.
Skills/Qualities needed to become a Carer:
There are no academic requirements needed to become a Carer as the majority of training you will receive will be 'on the job' training. You will also be expected to take part in various training courses including Health and Safety, Food Hygiene, Moving and Handling and other relevant training. These will either be in house or at an outside venue and will be conducted by accredited trainers. These courses are mandatory and are funded by the care organisation. You will also be expected to study for National Vocational Qualifications (Level 2) in Health and Social Care. This qualification used to be optional but it is now mandatory for every carer, and as it as a vocational qualification you can complete it as you work. If you are considering a senior position you will need to complete a level 3 qualification and management roles are obtained from the completion of the level 5 qualification. All levels of the qualification will be funded by your employer as they are either mandatory or beneficial to your job as a carer.
To become a carer you will need to posses the following skills/attributes:
A caring and compassionate nature
A genuine desire to help vulnerable people
A commitment to follow government legislation and rules and regulations.
Good communication skills and the ability to get on with people of varying ages and abilities. Carers are good 'people persons'!
A willingness to work hard!
An ability to work well under pressure.
Are you interesting in working in healthcare or becoming a social worker? View our jobs here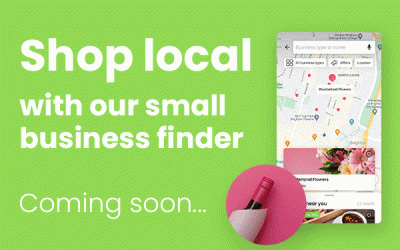 Our Friday-Ad app is launching an exciting new feature exclusively for Brighton. A new 'small business' finder!This is to coincide with Small Business Saturday, an event which takes place on the first Saturday of December for small businesses to run any offers.Our...
read more