Frustrated with having to apply your make-up in a moving car or train? 

Tired of hunting for that shade of lipstick you know you bought last week? 

Do you have to fight with the family for time in front of the bathroom mirror?

Hate squinting into your phone camera in selfie-mode to fix your hair? 

Do you fantasize about being a glamorous Hollywood heroine?
If the answer's yes to more than one of these questions, get yourself a dressing table ASAP. You may not have the space or the budget to treat yourself to an entire dressing room but you can certainly dedicate a part of a room to this all-important activity. The dressing table is a must-have!
Where It All Began
You'll be surprised to know that when you sit down at your dressing table, it's a tradition that dates back centuries! 
Today it's an essential part of almost every home and residential unit. Hotels and other commercially offered living spaces too usually have a space dedicated to a dressing unit in some form, with just dressing table mirrors, a narrow shelf and focused lighting.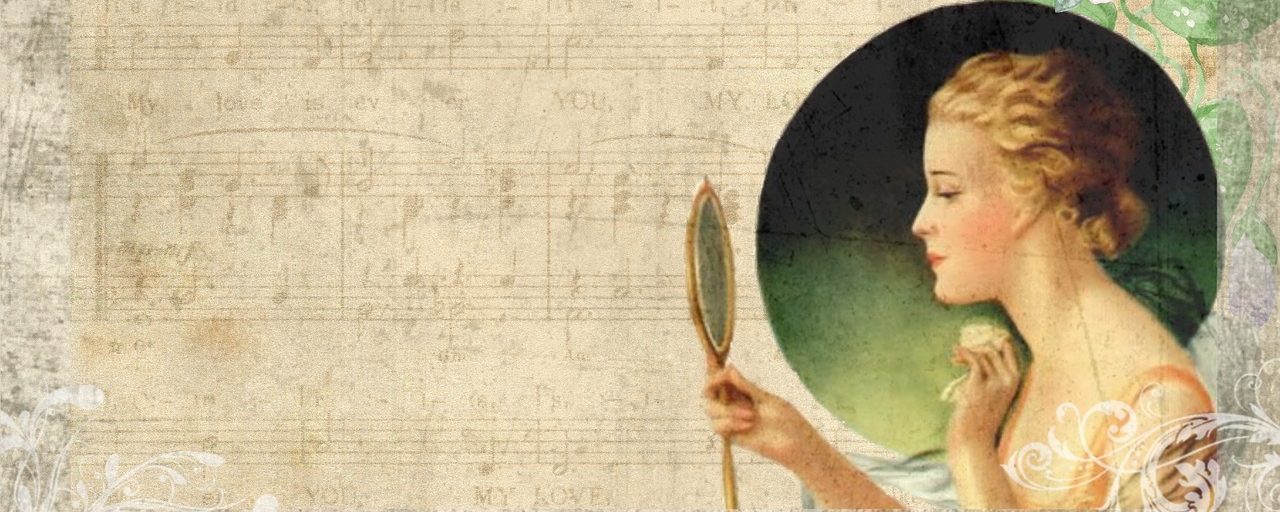 Known variously across the world and in different eras as "boudoir" "vanity" "poudreuse" or "duchess" the dressing table represents the primeval instinct to look and feel attractive.
Every ancient civilization has left remains of the various ways in which people decorated and groomed themselves. The Egyptians had ornate boxes to hold cosmetics and metal mirrors, the Romans had containers for their make-up, and in China's Middle Kingdom, gilded powder boxes were prized as gifts given by a lover.
These containers remained portable till the art of furniture-making reached its peak in 17th century Europe, when the nobility began commissioning special tables with drawers and topped by mirrors, for both men and women. Beau Brummel's shaving table, Madame de Pompadour's "mechanical table" are examples of the elaborate nature of dressing in that era. 
Early designs featured a basin and cistern to enable users to remove make-up and freshen up. English and American designs were more functional yet attractive. Known as lowboys and highboys, these designs featured drawers to hold cosmetics. 
The modern era saw the launch of the Art Deco style, and Hollywood films lent their glamour to this home essential. The Manhattan penthouse, fur-coats, stiletto heels and ice tinkling in a martini glass became part of the popular image of the dressing table. 
Though dressing tables fell out of favour following the Great Depression and the World Wars, today, they enjoy immense popularity. 
Dressing Table Essentials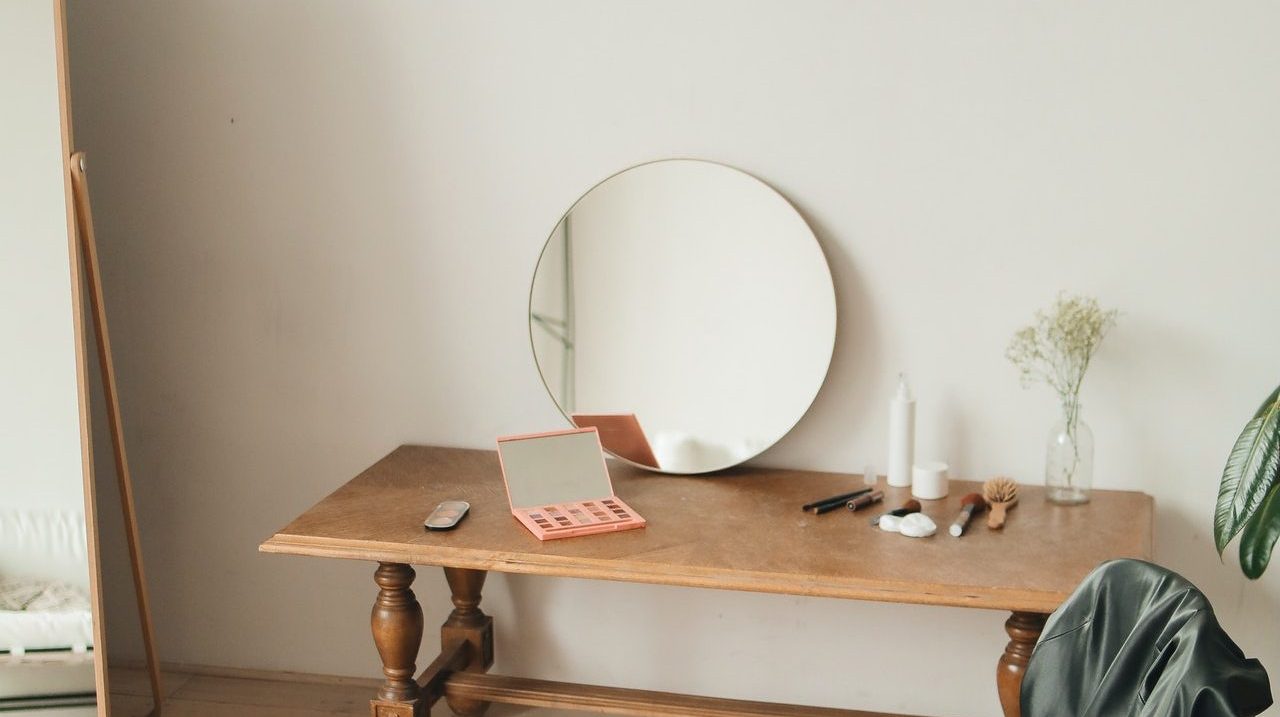 Space organizers: The main idea of a dressing table is to have all your make-up and grooming items in a single, easily accessible place. You can do this by designing your dressing table with enough drawers to hold different items. Organize them so that appliances,  styling tools, and hair-dryer are in one, while your lipsticks, hair products, face products, nail paints, make-up, creams, lotions, and removers are arranged in separate drawers. Use perspex organizers for visual neatness and easy access. Keep your jewellery in a locked drawer for safety.
Mirrors: Based on your dressing table design and the space available, you can have a single large mirror or a trifold arrangement. Ensure that you get enough of both natural and artificial light. Lights around the mirror add a touch of extreme glamour.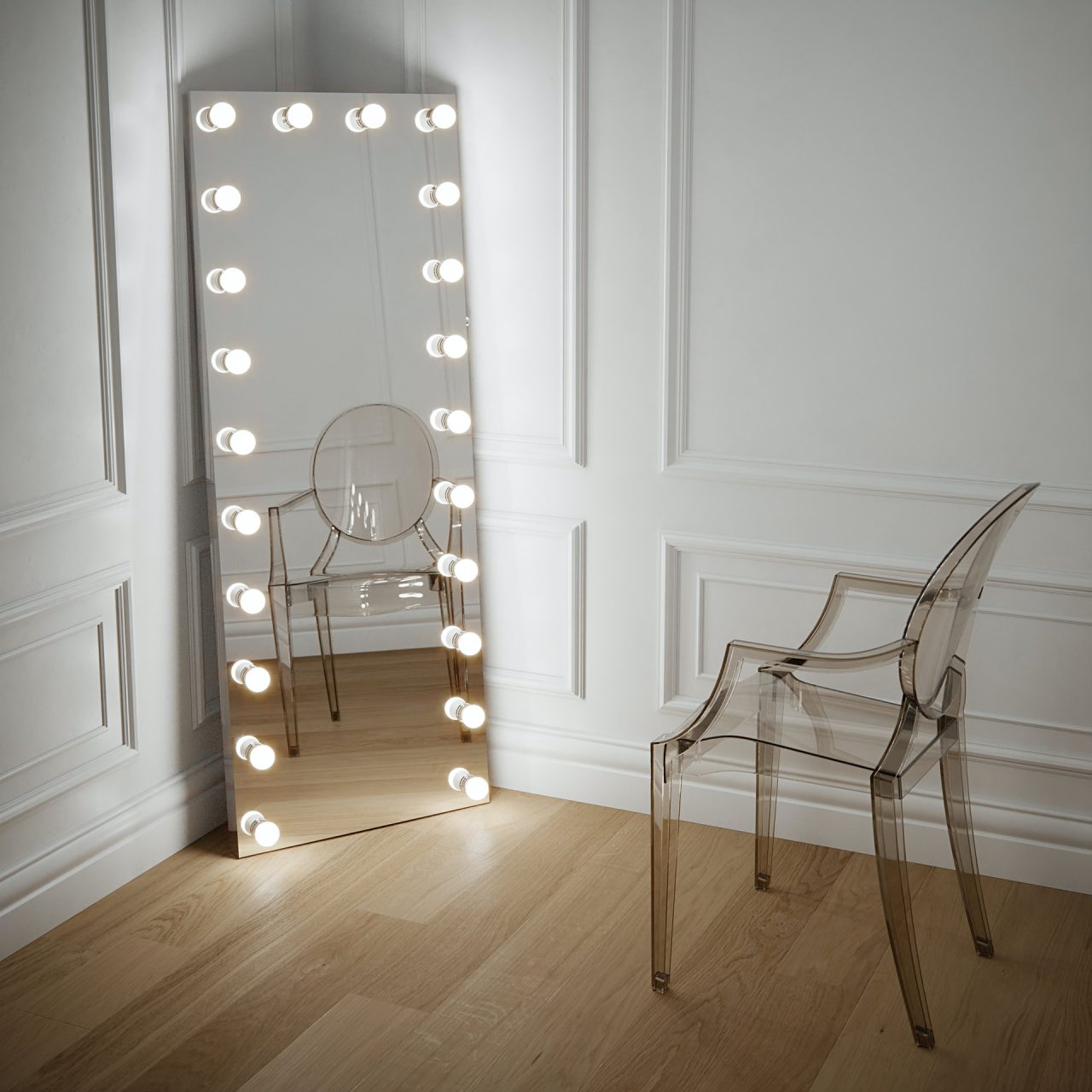 Table Top: Have enough space on the top of the table to show off your ultra-expensive perfumes, branded make-up and stylish hairbrushes. If you have space, add a pretty vase of flowers or a bowl of candy. A holder for make-up brushes keeps them organized and open to fresh air. Attractive trays and jars can hold trinkets. Silver-framed photos provide an intimate touch.
Seating: The main focus should be comfort. Seating can also double up as storage, whether you choose an ottoman, stool or chair.
Dressing Table Inspiration
Artistic: Looking good is an art in itself, so why not let your artistic side express itself in your dressing table design? You can create a unique dressing table design with artistic touches using colours, textures, shapes, lighting and finishes. Antique mirror-frames, crystal legs, gold or silver accents, carved trays and trinket-boxes, dull-finish handles on the drawers, tapestry fabrics and fresh flowers can transform your dressing table into a work of art in itself.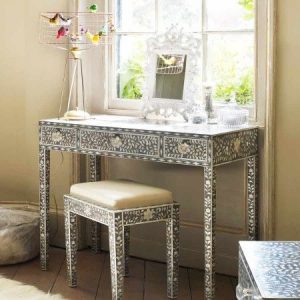 Contemporary: Functional, minimalist, streamlined, sleek and neat may match your personality type and lifestyle. It would also be perfect if you share the dressing table with a partner. In this design, Marie Kondo rules. Everything is neatly stowed away in drawers, organized, colour-coded, and easy to locate. You can match this style to the rest of your bedroom, and use fabrics, colours and textures for accent and interest.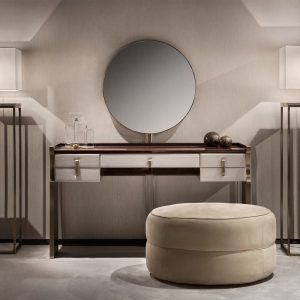 Quirky: Let your imagination run riot! Seek inspiration in the unusual and unique. An open suitcase placed on a sturdy frame, with a mirror glued to the inside lid, and partitions to hold your stuff evokes the fun element. A 60's design with bright laminate and spindly legs, distressed wood, metal office tables painted in bright shades, faux fur seating, old sewing machines converted into tables, are some ideas that might catch your fancy. Choose a focal colour and work your design around it – a pop of bright red in your bottle tops, drawer handles and mirror frame can match an artwork on the wall.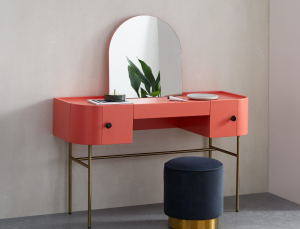 Upcycling: For most people, re-purposing and refurbishing their dressing tables is a great idea as their needs evolve and change. You can give old bookshelves a dab of paint or varnish and add glass doors to create a charming, space-saving dressing unit. You can repurpose old containers and trays with spray paint and glitter to hold your brushes and combs or a spray of flowers. If you have odd pieces or older bits of furniture that you can't find a need for, it's a good idea to find buyers for your old items on friday-ad.co.uk. This is a great way to create a little more space in a room and have that extra bit of cash to buy new items to refresh your home. Glance through websites that also offer trade-ins for your old furniture and get a brand-new item in place of a tired and shabby piece.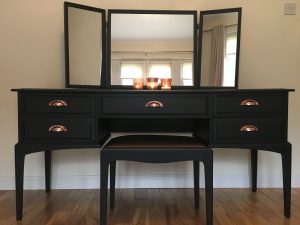 Versatile: If you don't have enough room to have an area dedicated to dressing, choose designs that can multitask. Dressing tables can double up as bedside tables, ironing tables, bookshelves, work desks, hobby areas. Put corners or awkward niches in the room to best. Foldaway tables and console tables that come to life only when you need them are other good ideas.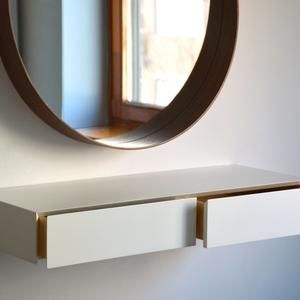 Function-First: Whatever design you choose, it's important that the focus is on functionality. An elegant, sophisticated and expensive piece of furniture that's merely decorative would defeat the whole purpose of something that has evolved over more than a thousand years!
Finally, good luck with your dressing creations and browse our local listings for any bargain home furnishings here!