Christmas is fast approaching and that means you'll have to start thinking about what to get the little ones. However, it's never as simple as that is it? They always want the latest gadget or toy and you are forced to pay over the odds for something that might only get played with for a few weeks. Well, Friday-Ad is here to help, we have 1000s of great gift ideas for sale on our website that the kids will love, meaning you can save some much need money and for once can successfully do Christmas on a budget. It's a win-win for everybody.

Bikes
If you're looking for something to get the kids out of the house instead of cooped up in their room, a bike is a perfect present. Everybody remembers their first bike, so if your kids haven't had that experience yet then why not make their Christmas with this gift. You may think that bikes might be an expensive gift however, you can find many places that have second-hand kids bikes for sale at bargain prices, meaning you don't have to break the bank this Christmas.
The beauty of getting a bike as Christmas present is that your children get to have fun and exercise at the same time, as well as this if the whole family want to go on a bike ride on boxing day – instead of the usual walk –  they can. This is not to say that you can only by your little ones a bike as a present, if you're a biking fanatic then a second-hand bike could give you the premier gift without the premier price tag. Definitely worth consideration.
Looking for a second-hand bike? Check out what we have to offer here—> Browse bikes for sale

Games Consoles
Since the early days of Atari and in more recent times PlayStation and Xbox, games consoles have seen a continuous rise in popularity. With graphics and gameplay improving seemingly every week, children (and some adults) are always after the latest console or game, and with there being so many available to purchase it can be a daunting task when you're asked to get one for a Christmas present. Not mostly because of some of the prices you can be expected to pay. However, there is nothing stopping you from getting a near mint condition console – sometimes with games – for a knockdown price. The kids will be too busy slaying dragons, scoring goals or winning races on their 'new' console, to be bothered about where it came from or what price was paid for it.
Parents 1 kids 0.
Looking for a second-hand games console? Check out what we have to offer here—> Browse second hand games consoles for sale
 
Instruments
Nobody likes wasting money on a present that won't get used, so before you go ahead and buy an instrument make sure that the recipient is interested in music and really would get some good use out of exploring that passion. When it comes to instruments, there are so many you can choose from guitars, keyboards, drums and much more. Whatever instrument you decide to go for, there is no need for you to remortgage your house to get it, there are lots of good quality used instruments on the internet, and if this is your child's first instrument you don't want to be giving them a brand new Gibson or Les Paul, ideally you want them to work up to that kind of quality. However, having said that, you also don't want to buy them some battered guitar with 3 strings. Find the balance between quality and price and you'll be fine.
One other thing you need to consider is the noise factor. This doesn't necessarily apply to guitars – unless you buy an amp too – but instruments like drums and brass instruments usually are rather noisy. Now, so long as you're aware of this before you make a purchase then you're okay (and can't really complain). But there are a couple of ways you can get around this. Firstly, if you encourage that the instrument is played when you are out of the house, then you won't have to endure the sound of an aspiring Keith Moon or Louis Armstrong. Your second option would be to buy an electric drum kit. These create no sound to the outside world, which means your little one can drum away to their hearts content and not annoy the neighbours.
Looking for a second-hand instrument? Check out what we have to offer here—> Browse second hand instruments for sale
 
TVs
Televisions – like games consoles – have seen a meteoric rise in popularity since their creation way back in the late 1920s. From the first CTR TV to now the über stylish curved 4K TV, everyone wants the latest piece of technology. However, the rise of the TV means that expensive TV's that are only a year or two old are now for sale at much lower prices, and that's where you can get a big present for a little price. Before you go out and buy that TV there are a few things you should consider. Firstly, what type of television do you want (ie. HD, LCD, CRT etc). The older the television, the bigger and heavier they tend to be so bare that in mind. Whereas the sleeker more modern looking TVs enable higher quality viewing, they will cost you more money as a result.
Looking for a second-hand Television? Check out what we have to offer here—> Browse second hand TVs for sale
 
Telescopes
Have you got a little stargazer in your midst? Well, maybe you should be getting them a telescope for Christmas and help to inspire that passion for the stars and beyond.  If this is the case then the first thing you must take into account is like with most presents, the quality of the item you're buying. Astronomy as a hobby is ideal for a child, it challenges their skill, their mind and also their little piggy banks – it's not the cheapest hobby once you get hooked. However, for astronomy to be given a realistic chance, there needs to be some early success as otherwise it is likely that the telescope will end up in the loft alongside the other cast off's that weren't 'fun enough'.
So, as to make sure the telescope isn't thrown away or not used remember these three things when it comes to buying it:
the aperture's diameter (how wide is the main opening- the bigger the better)
the quality of the eyepiece
the quality of the mount (usually a tripod for inexpensive telescopes)
Overall, you need to decide how interested your child is going to be in using the telescope. If you feel it may be a fleeting interest then factor that into your decision, but if you feel they will make full use of it then it may be worth spending a little more.
Looking for a second-hand Telescope? Check out what we have to offer here—> Browse second hand telescopes for sale
---
We hope you found this guide helpful. Hopefully, you can finally achieve Christmas on a budget and not be so worried when it comes to buying the little one' presents. If you did find it useful, or if you think we missed out some crucial tips, connect with us via Facebook and Twitter and let us know.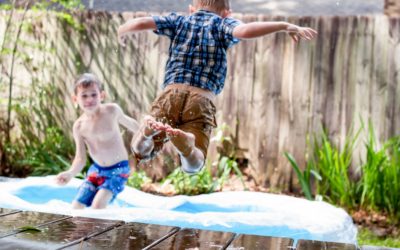 For busy parents, the summer holidays can be a challenging time to keep your children from being bored. So, how can you keep your kids from running riot? Here's 10 fun activities the little ones occupied this summer... Start slideshow... Taking your kids camping is an...