Garden lighting can brighten up your outdoor space, transform your garden into a place to entertain and relax in. Our tips for lighting design will inspire you to get creative with your space. Check out our 20 ideas for garden lights.
Warm summer evenings or cozy autumn nights – nothing adds ambiance to your outdoor space like garden lighting. From fairy lights to solar lamps, our article has tips for all kinds of gardens. So, whether you want to light up your lawn or create a midsummer night's dream on your deck, these lighting ideas can help.
Kevin has been a content writer for about 3 years. He studied Design and Arts, and is a fan of home interior design. He shares his love for decorating homes through his articles. He wrote this article for homemakerguide.com.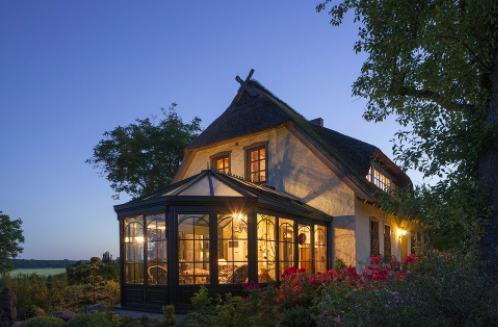 1. Pathway Solar Stakes 
Illuminated paths are a great way to light your way around sprawling lawns or ornamental gardens. Choose solar lamps that are attached to stakes as these can be fixed directly into the ground. Place them at regular intervals along the borders of your pathways to create a gorgeous garden lighting design. 
2. Hidden Garden Lighting for Borders
Another way to brighten borders is to scatter lights among your plants. Battery-powered lamps can be fixed between shrubs and bushes alongside pathways. The light shining through greenery will create a lush, tropical glow for your garden and help guide your way at night.
3. Lawn Globes 
Orb lights are a fun way to make garden lighting modern and give your lawn a futuristic shine. Available in a variety of colors, orb bulbs can be artistically placed around your lawn or make great garden lighting for flower beds. Floating orbs can even be added to water features for a gorgeous moonlight effect. 
4. Flowerpot Glow 
Individually lit flowerpots are a great option if you haven't got a large lawn or borders. Bulbs can be placed inside pots alongside flowers to show off your blooms in the dark. Battery-powered are perfect for this type of low maintenance garden lighting.
5. Spotlight Magic 
Not all border or pathway lights need to be subtle. You might want to create a minimalist or ultra-modern look. If this is the case, choose spotlights fixed to metal posts or with a boxy design for a chic, geometric feel.   
Garden Lighting for Pergolas and Decks…
6. After Dark Deck 
Deck lights are the perfect way to brighten outdoor seating areas after dark. Spotlights built into the floor or steps of your deck help create mood lighting. Perfect for outdoor entertaining and relaxing on balmy summer nights. 
7. Outdoor Dining Area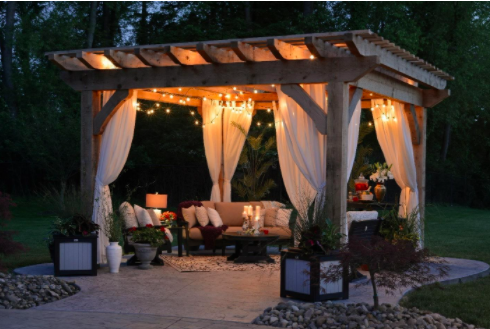 Even without a deck, you can still create a beautiful and well-lit dining space by putting a pergola in your garden. String bamboo pergola with festoon lights or paper lanterns for a charming eatery effect. You'll feel like you're on holiday in your own garden! 
8. Fairy Trellis
You don't have to have a huge lawn to get creative with lighting. Even a small yard or balcony with an overhead trellis can inspire garden lighting ideas. Dainty fairy lights are ideal for small spaces and can give you an intimate, twinkly effect.
9.  Illuminated Staircase 
Brightening outdoor staircases can add a dash of luxury to your garden. Spotlights built into steps or running alongside stairs can make raised areas safer in the dark. If your stairs have railings, twine a string of fairy lights around the rail for a bohemian aesthetic.
10. Wall-Mounted Lanterns 
Give a bit of old-world glamor to your garden by using wall-mounted lanterns. Glass lanterns can be opened with a latched door, allowing you to place tea lights inside. This creates a dusky glow, ideal for lighting lanes or dark walls.
Illuminate Outdoor Events 
11. Upcycled Candle Holders 
Gardens can be perfect places to hold intimate celebrations. From baby showers to weddings, DIY garden lighting can add something special to your outdoor party. Try using colourful jars or glass bottles as tea light holders for a homemade light display. 
12. Festival Festoons 
Nothing gives a celebratory feel like retro festoon lights. Combine these with strings of fairy lights to give a fairground look to your gathering. Mix this with pallet furniture and hay bale seats for a rustic effect.
13.  Pond Lights
If your garden has a pond, underwater spotlights create a gorgeous effect. Pond lights are perfect for showing off aquatic plants, like water lilies or floating succulents. 
14. Waterfall Lights
Suspend fairy lights vertically to create a beautiful garden lighting backdrop. Lay waterfall lights across a wall to create a twinkling, cobweb effect. Or hang fairy lights between two trees, for a magical woodland feel.
15. Tea Light Walk
Need to light a big garden with lots of hidden corners? Nestle tea lights in every nook and cranny to lead your guests. This works best in big gardens with lots of paths and shrubbery.
Illuminations Overhead 
16. Garden Chandelier
Hanging a glass chandelier from your deck canopy can give your garden lighting outdoor elegance. For a budget version of this, hang tea lights in jars from overhead garden fixtures. Perfect for adding a touch of class to your design.
17. Fairy Light Canopy
Overhead space between your roof and garden wall? String a canopy of fairy lights across the gap. Remember to buy several strings to create a starry, night sky effect 
18. Tree Lights
Winding fairy lights around tree branches is a great way to use overhead space. Fairy light bulbs also come in various shapes, like mini lanterns or glass globes. Garden lighting trees can act as beautiful focal points on your lawn. 
19. Paper Lantern Paradise
Chinese paper lanterns can also be hung from tree branches to create an ornate, oriental feel. Paper lanterns can be colourful or plain, depending on the effect you want. Just be careful with any lamps that require a naked flame and never leave these unattended. 
20. Festive Window Boxes
Short on space? Wind coloured or plain fairy lights around your window boxes to spruce up your garden lighting. This creates a festive glow that is visible inside and outside. 
Conclusion 
So, there you have it! Whether you want to entertain or create a private nook, garden lighting can effortlessly elevate your outdoor space. We hope these tips inspire you to get creative outdoors. 
Do you love outdoor lighting? What lighting designs do you use to brighten your garden? Have you tried any of these on our list? Let us know in the comments!
Find it locally on Friday-Ad!