When it comes to choosing a family pet it is essentially selecting a new member of the family, this can become quite the predicament. Thankfully, we have selected ten of our favourite family pooches based on the characteristics that really matter when selecting a new pup, from attentiveness to trainability, we've got it covered!
In no particular order…
Cockapoo
A barrel full of laughs can be expected from this small dog with a big personality. These friendly little guys are totally loyal but also easy enough to manage that training isn't too much of a chore. Another plus is that Cockapoo's hardly moult so they are low maintenance in every sense of the word as they just aim to please, whether they're clowning around with the kids or simply curled up in your lap, a Cockapoo will make an excellent addition to any family.


French Bulldog
Cute with a capital C, French Bulldog's are a very rare breed so you will do very well to get your hands on a one. However, if you are lucky enough to call one your own they make for wonderful family pets! French Bulldog's are known to be very adaptable so expect minimal trouble in settling the little guy in, as long as your provide them with a lot of love and attention which they do require!
They are also reasonably easy to train but, do not require the same level of exercise as their counterparts making them easier to manage. Providing you give them the love and attention that all dogs deserve, they are wonderful family pets.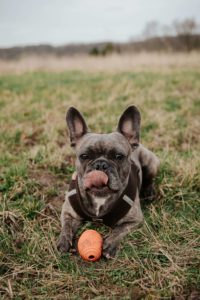 Cocker Spaniel
A friend for life and a beautiful one at that! Cocker Spaniel's are stunning but require a lot of work, we think it's worth it though. Their cheerful, bubbly nature make them excellent with all of the family, especially kids. Much like Cockapoo's, they're at their happiest when pleasing you, because of this training is never normally an issue. If you can make the effort in keeping up with the labour intensive grooming involved with having a Cocker Spaniel we have no doubt they will repay you many times over with their loyalty and companionship.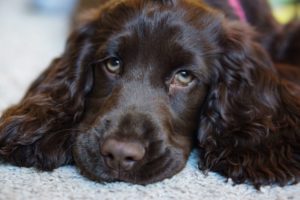 German Sheherd
Our most intelligent addition, German Shepherd's are well known for their savviness. Along with this their devotion and courage is unrivalled, no wonder they're a true man's best friend! They are especially easy to train and extremely energetic and versatile, making the training process so much fun for both you and your new friend! You may be left wondering if there's anything a German Shepherd can't do! If you're part of a fun filled active family who enjoy the great outdoors and active occasions, there's no better addition than a German Shepherd! This affectionate, energetic, easy to train pup smashes into our top 10 best family dogs!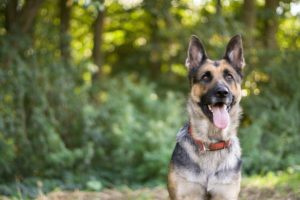 Labrador
Turn the cuteness up a notch or two, soft natured and hard working, Labrador's  are kind, fun and take most things in their stride. One of their most loveable traits is they are so friendly with everyone, so if you are looking for an affectionate companion, look no further. Labs are very responsive to training which makes them low maintenance! But, they are late to mature, providing spirited teenage years but,  if trained well just adds to part of the family fun!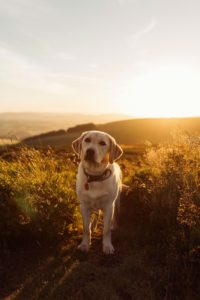 Pug
The clown of the canine world with an incredible sense of humour, not to mention they also like to show off. They can't help but make you smile, the comical face, deep wrinkles around the eyes and flat face make them too adorable to ignore. Slightly harder to train to some of the other entries, however they make for loving, kid friendly pals who adore playing and being the centre of attention! However, Pugs are very greedy little things when it comes to food, so make sure you manage their eating to ensure they stay the healthy, happy family pets we know they are.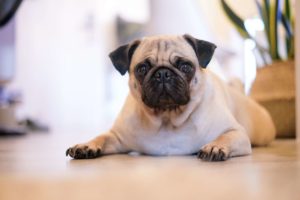 Beagle
Beagle's are energetic and so much fun to play with! They can be very difficult to train, so we recommend puppy classes for the little mavericks. A Beagle is happiest when sniffing something out, which goes back to their roots of a being a scent dog. Their dark brown hazel eyes and pleading expression are always difficult to resist! Forever sociable and a real hit with kids, especially when causing mischief together. Probably not the best guard dogs however, as they are friends with everyone they meet, not the worst trait for a family dog though.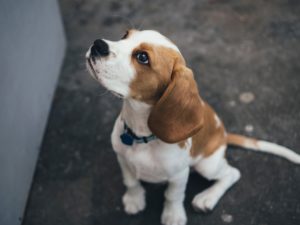 Dashshund 
An ever present in the most popular dogs list since the 1905's. Their cute look and lively nature are just two reasons why they are so popular and such a common selection for a family pet. You can't help but be in awe or laugh at a proud Dachshund carrying it's long muscular body on it's little legs! However, they're not just pretty to look at, Dachshund's are affectionate, loyal and easy to train and groom making them an all round great addition to the family.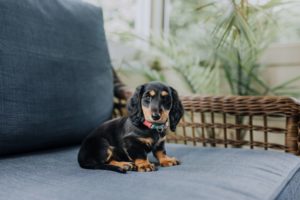 Siberian Husky
A truly beautiful dog which has a thick coat of fur that comes in many different colours. Their handsome faces and stunning eyes only add to their charm. Husky dogs are very athletic so can become quite a challenge for an inexperienced owner. Make sure you have no potential escape points from your home as these independent muts have been known to go on their own adventures. Because of this they can be a challenge to train. However, it's play time all the time with a Husky, which is why they make the our list, outstanding with children and a loyal companion.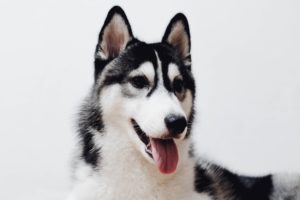 Border Collie
The original sheep dog, required to gather and direct sheep in the Hilly border between England and Scotland. Another perfect addition to an active outgoing family, Border Collie's have unlimited energy and will certainly be able to keep up with you.
Also, they are highly disciplined and because of this are a pleasure to train and wonderful company due to their devotion. A workaholic who aims to please, thus not necessarily a 'cuddly dog', as they are happiest when receiving a task from their master.
Their long coat can be difficult to manage at times, but if this isn't an issue for you, you'd struggle to find a better inclusion to your family.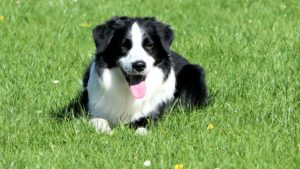 That concludes our top ten family dogs, we hope that helps you in your quest to find the ultimate family dog. Choosing a new member of the family is a very big decision, so make sure you don't rush into it, as every dog should be for life and deserves a loving home!
If you're looking for a new addition to your family be sure to check out our pets section which is full of the wonderful breeds that make up our top ten, all of which are looking for a loving home.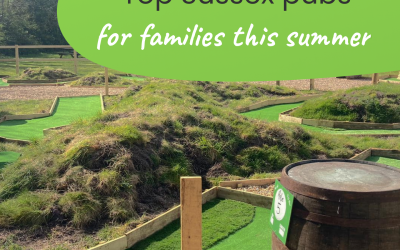 With so many pubs on offer in Sussex, sometimes it can be tricky to find one that's perfect for your family. Ideally you want one that's child-friendly with a nice, warm atmosphere. We've searched up and down Sussex, and compiled a list of a few of our favourites that...
read more