First up, if you've just got engaged, congratulations! When it comes to planning the big day, there are so many things to think about. If you feel out of depth with planning a wedding and have no idea where to begin, this simple checklist will give you a helping hand.
Venue
Finding the perfect venue is likely to be at the top of any newly engaged couple's list. The venue plays a vital role in the success of your day, so it's a decision you really need to get right. Make sure you book in to go and view plenty of venues. You will quite easily narrow down your search if you can picture yourself there on the day and the interior and exterior will work with the theme of your wedding. There are a few things that you might want to check before you make your final decision. Can the venue cater to your requirements? Is it the right size for the number of guests you want to invite? Is there any accommodation on site or nearby for you and your guests? What are the catering options? Is it available on the right date?
Rings
Your wedding ring is something that you'll wear for the rest of your life so it's got to be perfect! Dedicate a weekend or two to shopping for your wedding rings and try and visit more than one jeweller so that you can see different styles before making your decision. Bespoke jewellers will be able to help, guide and advise on what metals and styles are best when it comes to your wedding rings. You could also consider visiting a bespoke jeweller if you plan on getting a vintage wedding ring or a family heirloom made into something special for you.
Photographer
Your photos will keep the memories of your day, and the amazing emotions, alive. Make choosing your photographer one of the first tasks you do after setting a date to avoid disappointment. In a lot of cases, photographers are often booked up months in advance. Many photographers have online portfolios, so take some time to have a look through some of these. Find a style that suits you and get in touch with the photographer. They should be happy to talk through what you want and give you a quote.
Dress
When you put on the dress that was meant for you, you will definitely know it! Start looking for your dress as soon as you feel ready as you may need the time to make adjustments. An easy way to start is to visit local bridal boutiques. Try on as many dresses as possible to make sure you know what style and shape of dress you like. It may even surprise you what that ends up being! Once you've got your perfect dress sorted, it's time to think about the bridesmaids. Finding a style that everyone is happy with can sometimes take a little while, so make sure you don't leave this to the last minute!
Suit
There are so many different styles of suit out there. For some grooms, one style or colour will instantly grab their attention but others may need some guidance. Take your time and try lots of different styles so you can see what your options are and what suits you. There is no right or wrong answer to whether you should buy or hire your suit. Your budget will dictate this to a certain extent but remember if you choose to buy the groom's suit, that doesn't stop you from hiring them for the groomsmen!
Flowers
Choosing your wedding flowers is really important. They share your journey down the aisle and will appear in the majority of your photographs. After you have come up with some ideas as to which flowers you'd like, it is the job of a good florist to make those ideas a reality. Ask to see the portfolios of as many different local florists as you can. You are looking for someone who you think will create flowers that will suit your wedding theme and bridal style.
Wedding Car
It's important to find a company and a car which meets all your requirements. Local firms are best placed to provide you with personable and reliable service. Their drivers will know the area and the wedding venues the best. When you are looking for a provider, take into account the type of car that will suit the theme of your day and whether they are reputable.
Here are some other things you'll want to take care of:
Budget
It's important to get this sorted early on. Make sure you know how much you can spend on each element of the wedding and who will be responsible for paying for each thing.
Hire a band/DJ
Make sure you find a wedding band and/or DJ who can cater to your tastes and the theme of the wedding. Get a list together of music you'd like to be played. It's also a good idea to think about what you don't want to be played too!
Catering
Look at some menus and book a caterer in early. The venue might have a list of preferred caterers so make sure you think about this when choosing your location.
Send out your invitations
You'll want to send out your 'save-the-date' cards out as soon as you've booked your venue and decided on a guest list, however, send out your official invitations a few months beforehand.
Book officiant
Make sure you do this well in advance too so you get your first choice.
Apply for a marriage licence
Don't forget to apply for your marriage licence! It's good to get this out of the way a few months before the big day so you know it's sorted.  
This is an extended version of an article published in the Friday-Ad written by Gemma Johnson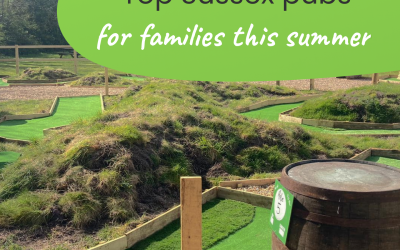 With so many pubs on offer in Sussex, sometimes it can be tricky to find one that's perfect for your family. Ideally you want one that's child-friendly with a nice, warm atmosphere. We've searched up and down Sussex, and compiled a list of a few of our favourites that...
read more