It's easy to imagine that learning stops when you get to a certain age, but it certainly doesn't! The cultural idea is that once we have left school or university the only skills we learn are work-based and then learning for learning's sake is something we only do when we retire. This is nonsense!
A lot of people in the 21st century try out more than one career path, study a degree part-time whilst they work, go to evening classes or spend a summer holiday doing something educational.
There are many options available to adults in terms of subjects you can choose to study and at what level. You may want to learn a new skill, take up or develop an interest, gain a new qualification or train to support your career or you might just want to meet new people and find a relaxing pastime.

Get qualified
Adults can earn qualifications such as GCSEs, A-levels, Vocational Diplomas and Higher Education qualifications such as Degrees or Foundation Degrees.
What subject you pick to study will depend on what it is you want to achieve but the majority of subjects have dual purposes. For example, GCSE Maths or English could benefit someone who is looking to advance in their career but these subjects are also beneficial to those who want to develop their skills for everyday life, such as reading and writing. These can be achieved through a Functional Skills qualification.
You might find that an extra qualification might just boost your CV enough to help you make that next step in your career. Or help you make that career change you've been dreaming about.
Keep up with tech developments
Ever apparent is the use of technology in many aspects of our lives – computers, phones, tablets and even home assistants. Some of us find these devices easier to use than others but for the latter, there are courses available that can help with all of your ICT queries.
Again, this could be advantageous in your working life, if your chosen career is heavily dependant on the use of computers, or in everyday life if you want to keep up with the changing times.
It could be something as simple as taking a refresher course in a particular computer programme or even learning to code. Coding is an extremely valuable skill in today's working world and can greatly improve your understanding of how the internet works.
Even if your job doesn't require very much technical knowledge, there are very sophisticated smart systems being developed for everyday use in the home. For example, if you travel a lot, you might be worried about potential break-ins while you're away. You can install smart lighting and set it to come on at certain times to give the impression someone is home. Learning about some of these smart systems for the home could make life that little bit easier.
Learn a language
Do you want to work abroad? Emigrate? Enjoy the flexibility that comes with knowing more than one language? Or just love to learn? You may have realised where I'm going with this one but learning a new language is another area of study to consider.
Learning a language can be interesting and beneficial in various ways. Not only does it boost your CV and is handy when travelling, but evidence also suggests that there are cognitive benefits too!
Studies suggest that the brains of bilingual people operate in a different way to those who speak a single language. You can improve the functionality of your brain by challenging it with new systems – this can help you become a better problem solver. You could also get better at multi-tasking as you become more skilled at switching between systems.
Learning another language will give your brain a good workout and could help to improve your memory. A study carried out by the University of New Brunswick showed that bilinguals are better at remembering details like directions, lists and names.
Believe it or not, learning another language could even improve your English. Learning a second language requires you to pay more attention to sentence structure and grammar. As you learn more about the mechanics of language, you will become more skilled at using it, whether you're speaking your first or second language.
Kickstart your side-hustle
Not only are people switching jobs more frequently but more people are starting their own projects to make a little extra cash or to expand their skills. If you're thinking about doing the same this year, a little extra business knowledge probably wouldn't go amiss.
There are plenty of courses out there that can help you navigate today's business landscape, much of which is now online. Learn how to set up your side-hustle, market your business online and offline and keep your fans interested.
You could consider an NVQ (a national vocational qualification) at varying levels if that style of learning suits you. Alternatively, there are plenty of courses online to get you started. If you want to learn about Search Engine Optimisation and Pay Per Click advertising, Google's Digital Garage could help get you started.
These are just a few of the many subjects you could choose from to study. Take a look around your local area to see what there is to learn! Keeping your brain active is just as important as keeping your body active.
This is an extended version of an article published in Friday-Ad issue 2261 written by Gemma Johnson.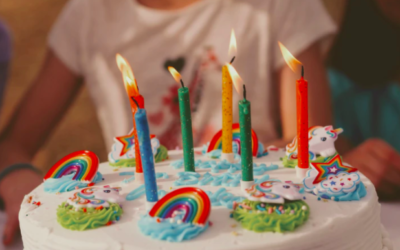 My Name is Katie Thomas. I am a qualified Norland Nanny and I am currently nannying in London. I have a passion for supporting parents, and love looking after my tiny team, providing age-appropriate, fun, learning activities to support their development. With the...