Ahh January, a time when your waistline finds the pounds that your bank balance has lost. Also a time for kick-starting those resolutions that you've been mulling over during the holiday period. It's not surprising that the first week of January is the busiest time of year for browsing for a new job.
Finding a new job can be challenging and frustrating so here are our top 15 tips on successfully bagging that new job and starting 2019 as you mean to go on.
#1 Check that your CV is on point
It might sound obvious but you would be amazed at how many candidates still fall at the first hurdle with a poor CV. Out of date CVs, spelling and grammatical error are big no-nos, so make sure you get someone to check it over before submitting it.
Without writing a novel, make sure your CV covers all relevant skills, experience, education and training.
#2 Write a new CV and cover letter per application
As time-consuming as it is, it's well worth writing a new cover letter and editing your CV for each position you apply for. Look for key points that the job role requires and ensure you highlight your strengths in these areas.
#3 Prove that you're a good fit for their business
A typical corporate job role will receive 250 applications, so what are you doing to stand out from the other 249 candidates? When a friend of mine was applying for a features editor position a few years back, she wrote her CV in the style of a newspaper. Her boss later told her it was the best CV he'd ever seen.
#4 Get creative
I remember hearing a story about a candidate who was struggling to get an interview with a particular company, so he bought a cheap wallet and took it to their offices. He placed it in the toilets and left. Upon the wallet being found and handed in at reception, inside was the candidate's CV. He subsequently got an interview.
#5 Check the grass is greener
Leaving a comfortable job and venturing into pastures new can sometimes leave you in choppy waters. Doing your research on the company beforehand will save you time in the long run. Websites like GlassDoor can give you a great insight into the company culture, salaries and staff satisfaction before applying.
#6 Do your homework
Made it to the interview stage? The interview process is much more transparent and collaborative than it once was. Remember to do your research on the business' mission and objectives; you can then tailor your responses to how you are going to drive them towards reaching their goal.
#7 Cleanse your social media
It's reported that up to 91% of hiring managers will check out prospects on social media before the interview stage. Posting those photos from Vicky's hen do might have seemed a good idea at the time but is that really the impression you want to give your prospective employer? Inappropriate photos, discriminatory comments, bad language and poor communication skills are just some of the reasons 49% of hiring managers have opted against hiring a candidate after finding them on social media.
Pro tip: Seem like too much effort to rake over a decade's worth of drunken nights out and cat memes? Try apps like Social Sweepster that will cleanse your Facebook and Twitter for you.
#8 Professional networking
Some social media channels can work to your advantage during the hiring process. Networking with prospective employers in a professional capacity over social media is one way to get your name and face remembered. Channels such as LinkedIn are great as they work like a virtual CV, giving employers a more in-depth insight into your work history.
#9 Dust off the cobwebs
Outdated skills could be a reason why you're struggling to get a foot in the door. Been on maternity leave or had a career break? Refresher courses are a great way to brush up on skills and ensure you're compliant with the latest industry regulations. It also shows commitment to the field you work in.
#10 Create your own job
Who says that you need to wait until a job vacancy comes along before applying to a company? If there's a business you would love to work for, make contact and tell them so. Your initiative and enthusiasm will make you stand out. Who knows what positions they have coming up. If you can really bring something special to the table, they may even create a position for you.
Did you know? 63% of job openings are created because of new positions.
#11 Know your stuff
So you're one of the lucky 2% to make it to the interview stage and now is your chance to shine. Common interview questions will usually crop up so you need to be prepared but while you need to have some stock answers ready, it doesn't mean they have to be generic or basic answers.
If they ask 'what do you know about our company?', instead of just reciting the key facts listed on their website, why not also expand on how their business is situated within the market and ideas on how you would help drive their business forward.
#12 Expect the unexpected
Sometimes the interviewer will throw you a curveball question, so while it's hard to prepare for, it's worth remembering that it's not necessarily a right answer that they're looking for, but more how you respond to it. How quickly can you think on your feet and how do you react to an unexpected situation?
#13 Smile and the world smiles with you
Most workers spend more time with their colleagues than they do their families so make sure you come across as someone they would want to spend 40 hours a week with. A friendly smile and a positive mental attitude could just be the factors to give you the edge over the competition.
#14 Be courteous
Rejected for the job? The last thing you'll want to do is thank them for the opportunity but being polite might just benefit you if they are ever recruiting for similar positions in the future.
#15 Ask for feedback
If you're unsuccessful in your interview, always ask for feedback from the interviewer. Feedback is vital to help you succeed in your next interview.
This advice was provided by our friends at Flux Talent – head to their blog for more tips and advice.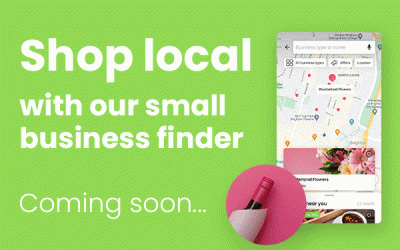 Our Friday-Ad app is launching an exciting new feature exclusively for Brighton. A new 'small business' finder!This is to coincide with Small Business Saturday, an event which takes place on the first Saturday of December for small businesses to run any offers.Our...
read more