There is no better time to start exercising and give your body a new lease of life than at the start of the year! It's time to get energised again after the holiday slump.
For many people, their New Year resolution is to either lose weight or be fitter, but how are you going to see it through? According to US News, 80% of New Year's resolutions fail by the second week of February. To help you stick to your goals try out these ideas.
Fun with a friend
Working out with a friend can be a big help when you're trying to make exercise a habit or reach a specific goal. Friends can provide an extra boost of motivation and maybe a bit of healthy competition. Everyone has those days when they don't feel like going to the gym and friends can offer you that encouragement to keep going.
You're far more likely to work out when you're forced to schedule it ahead of time with a friend and cancelling would mean an inconvenience to them. This makes you accountable for both your own and their fitness goals!
You may not think it, but if your friend is fitter, faster or stronger than you are, you could be in luck. Studies have shown that by working out with someone you perceive as better than you, increases your intensity and the time you spend working out. Nothing like a bit of friendly competition!
Last, but certainly not least, you should have more fun when you're training with a friend! Those who train with their friends tend to enjoy the exercise they're doing more.
Poor preparation, poor performance
When you're trying to lose weight or get fitter, having healthy food options to hand is extremely important. By preparing your meals in advance you won't be tempted to eat snack foods or "easy to grab" fast foods. Meal prepping is also perfect for the many individuals out there that have busy schedules. When the working day is done and you're making your dinner in the evening, prepare your meals for the next day too! Once you get the gist of it, there is no excuse.
An easy way to do this is to make an extra portion of whatever you're having for dinner and save this for your lunch the next day. Once you're done cooking, serve this portion up first and put it aside so you're not tempted to eat your way through all of it that evening!
Out with the old
It's easy to give in to cravings when the kitchen cupboards are full of temptations. So why tempt yourself? It's time to be ruthless. You need to give yourself a fresh start. Head into the kitchen and clear out all your unhealthy food. You'll be able to donate this if it's non-perishable. Once it's gone, don't replace it!
However, this option may be impractical for some households. If there are other members of the household that will want to eat the junk food you are throwing away, this second option may work better for you…hide them! Put all of your healthy food in the most visible places on the shelves and stash all those sugary treats somewhere out of sight.
Enjoy yourself
If you are enjoying the exercise you are doing, you are more likely to stick to it! For a lot of people, exercise isn't something they enjoy naturally and is seen as a task that needs to be completed in order for them to reach their required goals. However, if you want to develop an exercise regime that you will actually stick to then you need to experiment and find out what type of exercise you enjoy.
It might just be that a friend is all you need to motivate you to get to the gym and once you're there you do actually enjoy it. If you're not one of these people, there are plenty of other options out there. Maybe you'll enjoy some sort of exercise class more or an outdoor activity. There are loads of things you could try that you might never have thought of – like trampolining exercise classes or bouldering. Find out what works for you!
Set goals
If you set yourself goals to hit within a certain amount of time, you have something to stick to, something to aim for, something to motivate you and you're accountable. Do check-ins on the same day each week to check you are on track, whether this is by checking your weight loss or checking your measurements with a measuring tape. The process is to set goals, smash them and set new goals!
You could even promise yourself rewards for when you hit your targets. Why not buy yourself those shoes you've had your eye on when you've been to the gym three times a week for a month? Or book in for a relaxing session at the spa once you've hit one of your weight targets. Celebrate your achievements!
Will your willpower
Willpower is the key ingredient to fulfilling your goals! Get motivated, get stuck in and don't become another person that lives up to the stereotype of someone who sets a fitness resolution and gives up after a month!
The key to this is to set yourself challenging but achievable goals. If you've never been for a run in your life and you set yourself a goal of running a marathon, you have no idea how achievable this might be for you. If it proves too difficult, you may find yourself losing your willpower pretty quickly and then you are more likely to give up.
Instead, think about setting yourself smaller milestones throughout the year. For example, being able to run 5k without stopping by the end of March and then 10k by the end of June, etc. These kinds of goals will keep you motivated throughout the year, are more achievable but will still leave you with a sense of accomplishment.
This is an extended version of an article published in Friday-Ad issue 2261 written by Gemma Johnson.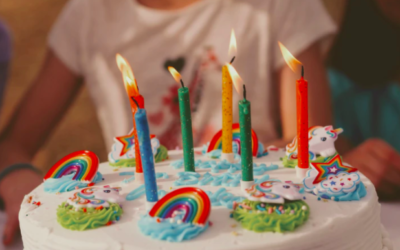 My Name is Katie Thomas. I am a qualified Norland Nanny and I am currently nannying in London. I have a passion for supporting parents, and love looking after my tiny team, providing age-appropriate, fun, learning activities to support their development. With the...