2020 falls on a leap year meaning we have 29 days in February, rather than 28. If you didn't know already the 29th February is historically the day when women can break tradition by making a marriage proposal to their partner. As it happens just once every four years, so if you're wanting to switch things around…this is your very chance!
Where does it originate from?
Looking back through ancient Irish history, it is thought that the tradition began in 5th century Ireland when 'St. Brigid of Kildare' complained to St. Patrick that women had to wait far too long for men to propose. Therefore he ruled the women could propose on this one day in February during the leap year. Since then the myth has stayed..
So… would you be daring enough to get down on one knee? We decided to find out what it takes from women who have! Here are their stories…
On leap year 2016 I proposed to the love of my life.
How did you both meet and what's the story behind the proposal?
"We met through The Cambridge Weight Plan when we both took part in a 100 day challenge and really got to know each other from that. At the very start Paul stood out to me and when we met it was an instant connection. I fell in love with Paul very quickly, he's a truly caring, loving, gentle, funny, generous & kind man who I knew I wanted to spend the rest of my life with. The only problem was the distance, I was from Buckinghamshire and Paul from Lancashire but we made it work.
Paul and I had been together just under a year then and as soon as I realised it was leap year. I knew I wanted to propose to him. I planned it all for over a month, I found it so hard to keep to myself, pretty much everyone knew except him. I loved choosing the ring and putting all the plans into place, but boy was I nervous, was he going to say yes? What if all the plans go wrong?"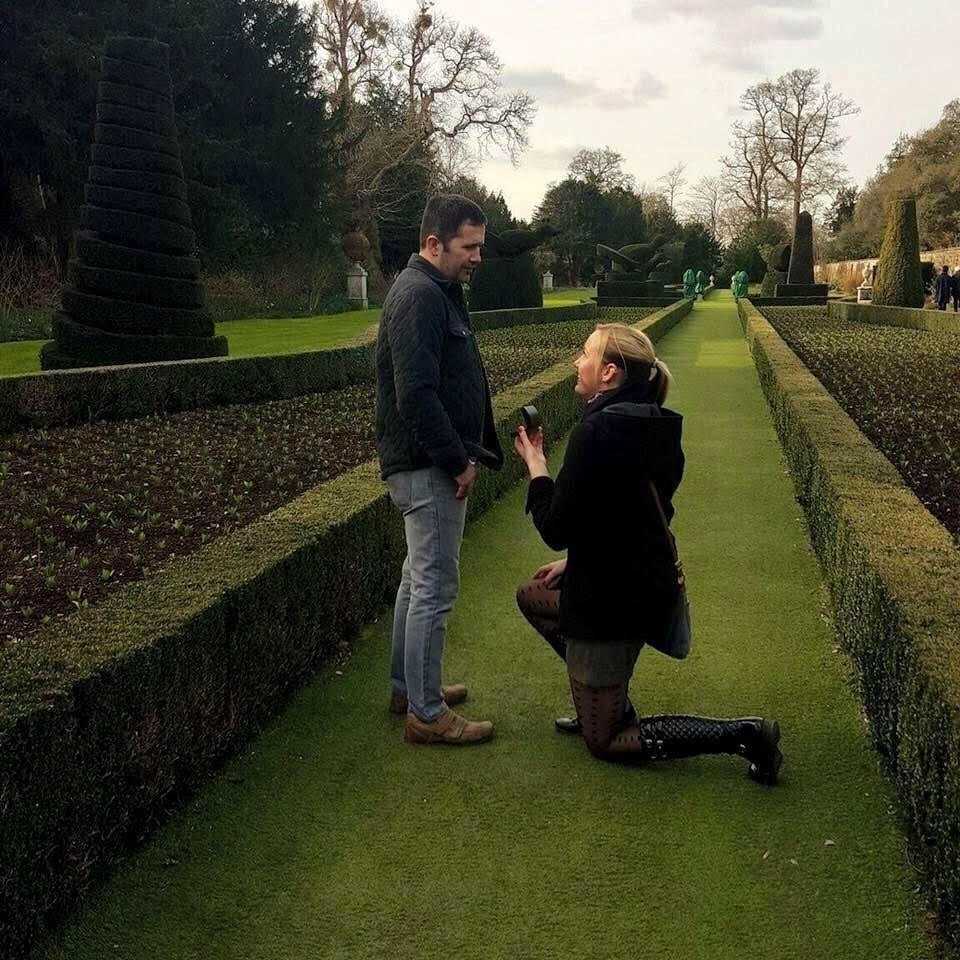 Ashley proposing at Cliveden National Trust Gardens
Did you have any worries about doing it?
"All sorts of worries were running through my mind. I decided to plan the proposal at Cliveden National Trust Gardens, we love this place and visit it often, so it felt right to plan it there. As the day drew closer and closer the nerves built, the night before I barely slept, I kept thinking…please everything go right!"
The morning of the 29th February 2016 I was a nervous wreck! I could barely eat and my tummy was churning. As the hour got closer my palms began to sweat and the nervous giggle made an appearance.
We walked through the gate to the garden path in Cliveden, my close friends & family were behind us, I took his arm and started walking up the path. I said to Paul 'I love you so much, and well you know it's leap year yeah?! , well….' I then turned to him and got down on one knee and said 'Will you marry me?' And with great relief Paul replied with a 'Yes'. Paul had absolutely no idea.
I like doing things differently to the norm and think it will be a lovely story to tell our grandchildren in the future.
We are now happily married and expecting our first baby together."
Our Proposal story is definitely out of the ordinary!  In 2013, one of my best friends wanted to introduce me to one of her boyfriend's coworkers. I was pretty happy being single at the time but figured why not. Fast forward two and half years and the same friend sent me an instagram post from Bride Magazine. They were doing a contest sort of. They were picking women to propose and from those women, one would win a trip to the Maldives. I wanted to win that trip so I entered!
The story…
"I'm Heather Cox and this is the story of how I met Donovan LaLonde, the love of my life.
I've never loved anyone more in my life. I still remember our first date at the The Park in the Domain in Austin, TX (where we live). I thought this is too good to be true. There he was a broad, 6'5″ Longhorn graduate (I am too) with a killer smile and beautiful green eyes. We hit it off right away. I went home smitten, I knew I was in trouble because I was already head over heels for this guy I had just met. He called me every day after that and before I knew it, we were inseparable. We do/did everything together and love every minute of it from going to the grocery store, to concerts, the movies, the gym and so much more. We'd been together for 2 1/2 years. We had many ups and downs through the years but we've always come back together thankful to have one another.
I'd been waiting for him to propose, as it is traditional. I knew he was saving for a ring and we planned to move in together. He always told everyone we would get married when I propose.
I wanted an opportunity to show him how much I truly loved him, surprise him and blow him away. He is such an incredible person. What better way to start our life together than with an amazing proposal? As well as a wonderful way to show him I pick him forever.
So I applied for the Bride Magazine competition and before I knew it, we were shortlisted. The craziest part was that when I signed up I had no idea it was the UK version of the magazine, and all of this would take place in London! I did an initial Skype interview before we were officially chosen. The backstory was that they wanted us to review a restaurant. (The fact that my now husband believed that and didn't find it fishy was crazy). Just a week later Brides magazine flew us to London. The next day they claimed that part of what we had won was a little makeover for the women. All the ladies got made over and dressed in David's Bridal gowns. We did a photoshoot in wedding gowns and then were in evening wear for dinner. Dinner took place at the Savoy, the dinner we were supposed to be reviewing. After dinner they would pull us one couple at a time to do "the food review". In reality it was the proposal room where they also filmed each of our proposals."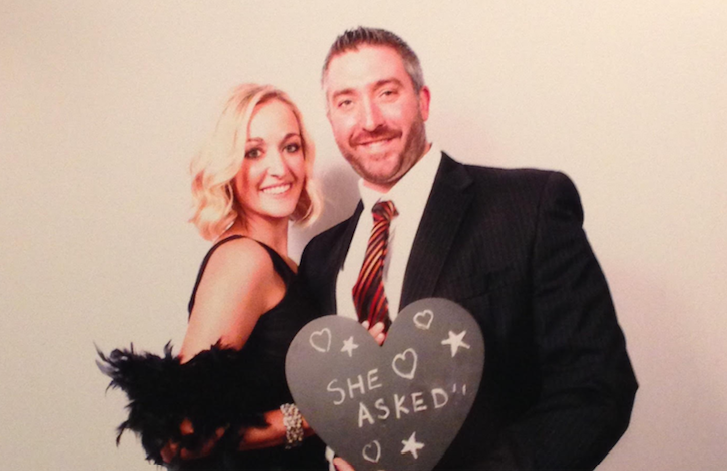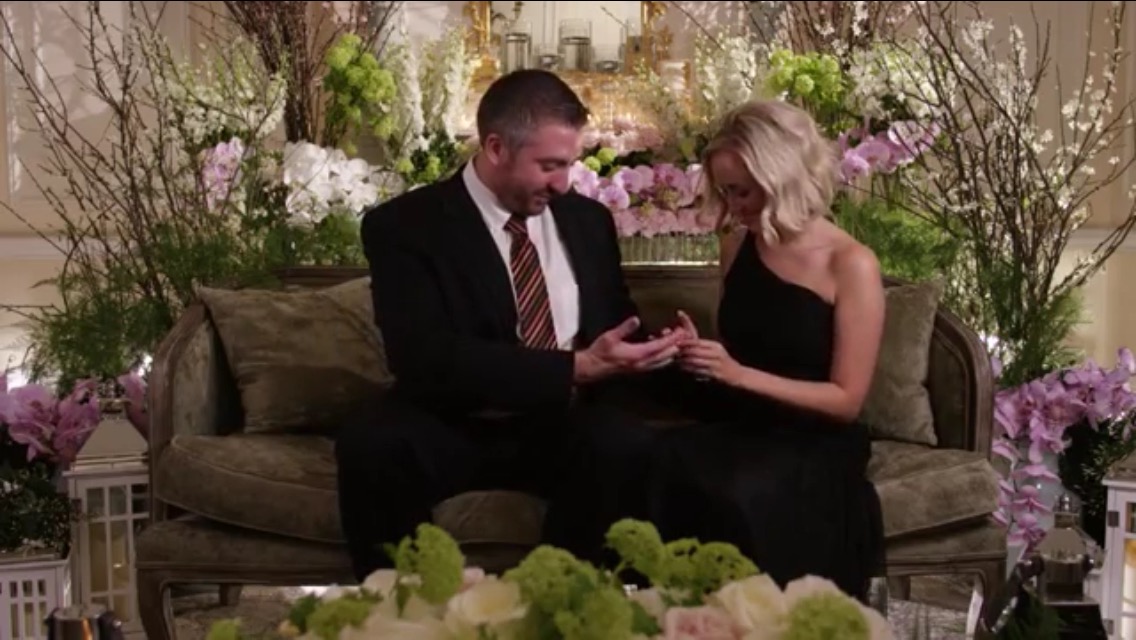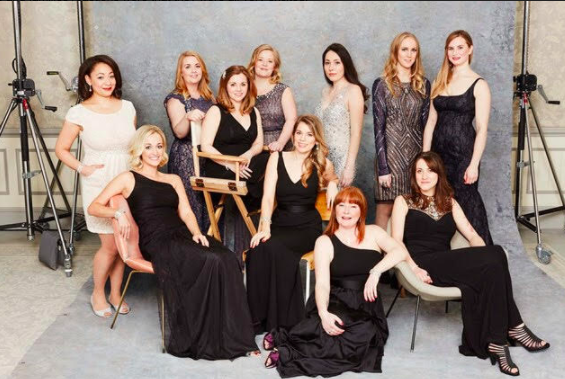 How did it go?
"The proposal itself was pretty simple. I had bought him a ring. We sat on a couch surrounded by flowers and I told him that I was pretty sure he had figured out why were here (he hadn't) and very clumsily asked him to marry me. He was pretty shocked. He said yes, but on the flight home said that he didn't really want it to count because he still wanted to be the one to ask me. We did however go look at rings for me and then he proposed on leap day! Our proposal in London was actually on Feb 8th because it was supposed to help keep the guys from knowing what was going on. Our friends and families were all very excited.
I'm glad I proposed on leap year because if I had waited for him I'm not sure how long I would have had to wait! Plus now we have a wonderful story. Our wedding was a year and a half later. It was a beautiful event. Everyone's favorite part was that we had a silent disco!
I could go on and on, but we now have an 8 1/2 month old baby… who will be up very soon!"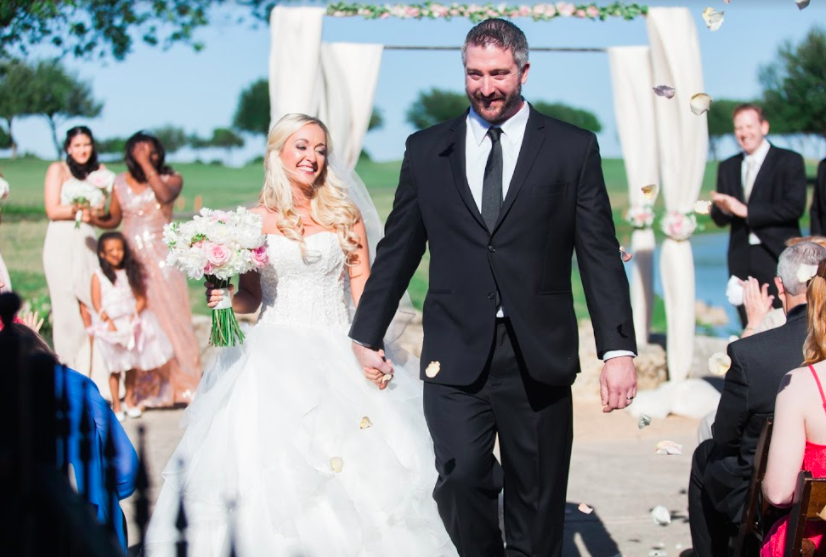 Heather and Donovan's wedding day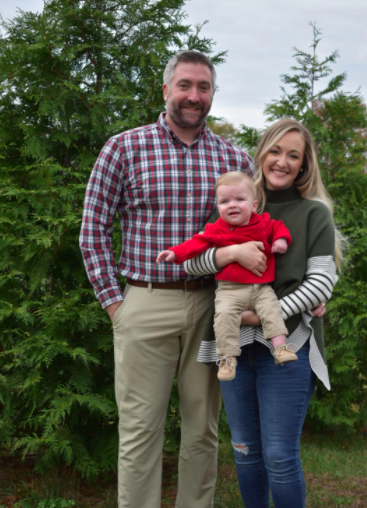 Early in 2019 I realised the following year was going to be a leap year I thought I could surprise David with a proposal… I felt ready. I couldn't really imagine my life without David so I started planning what I hoped would be the perfect proposal.
Tell us the story of your relationship?
"David and I first met through a mutual love for acting. I used to belong to an amateur dramatics group but had been out of it for a long while. I stumbled across a local group and decided to give it another go. On joining I was lucky enough to be given the part of Cinderella. David had been with the group for a while and had been cast as Buttons. We hit it off straight away, we would always be bantering and giggling backstage, we had so much fun doing the show! We were friends first but grew closer and closer.
We've now been together for a few years, always doing crazy stuff or exploring. We do everything together, we even have a tandem cycle that we love to take out with a picnic. We learnt a ballroom waltz and performed it at the corn exchange for charity."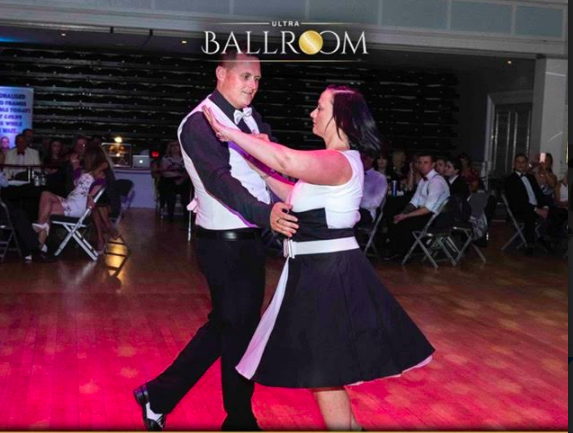 How did you come about deciding to propose?
David often hinted about getting married, however we had both been married before and I was a little apprehensive about making that jump again. I just wanted to be 100% sure. Early in 2019 I realised the following year was going to be a leap year I thought I could surprise David with a proposal… I felt ready. I couldn't really imagine my life without David so I started planning what I hoped would be the perfect proposal.
I initially planned to do it on the 29th February as is tradition. However, as we planned on getting a new puppy early that year I wasn't sure of timings. I didn't want to leave a pup that we had only had a short while, plus the fact that if I suddenly took David out on the 29th he might guess the reason!
With this in mind I decided to propose on New Year's Day instead, what a wonderful way to start the year (providing he said yes of course!).
Did you have a specific plan on how to propose?
I started getting my thinking hat on with various ways to propose, I wanted it to be different but not too overboard. I decided on some kind of train cake as David was crazy about trains! I toyed with cup cakes with toppers and smoke clouds with the words 'will you marry me'.  I finally decided on an actual steam train with a carriage which would hold the ring box and a plaque on the side of the train to read 'Marry Me?' I found someone to create this for me and arranged to collect it NYE to take it to Flitwick Manor where they happily agreed to store it for me and bring it out at pudding time.  
So it was all set. I had no idea what I was even going to say (apart from the obvious). I knew I couldn't say too many words as you know what us women are like….emosh!! I settled for a 'short n sweet' poem and hoped I could get it out without going to pieces. 
Flitwick Manor was wonderful, they set us up in a room on our own with a lovely view and played romantic instrumental love songs throughout dinner. When the time came I asked for the 'special pudding' which they brought out, the moment was so perfect and he said YES! Phew. I think David knew something was happening but he had no idea I was about to propose, he liked the ring I chose. I had estimated the size using a couple of his other rings and it fitted perfectly. I was so pleased. David has since treated me to the most beautiful 'Disney enchanted' rose gold ring which is just perfect!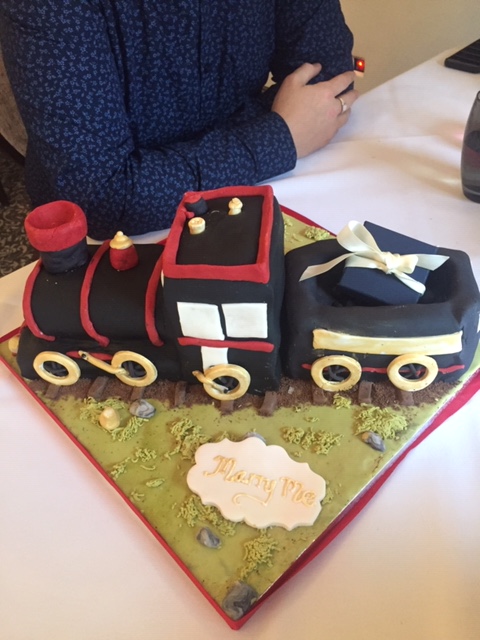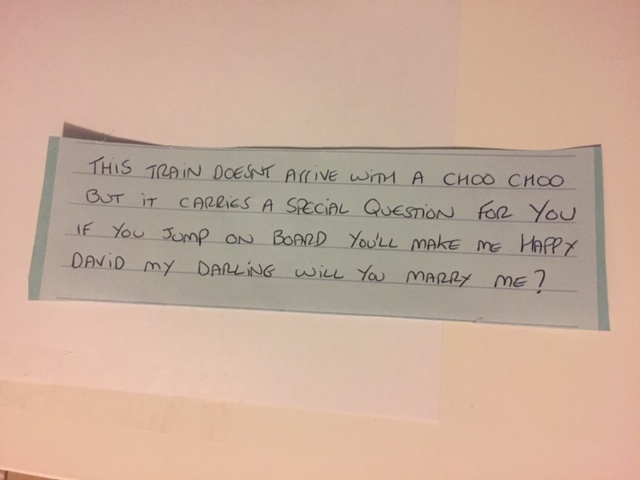 How did everyone react?
Friends and family have been happy for us, in fact quite a few people have teased us for a while about tying the knot as it's clear we are good together. 
Have you planned the wedding yet?
We plan to go to Gretna Green to get married, a small and intimate ceremony with a few special friends and family. We will tour the NC500 around beautiful Scotland for our honeymoon and throw a  'Just Married' party when we get back. So much to plan but we are very excited for the future. 
We've come a long way since Buttons n Cinders. We often joke that Buttons doesn't normally get the girl as he has to watch Cinderella go off with the prince. I guess we made our own happy ever after into our real life fairytale!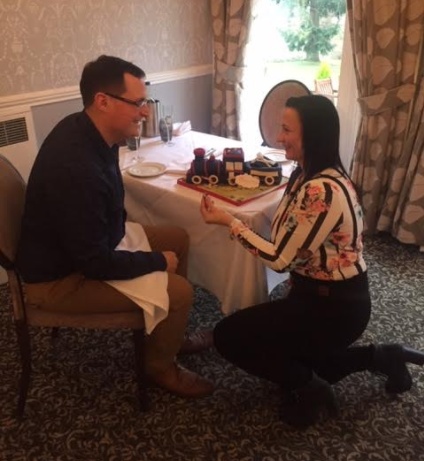 Are you planning a wedding?
Check out our To Have & To Hold wedding guide with everything you need to plan your perfect day!