The leaves are nearly ready to fall for Autumn, and with the new season fast approaching we think it's time for a wardrobe clear out too. But think twice before tossing them in the bin! In recent years the second hand clothing market has exploded, and this is because of some of the shocking figures that have come alongside clothing wastage. Not only do people want to contribute to sustainable fashion, but by doing so they can also earn some extra cash in the process!
Why has second hand fashion become so popular?
The public's interest in buying second hand is continuing to grow according to statistics. A new study taken this year suggested that the UK's second hand market is set to erupt and could even overtake 'Fast Fashion' by 2029. More and more people are turning to second hand because of the raised awareness of how much damage the production of new clothing actually causes. A study of a thousand people by Oxfam has estimated that 11 million tonnes of clothing end up in the landfill each week which is shocking. This is why the campaign #SecondHandSeptember has been launched to appeal to shoppers to only buy secondhand items from online marketplace sites, auction sites and charity shops. Not only are people being pushed towards buying used due to being more environmentally conscious, but the second hand market has also boomed due to the fact that more and more people are actually selling online too. With the growth of online marketplace suchs such as Ebay, Facebook marketplace and Friday-Ad, selling used items is easier than ever and can earn you some good cash!
If you're running out of wardrobe space and need to make some room for new something else, or you may have outgrown the style – whatever it may be, it's never been easier to turn those unwanted items into decent cash by selling them online. Online marketplaces such as Friday-Ad, which is a completely free classified site allows you to sell to thousands in your local area. You can sell your stuff in 3 easy steps (for free!).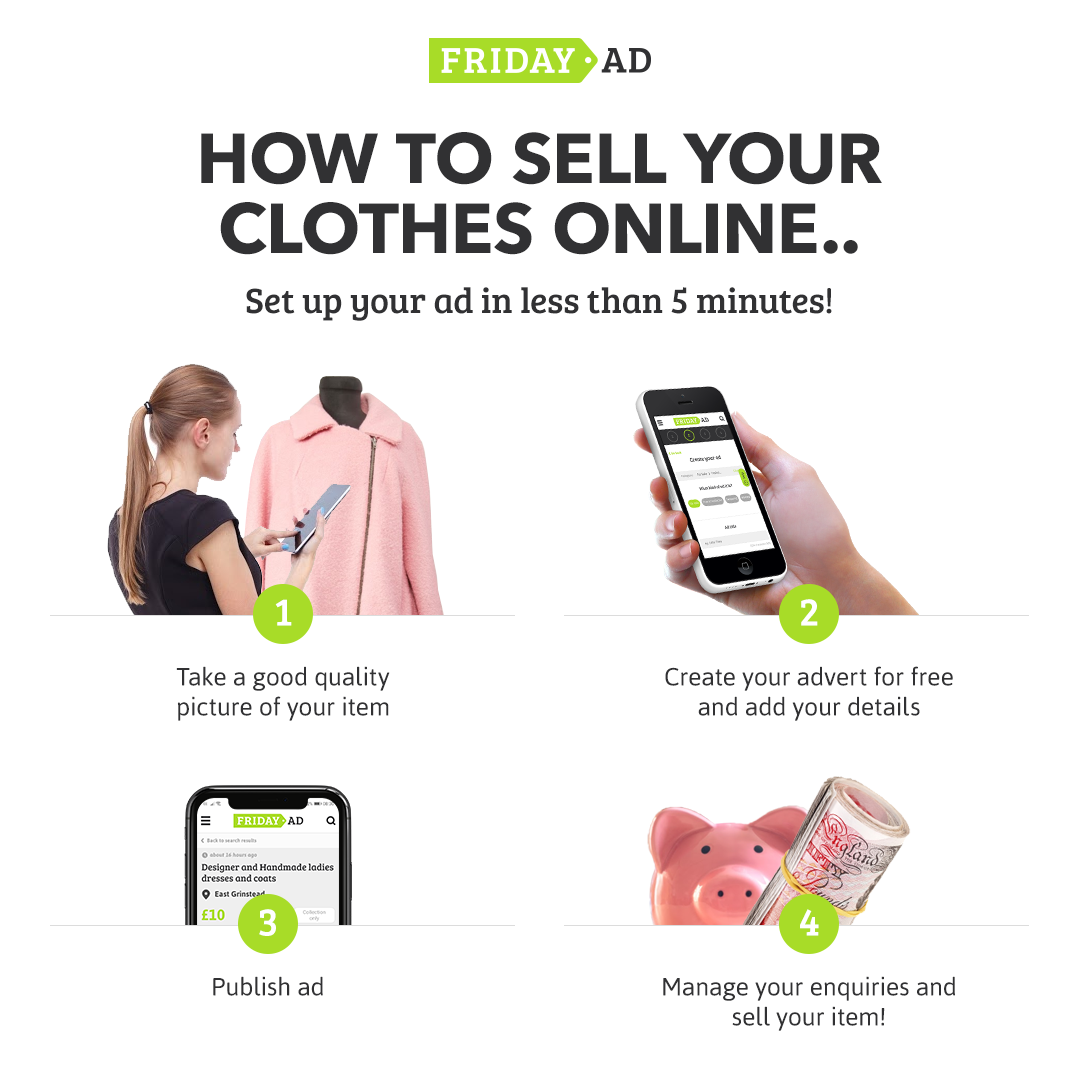 Set up your ad in less than 5 minutes!
Take a good quality picture of your item

Create your advert for free and add your details

Publish ad

Manage your enquiries and sell your item!
What do second hand clothes usually sell for?
Thanks to recent 'fast fashion' experts warning us of how fashion waste is becoming an environmental crisis, more and more people are being convinced not to 'throw away' their unused clothes and instead sell them on or give them away. But, how much can you actually make? It's hard to say exactly how much you will make selling clothes online as it depends on what you are selling and the condition of the item too. However, we can say that in recent years some people have turned to selling second hand items as a full time job! In fact, one mum made £1 million selling second hand clothes on a marketplace site.
According to our Friday-Ads data using Chartio we tracked on average how much money people list their clothing and accessories for. Although it's not millions, getting something is better than getting nothing and every little helps! Below is an average price for what people have sold on their second hand clothing and accessories for on Friday-Ad over the past 6 months.
We find out that on average an item of women's clothing sells for £29.
Jeans – On friday-Ad the average price for a pair of women's jeans is £7.50
Dresses – Dresses sell for a bit more at £45. This is because a lot of the dresses people sell are ex prom/ wedding dresses as well as designer ones too.
Coats and Jackets – On Friday-Ad people have been selling their coats at an average price of £29.10.
Shoes – Shoes sell for an average of £16.40 so if you have a lot of pairs kicking about its worth selling them or alternatively you can grab yourself a bargain too!
What's stopping you? Give your clothes a longer life by stopping them from ending up in the landfill and help contribute towards a greener community! ♻️