It's that time of year again, when we're all addicted to the Great British Bake off and are looking for anything to help us get our sugar fix! Here at the Friday Ad we've been indulging our sweet tooth in the name of research. We're willing to share our favourite baking spots with you, as long as you promise to leave a slice for us…
Raise Bakery – Hove  
The family run bakery on Church Road, Hove has perfected customer service, their warm welcome will have you instantly feeling like a regular – and will most likely turn you into one! Local celebrity Zoella says their brownies are the best she's ever had, and we agree!
We recommend: The Cookie Brownie mash up! If you're feeling brave why not try your sweet treats in their staple: "Will it blend?" Milkshake!
 Choccywoccydooda – Brighton 
The avant garde chocolatier Choccywoccydoodah, was always on Brighton's must visit list. Due the high success of their TV show tourists can be seen queuing to get a peek at their bespoke cakes in the historical Brighton lanes. The shop showcases the talent of the Choccywoccydoodah team, with some incredible cakes on display. From dinosaurs and dogs, to smiling faces and skulls, there's a little bit of everything available. You can get your sweet fix from their shop or the cafe upstairs.
We recommend: If you're visiting their cafe go for the dipping pot of chocolatey goodness! If you're simply shopping, grab a chocolate popcorn lolly for enjoyment on the move.
 Lighthouse bakery school – Robertsbridge
Set amidst the gently rolling hills of the High Weald, and overlooking Bodiam Castle, the Lighthouse Bakery School offers a range of courses in a delightful setting.  Offering a wide range of classes, with many catered for families and children. Each course will give you the experience of working with a variety of doughs and you will take with you the skills and confidence to make fantastic looking, great-tasting bread at home.
 We recommend: Try an Italian baking course devoted to the many bread traditions of Italy! Their famous chocolate bread is our favourite. The next available course is on Wednesday 21st September.
 The Cook Shelf & The Potteryshelf – Eastbourne
A creative cafe combining a Cookery School with a Pottery Painting Cafe which is based in the heart of Eastbourne. Offering a variety of different courses and lessons teaching different techniques for day-to-day cooking and baking for special occasions. Their Cafe is proud to be a BYO venue, so why not bring along a bottle of whatever you fancy to enjoy!
We recommend: Their macaroon home class! Macaroon's are renowned for their trickiness, so get yours perfected with the right tutor, and a tried and tested recipe in your own home!
 Baked – Worthing  
Baked is a cake café in the West End of Worthing that prides itself on its top notch local coffee, beautiful bespoke cakes and bad-ass brownies. They offer a comfortable environment to enjoy a range of hot and cold drinks and their homemade cakes, made on-site right behind the bar each day.
We recommend: After much deliberation we finally picked the raspberry and white chocolate brownie (which surely counts as one of our 5 a day?!)
Baked by the sea – Hastings 
Send your loved ones baked treats BY POST! Previously recognised by Vogue and Tatler and now the Friday Ad, Baked by the Sea offers a truly unique and simple service, guaranteeing a treat your special someone won't forget! Choose from their range of cakes and scones, all baked to order, loving packaged and delivered the next day. You can even order in advance and book a delivery date to ensure special occasions are never forgotten.
We recommend: Their Rhubarb and Custard Gift Box, includes scones containing chunks of fresh rhubarb partnered with vanilla. Make sure to dip your scones in the included miniature pot of custard!
Make sure your Home's ready for a Bake Over, kit it out your Kitchen with the Friday Ad!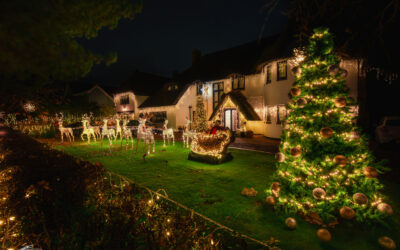 People across Sussex have decided to put up their Christmas lights earlier this year. After a tough year behind us they have decided to spread some festive cheer around the community. Louisa Light from Burgess Hill decided to create a Facebook group for anyone...