Expanding a whopping 40 square miles and with a population of 437,500 – the buzzing city of Bristol is the perfect place for a weekend getaway, romantic break or family holiday! And with so much to do and see, it's unsurprising that many people decide to become full time residents of this West Country metropolis.
Whether you're a visitor or born-and-bred Bristolian, it can sometimes prove difficult to find exactly what you're looking for in a city so full of options. But we've done the hard work and hand-picked a selection of the very finest Bristol has to offer for a wide variety of ages, interests and personal tastes. Visitors to the city will love our brief run-down of places to stay, as well as recommendations for hen and stag dos. Residents of Bristol are sure to uncover some hidden gems in our ideas on things for couples, families and even free stuff to do!
So take a look below and learn more about this unique and magnificent city!
 Contents:

Bristol plays host to an abundance of eateries serving up a wide variety of different cuisines to suit every taste. Here are our top 5, in no particular order:
Urban Tandoor

Walk down the narrow Small Street in the city centre and you'll discover this hidden gem. Whilst Bristol has an expansive Indian dining scene, Urban Tandoor sets itself apart by offering diners fresh, authentic Indian food cooked by their skilled chefs. A firm favourite with diners is, of course, their Vindaloo curry – which is expertly balanced and provides a refreshing alternative to the run-of-the-mill curry house version. Diners can also expect attentive service from the staff, who go out of their way to ensure your dining experience is top-notch, and excellent value for money.
What diners say: "I've now eaten here about 10 times, and have never had anything other than a fabulous meal. I'm vegetarian, and there is a great choice for me, but my wife happily eats meat and is equally impressed. The service is wonderful- friendly, relaxed, but never obstructive. We visit Bristol every 2 months, but are remembered every time." – Gram63 via TripAdvisor
Website: http://www.urban-tandoor.com/             Telephone:0117 929 9222
Casamia

Located on the High Street in Westbury Village. The Michelin star awarded Casamia serves only one menu that changes with the seasons and prides itself on using fresh, local produce to create magical dishes that evoke all the senses. As well as dining in Casamia's intimate main restaurant, customers have the option to book the chef's table and be witness their highly-skilled staff, who put together each well-balanced dish with the most delicate of touches, in action. The restaurant's innovative approach to all-things seasonal hasn't gone unnoticed – in 2014 they were awarded the 'Best Restaurant' title at the Bristol Good Food Awards
What diners say: "The food is evolved and complex and has an element of modernist whizz-bangery about it, but never loses sight of the importance of feeding people well. The whole mood of the place – from the cast-iron gateway off the suburban Bristol high street, down the terraced alleyway, heavy with pots of herbs they use in their cookery, to the vaulted dining room – shouts: "We want you to have a nice time," as does the price tag." – Jay Raynor (food critic) via The Guardian  
Website: http://www.casamiarestaurant.co.uk/            Telephone: 01179 592884
The Burger Joint

Situated on Whiteladies Road just round the corner from Clifton Down station. Diners who walk through the door of The Burger Joint are given an order sheet, on which they tick off what burger, toppings, sides and sauce they want. This 'build your own' approach is just one distinguishing feature of this constantly-packed eatery and after ordering customers are treated to their custom-built choice – freshly cooked with high-quality, local ingredients. Their delicious burgers earned the restaurant a mention in Time Out's guide to burgers in the city, but other sides like the sweet potato chips are an absolute hit with diners too.
What diners say: "Service was very friendly and efficient – the ordering cards are a great idea. I had a double venison burger with blue cheese & onion rings and it was absolutely colossal! Really good quality patties on a brioche bun and the chunky chips were damn good too. The 5 of us went away absolutely stuffed and with big smiles!" – SmauelM86 via TripAdvisor
Website: http://www.theburgerjoint.co.uk/             Telephone: 01173 290887
Romy's Kitchen
Situated in the village of Thornbury just outside of Bristol, Romy's Kitchen offers authentic Indian-inspired food at incredibly good value for money. The vast number of meat-free options on the menu has made the eatery a hit with vegetarians and even earned it the title of 'Best Vegetarian Restaurant' at the 2014 Bristol Good Food Awards. Romy's has also been hailed for its number of gluten-free options, making the restaurant a great place to dine with pretty much anyone. Firm favourites among diners include the vegetarian thali and Kosha Mongnsho (goat curry) – but the attentive service has locals and visitors alike returning again and again.
What diners say: "With main courses costing between £9 and £12, you truly are getting a bargain: dishes are made to order, the quality of the ingredients is high, and Romy's passion for flavour is evident. It's not the sort of place you'd visit for a boozy curry night – there are plenty of places in and around Bristol for those. Instead, Romy's Kitchen is somewhere you go to enjoy an authentic Indian meal with an interesting home cooking/fine dining slant – well worth a visit." – Bristol Bites
Website: http://www.romyskitchen.co.uk/             Telephone: 01454 416728
The Tube Diner

Located at the Paintworks on Bath Road, the Tube Diner offers American diner style grub inside, of all things, three airstream trailers! The delicious range of lunchtime treats offered everyday include burritos, burgers and pasta dishes and makes this an incredibly popular destination for people who work locally in the area. That said, the Tube's reputation as a quirky eatery attracts diners from far and wide – and their burger nights over the weekend are astoundingly popular. Also famous are their breakfasts, both American and full-English, which deliver on flavour and authenticity.
What diners say: "I'm a regular customer at The Tube Diner and I plan on being for a long time!!! The food is always second to none, always made with fresh and local ingredients – you'd have to go a long way to beat it!! Especially the hand-made steak mince burgers – a personal favourite of my partner and I. Always met with a warm welcome from The Tube's owner and staff. Definitely worth a visit, highly recommended!" – BCWalker via TripAdvisor
Website: http://www.thetubediner.co.uk/             Email: info@thetubediner.co.uk

Those looking for after-hours entertainment are spoilt for choice in Bristol. With a range of unique bars and exciting clubs, there's something to suit everyone…
Hyde & Co.

You have to be eagle-eyed to spot this little gem, which is undoubtedly one of Bristol's best kept secrets (until now!). Hyde & Co take the bar's speakeasy theme very seriously indeed, with customers needing to navigate and ring a doorbell before being checked out through a spy-hole in the door. We'll stop there with detail about the venue – as we wouldn't want to spoil the mystery should you ever visit this ace drinking establishment. The cocktails prepared lovingly by their skilled mixologists range from the classics to more innovative creations and are always served strong – just how we like them!
What people say: "As secrets go, a secret room within a secret bar is as secret as you might get. Hyde & Co may be just off the Clifton Triangle, one of Bristol's busiest nocturnal thoroughfares, near a magic bar and surrounded on almost all sides by kebab shops, but if you didn't know it existed, you might walk by it blissfully unaware of the delights within." – Betty James via TimeOut
Website:http://hydeandcobristol.net/             Telephone:01179 297007
The Syndicate

Located just a stone's throw away from The Galleries shopping centre on Nelson Street, Syndicate is perfect for keen clubbers looking for a good time. This superclub is truly massive and actually has two rooms. The first is the main room – which consists mostly of party-goers being entertained by world-class DJs, with dancing going on until the early hours. If that's not your cup of tea there's also the R&B room which, although still quite big in size, offers a more chilled-out atmosphere. This truly is the perfect night out for club enthusiasts!
What people say: "As soon as you walk through the doors you are immediately taken into the clubs arena based structure, with a huge dance floor and massive speakers hanging down from the ceiling.  You will find dancers on podiums, robots and creatures on stilts crawling around the dance floor and on special occasions highly trained fire artists doing tricks with fire." – Bristol Nightlife
Website:http://www.thesyndicate.com/               Telephone:01179 450325
Thekla

Head to the East Mud Dock just by the picturesque Queen Square and you'll find a formidable-looking boat called 'Thekla'. This unique vessel plays host to a wide range of gigs and club nights, and is adored by locals and visitors to Bristol alike. Praised as being somewhere you can both sit and have a relaxed drink or dance the night away, Thekla is particularly popular with music-lovers and students – with the venue receiving a mention in the Bristol Tab's freshers guide to nightlife in the city.
What people say: "This was my first experience of the Thekla, and I really enjoyed it. My boyfriend loves hard rock, and we saw the Black Spiders, who were absolutely brilliant and put on a fantastic show, with a great supporting act Turbogeist. The tickets were not very expensive, it is easy to park nearby, with lots of places to eat." – Sarahrt2 via TripAdvisor
Website:http://www.theklabristol.co.uk/             Telephone:01179 293301
Motion

Offering a clubbing experience that you'd usually have to travel to the capital for, Motion is a skate park by day and a unique superclub by night. Comprised of a network of warehouses with a cobbled front courtyard and a massive outdoor area, this venue offers a variety of rooms with something for every keen clubber. It also plays host to a range of music events including gigs, festivals and massive clubnights (with the likes of promoters Just Jack and Blowpop putting on regular nights here). Locals particularly like the large outdoor smoking area and friendly crowd, which has helped this venue put Bristol well and truly on the clubbing map.
What people say: "With a cavernous main room at the heart of a sprawling complex of smaller spaces, outdoor areas and, occasionally, the adjacent Marble Factory venue, Motion provides a regular home for not just homegrown Bristol nightlife institutions such as The Blast and Futureboogie, but global mega-brands such as Defected and Cocoon too." – Jon Cook via TimeOut
Website:http://motionbristol.com/             Telephone:01179 723111
Smoke & Mirrors

If you're looking for something a bit different head to this boutique pub located on Denmark Street in the city centre. Offering magic shows, live comedy, music and burlesque – this little gem provides an intimate atmosphere that guarantees you a unique night, whether you're with family or friends. Visitors to the Smoke & Mirrors bar are treated to an engaging evening of high-quality entertainment, as well as friendly staff and reasonably priced drinks. Being so cosy it is recommended you book a table beforehand and you can even pre-order drinks for show intervals!
What people say: "Fantastic intimate venue and top class entertainment. The show is brilliantly presented and superb audience participation. We enjoyed it very much and will go again on future visits to Bristol. I can absolutely guarantee you will not be disappointed if you go along to the show." – Simon Chorsley via TripAdvisor
Website:http://www.smokeandmirrorsbar.co.uk/             Telephone:01179 290362

When making plans for spending time with the family, it can be difficult to find something that suits everyone. Fortunately, Bristol is full of entertaining and versatile attractions to suit all ages…
Jungle Rumble Adventure Golf

Head to the top floor of Cabot Circus and you'll find Jungle Rumble, which comprises of two crazy-golf courses, a cafe/bar, soft play area and air hockey. This truly is fun for all ages and the challenging themed 18 holes are sure to get your family's competitive spirit going! It's location means Jungle Rumble can be easily incorporated into a family day out as a break from shopping at the busy centre below. Prices are reasonable, with offers like 1 round with 2 bottles of beer proving very popular at just £10.
What people say: "Both courses at Jungle Rumble look like sets from Tomb Raider with vines and temple ruins. We played both courses on a Sunday morning, so it was quiet with only a few kids around, taking us about an hour in total to complete. It is a great way to have some fun, and if you're like me, really gets your competitive edge going. The courses are varied, and offer an imaginative and creative mix that are suitable for both adults and younger children." – Guide 2 Bristol
Website: http://junglerumble.co.uk/               Telephone:01179 297771
Bristol Zoo Gardens

First opened in 1835, Bristol Zoo has entertained and educated locals and tourists for many years. It's easy to see why this attraction has survived the test of time and has earned a mention in The Guardian's top 10 for family days out in the city. Visitors can expect a tranquil garden setting on the stunning Clifton Down, as well as a wide variety of wildlife to see. Also on offer are talks or feedings every 15 minutes, which gives spectators the chance to learn about the animals and conservation projects, as well as a vast amount of educational material dotted around the various enclosures. Most importantly, the animals themselves seem content and enclosures are spacious and clean.
What people say: "What a fab day we had! My son is 20 months and loved the animals. We had a picnic on the lawn which was packed but all very child friendly. The car parks were full, but we found a free space along the roadside. The facilities were excellent." – Review via Mumsnet
Website: http://www.bristolzoo.org.uk/             Telephone:01179 747399
The Climbing Academy

If your family prefer something a little more white-knuckle, then this large bouldering centre is right up your street! Offering a variety of options to suit all fitness levels, bouldering allows participants to climb without the hindrance of usual climbing equipment. What makes this centre – which is situated in Lawrence Hill – special is the atmosphere and community within the academy. Everyone truly is welcome here and bouldering is a great way to get your loved ones into climbing as a hobby.
What people say: "We really enjoyed ourselves and there was so much to have a go at that we ended up spending the afternoon there. The centre caters for various ages and had a great atmosphere. The staff were really friendly and helpful. They have a great cafe with wifi also available. Excellent place, will look forward to visiting again!" – bluezazzria via TripAdvisor
Website: https://www.theclimbingacademy.com           Telephone:01179 072956
At-Bristol Science Centre

Also known as At-Bristol, the science centre offers an excellent and educational day out for any family. The vast majority of exhibits are interactive but also informative, and as a result little ones are kept occupied and engaged whilst they learn. Favourites include the animation area, the 'Build-It' Zone (where participants are invited to build a house with Lego bricks) and the bubble area. A great opportunity for adults and kids alike to learn about science and experience it first-hand!
What people say: "At Bristol has a huge variety of exhibits that provide young people with a real hands on approach to scientific understanding. My children adored the section looking at the human body. Getting to listen to music through their teeth was fantastic fun and who knew we had such powerful and adaptable body parts. " – Lee-Anne McCarthy via What's Good To Do
Website:https://www.at-bristol.org.uk             Telephone:08453 451235
Laser Fusion

Action and sci-fi enthusiasts will love this one! Located on Silver Street in the City Centre, Laser Fusion is an alternative way to spend time with the family. Their purpose-built arena is packed full of castle towers, mazes and fog as well as lighting and sound effects. You can either opt to play solo or as a team and once your game is over you can debrief and have some food and drink in the centre's cafe. Visitors particularly love the staff, who always go the extra mile to make your Laser Fusion experience special.
What people say: "Came here as kids wanted to do this. All in all we had a great time- everybody thoroughly enjoyed themselves. The best bit was that we each had scorecard showing who shot us and who we shot. Brilliant!" – mseet via TripAdvisor
Website:http://www.laserfusion.info/             Telephone:01179 293699

If you're lucky enough to have been selected Maid of Honour it also means you're blessed with the task of organising a hen do to remember! Don't panic though, as there are plenty of hen activities in Bristol to suit all ages and tastes…
Cocktail Making at Revolution

Usually, we're not massive fans of large chains, but Revolution's cocktail making classes repeatedly deliver and are a great idea to get your hens in the party mood. You and your friends will be given a choice of which cocktails you would like to make – then your allocated mixologist will show you how to perfectly balance all the elements! Your hens will love the friendly and informative staff, as well as the games and shots that are thrown in. Revolution has also received praise for their high-quality food, so you may want to think about arranging something to eat afterwards as well!
What people say: "Cocktail making as a hen party activity sounded like a really good idea, and Revolution Bar didn't disappoint. There was a party of about 20 to 30 of us for what ended up being a two hour class, where we all got to try several cocktails and make one for ourselves. There was a wide range of cocktails to choose from on the menu, cosmopolitans, martinis and more, and they also provided some nibbles for us to try with the drinks." – ihaveshoos via TripAdvisor
Website: http://www.revolution-bars.co.uk/             Telephone:01179 304335
Hens With Pens

If your party are looking for something a bit cheeky, life drawing is a creative way for everyone to get to know each other more and have a giggle. Featured in theBristol Vintage Wedding Fair blog,Hens with Pens is a Bristol-based company that aims to make your life drawing experience the very best it can be. One of their highly qualified tutors and models will come to you so you and your hens can relax in the comfort of your own accommodation. The first half of the two-hour experience is allocated to playing games doing drawing exercises to bring the artist out in everyone. Then show off what you've learnt and embark on some proper life drawing from a male model!
What people say: "We had a fabulous life drawing class. Everyone felt really at ease and we all picked up some new drawing skills as well as having a giggle. A fantastic night.." – Rachel via Hens with Pens website
Website:http://www.henswithpens.com/            Telephone:02032 913651
Spa Days at the Royal Marriott Hotel


Located in the prestigious four-star hotel, which sits right in the city centre, the Spa at the Marriott offers an extensive range of treatments, including packages for hen groups. Also available are facilities including a swimming pool, sauna, steam room, jacuzzi and gym. The variety of treatments are sure to keep everyone happy and give you and the bride-to-be some much needed TLC!
What people say: "My Swedish full body massage, which is ideal for relieving muscle tension and easing problem areas (of which I have many!), was out of this world, with just the right amount of pressure from therapist Zoe. I went in feeling tired and stressed and left floating on air. I'll be back." – Natalie Banyard, Bristol Post
Website:www.marriott.co.uk                Telephone:01179 294281
Clifton Cakes
If you're after something that will tickle everyone's taste buds, look no further than Clifton Cakes, who are based on St Georges Road in the city centre. On offer are a variety of cupcake and chocolate courses including chocolate shoe making, chocolate tasting and courses on making beautiful handbag themed cakes. The great thing about this activity is it will appeal to all ages groups, and can be a great way to get everyone talking (particularly useful if some members of your hen party don't know each other). And who doesn't like chocolate?
What people say: "The course was so much fun and it definitely gave me an appreciation for all the work that goes into producing good quality chocolates not to mention it made me feel a little less begrudged at the price that usually comes with them! Best of all, you get to take all of your creations home with you to share with family and friends." – The Wedding Girl
Website:http://www.cliftoncakes.co.uk/             Telephone:01179 041112
The Showgirl Academy 


If your group want to embrace their inner dancer or burlesque superstar then this is just the thing for you! Located on Portland Square, Showgirl offers fun workshops on burlesque, can-can, charleston, fan dance and 60's go go dancing especially for hen parties. The workshops focus primarily on having fun whilst getting fit, as well as finding a unique way to bond with your fellow hens. Their professional instructors are friendly, helpful and even accredited by the Ministry of Burlesque – so embrace your inner performer and give it a go!
What people say: "My hen party and I had so much fun giving Burlesque dancing a go on Saturday, it was excellent! Our instructor Sandie was great, and patient with our big group of 19, as well as our giggling!" – Katt Neal via Facebook
Website:http://www.theshowgirlacademy.co.uk/             Telephone:01779 232358
 
Best Man? Organising a stag do can be a daunting task, but with so many great things to do in Bristol, you and the lads can have an entertaining and stress-free weekend away…
West Country Go-Karting

Do you and your pals love a bit of competitive spirit? Tear up the tarmac in the beautiful surroundings of West Country Water Park! With a 400m circuit and top range Sodi karts with speeds of up to 50mph, the thrill-seekers in your party will love this challenging but fun activity. The staff are friendly and informative for booking, as well as on the day. On arrival, you receive a safety briefing before being shown to your karts and let loose on the track. May the best man win!
What people say: "Went as part of a stag weekend. Easy to book and subsequent questions answered quickly and honestly. Track was well designed for both novices and experienced karters. Couldn't recommend enough." – Emoey Cannon-Hartnell, Google
Website: http://www.westcountrykarting.co.uk/             Telephone: 01454 202666
Bristol Wine School

Hosting many private wine tastings across Bristol and Bath, this wine school is dedicated to providing fun and unstuffy events – perfect for a discerning stag party! For those new to wine there's the 'Introduction to Wine Tasting' which starts at £20 a head and lets you sample 7 different wines. The tasting can hosted anywhere you wish including your own accommodation or they can recommend a venue to match your budget! Bottoms up!
What people say: "Saturdays tasting was a massive hit and far beyond our expectations. Tristan's knowledge and spirit for the subject shone through without any of the pretence and stuffiness I have encountered with other wine tastings." – Customer via Bristol Wine School website
Website:http://www.bristolwineschool.co.uk/             Telephone: 01172 140262
Grosvenor Casino

Located on the very central Anchor Road in close proximity to the Floating Harbour, Grosvenor casino is the perfect venue for a bet or two after a night out. This casino in particular has put a lot of work into their poker room, and is billed as the only casino in the UK that runs multi-table live tournaments. If some of your stags are new to poker they can get involved with the Pit Texas Hold'em Cash Game, where free coaching is provided. Also available are the standard casino fixtures like roulette, blackjack and slots.
What people say: "If you fancy good food (reasonably priced) and a bit of a flutter then this is the place to go for something different! Even the bar prices are great and they even offer valet parking and being Bristol that's a welcome bonus" – User via TripAdvisor
Website: http://www.grosvenorcasinos.com/               Telephone: 01779 292932
Weston Lodge Shooting Ground

Offering competition-standard equipment and high quality guidance from their expert instructors, the clay pigeon shooting at Weston Lodge is the perfect activity for stag groups looking to do a bit of manly bonding. The woodland setting also has a large capacity for shooting, so even if you're in a very large group there will be no need to be split up. Whether your group are shooting novices or seasoned country bumpkins, you're sure to have an excellent and enjoyable day here!
What people say: "The setting of the lodge was fantastic, and the views looking down to the water at Portishead were breathtaking. Clay pigeon shooting provides a medium rush of adrenalin for those that are not quite adventurous, but is varied and competitive enough for those with more of an appetite for action sports." – What's On Bath
Website: http://www.westonlodgeshootingground.co.uk/            Telephone: 01275 842225
It's a Knockout
With all the same props, costumes and inflatables used in the original BBC show – It's a Knockout allows you and your stags to have some daft fun outdoors. Any fitness level can take part and the wacky challenges are sure to get your group's sense of teamwork going – which is the perfect way to let everyone get to know each other. The staff can also help you organise other activities to do in the evening, which will make your role as Best Man much less stressful!
What people say: "We opted for It's a Knockout as part of our hen weekend and were not sure what to expect. But we all had a fantastic time and spent the whole afternoon laughing! We didn't realise how competitive we were and were amazed to come 4th out of 30 teams. All the activities were well supervised and organised." – Mandy via Freedom Ltd
Website: http://www.itsaknockout.net/bristol/             Telephone: 01773 766053

In Bristol but completely skint? Have no fear, the city is brimming with things to do that are absolutely free of charge. So you can have fun, even when it's just before payday…
M Shed

If you have a couple of hours to spare, why not head to Wapping Road by the harbour and take advantage of the free entry at M Shed? Packed with interesting information and displays about Bristol's rich history, it's very easy to lose track of time in this well laid-out establishment. Spanning over three floors, there's something here for everyone – making it a perfect day out whether it's for a couple, family or group of friends. And once you've learnt more about city you can enjoy stunning views of the harbour and visit their cafe for a coffee.
What people say: "M Shed's unique selling point is that it is a "people's museum", valuing all contributions to Bristol equally, be they old or new, grand or small. It's inclusive approach to framing Bristol's history offers an unpretentious and vastly enjoyable narrative of the city." – James Lachno, The Telegraph
Website: http://www.bristolmuseums.org.uk/m-shed/              Telephone:01173 526600
Banksy Tours

Bristol is a city synonymous with graffiti and street art – most famously, the works of Banksy are dotted around the city. For cultural enthusiasts, the perfect free day out can be easily put together by doing your research on the internet and hitting the street in pursuit of his most famous works. Where the Wall offers an excellent run down of locations, and their extensive knowledge of all things street art has earned them a mention in the Bristol Post.
What people say: "I always find it a good way to get to know the city and places you would never go if it wasnt for the street art. And, although Banksy was my reason to go, I became a fan of other artists too! " – User via TripAdvisor
Website: http://www.wherethewall.com/             Facebook: /wherethewall
St Weburghs City Farm

Having a small farm holding in the middle of a city might seem slightly strange, but St Weburghs is exactly that, and offers a great opportunity to learn about where our food comes from. With a wide range of animals including pigs, sheep, goats and chickens, as well as an award-winning cafe – this is a great day out for all the family. Note that although they do not charge entry, St Werburghs is a charity and gratefully accept any donations!
What people say: "As we live so close by, we often come here when money is a little tight or the kids are in need of cheering up. The goats cheer my daughters up every time without fail! Free entry although a donation is expected and we give what we can every time. Cafe is lovely, we often go for the posh fish finger sandwich as it's really rather yummy." – User via TripAdvisor
Website:http://www.swcityfarm.co.uk/             Telephone:01179 428241
Clifton Suspension Bridge

Venture just slightly out of the city centre and you'll come across this formidable monument – which has become a symbol of Bristol and the South West over the years. Sweeping across the Avon Gorge, a walk on a sunny day offers stunning views of the Clifton Downs and a stroll at sunrise or sunset in the right conditions makes for a spectacular experience. Keen photographers will love this, so remember to bring your camera!
What people say: "The Clifton Suspension Bridge is the top sight for visitors in Bristol. For me it's like the Golden Gate for San Francisco. High over the Avon River, at 75meters, it spans the Avon Gorge. It's a beautiful bridge that becomes more beautiful during the night when it's all lit up." – Virtual Tourist
Website:http://www.cliftonbridge.org.uk/             Telephone:01179 744664
St Andrews Park

Containing a park, playground and paddling pool this is the perfect place to get some fresh air – whether you're exercising, spending time with the kids or just sitting and watching the world go by! As well as the generous green space, which serves as the perfect location for a bit of frisbee or football, there is a cafe serving up a variety of delicious treats. Well worth a visit!
What people say: "We were there hours and hours, it was such a lovely atmosphere. The park has a sand area with lots of things to climb on, and then at the back for the older kiddies is a large wooden climbing frame. There is lots of green space onsite, perfect for cricket, football, frisbee etc!" – Kelly via Netmums
Website: http://friendsofstandrewspark.ning.com/               Telephone: 01779 223719

Bristol is a buzzing city that plays host to a variety of massive events every year. Whether you're into food, music or cars – you can be sure there will be something for you! Here are our top picks, in no particular order…
Volksfest

The ultimate weekender for Volkswagen fans everywhere, this festival has gone from strength-to-strength since it started and now attracts over 10,000 car lovers every year. At just £30 for a weekend ticket, it stands up as one of the best value for money festivals out there, and prides itself on being family-friendly with something for everyone. VW enthusiasts will love their show and shine displays, and keen music-lovers will greatly enjoy Brisfest on the Sunday – featuring loads of live bands. Also on offer is a range of delicious food and drink, dog agility, kids zone and art displays.
What people say: "One of last season's real belters was Bristol Volksfest. From its small beginnings this cornerstone dub show is now in its 22nd year… and in that time it has evolved and grown into epic proportions!" – VW Vibe Magazine (on Volksfest 2014)
Website: http://www.bristolvolksfest.co.uk/              Telephone: 07581 377856
Bristol Harbour Festival

Attracting hundreds of thousands of people to the Bristol waterfront every year, Bristol Harbour Festival is one of a kind and plays host to a range of attractions. Visitors can expect live music, street artists and circus acts as well as a market in Queen Square and, of course, plenty of boat-based attractions too. This massive event is incredibly popular with locals and visitors to Bristol alike, and has even earned a mention in the Bristol Post.
What people say: "At Bristol Harbour festival, I spent a lot of time at Queen Square, listening to the bands and sampling the drinks and food. Every year this is one of the venues for the festival and is attended by all kinds of entrepreneurs, offering a variety of food and drink." – Michael Devon via TripAdvisor
Website: http://bristolharbourfestival.co.uk/             Twitter: @BristolHarbFest
Grillstock Bristol

Taking place on the 11th and 12th July in Lloyds Amphitheatre on Bristol Harbourside, Grillstock's reputation as the ultimate BBQ festival has earned it a mention in The Guardian. Visitors will be treated to a variety of entertainment including live music, 'King of the Grill' competitions, BBQ masterclasses and eating competitions. A ticket not only grants you access to all of this but lets you sample some of the food produced at these attractions. There's also a dedicated children's activity area, so those of you with little ones needn't miss out on the fun.
What people say: "Overall, I would say the festival is good value for money at £30.00 for a weekend ticket. We had a wonderful day out as a family and would definitely recommend it as it appeals to a wide range of ages." – Lora Hole, What's good to do
Website: https://grillstock.co.uk/              Twitter:@grillstock
Bristol Comedy Garden

If you're a comedy fan, then this is right up your street! Taking place in Queen Square, this funny festival runs between the 8th – 12th July and features an array of big names include Sean Locke, Stewart Lee and Bristol-born Mark Watson. And if that wasn't enough already, the festival will be bursting with bars, live music and street food – so you'll be well and truly spoilt for choice once you've laughed up an appetite. A great event for couples or groups of friends looking for a good time.
What people say: "The inaugural Bristol Comedy Garden was such a success that it's a wonder nobody thought of the idea before. Erect a big top in Queen Square, fill it with some of the best comedians in the country, and watch the punters come in droves and laugh themselves silly." – Bristol Culture
Website: http://bristolcomedygarden.co.uk/            Twitter: @comedygarden
Bristol International Balloon Fiesta

We couldn't do a section on Bristolian events without mentioning this world-famous ballooning festival, which is the largest of it's kind in Europe. Starting in 1979, the International Balloon Fiesta now attracts over 500,000 people and 100 hot air balloons – which makes for an incredible spectacle, particularly at night, when they take to the sky. Also at the festival is a bandstand hosting a wide variety of music, local producers offering food and drink and the opportunity to book hot air balloon flights, including voyages on glass-bottomed ones for the daring! And, best of all, entrance to the Fiesta is absolutely FREE.
What people say: "Nothing better than driving to work on a summer's morning and seeing several balloons floating along. The night glow before the Balloon Fiesta is really lovely. Some years we're lucky enough to have them sail over our house, often low enough to talk tothe people in the baskets!" – User via Virtual Tourist
Website: http://www.bristolballoonfiesta.co.uk/             Telephone: 09067 112191
 

Whether its for a romantic weekend away or a longer stay with friends or family, Bristol has a range of accommodation on tap to suit all budgets and preferences – so look below for our top picks…
Hotel Du Vin

With large, loft-style bedrooms and a unique setting within a Grade II listed building – Hotel Du Vin offers guests a high-quality, luxurious stay. Despite being part of a chain, visitors enjoy the attentive staff, exceptional customer service and original architecture – which stems from the restored building's former use as a sugar warehouse. In terms of room features the generous beds and complimentary Nespresso machines are a big hit and you also don't have to go far to enjoy some top-notch food, as their well-regarded restaurant is situated inside the hotel.
What people say: "This is a lovely hotel, from the start all staff was helpful, our room was beautiful and quite unique given the monotony of a lot of hotels these days it is always nice to see individual style touches. We stayed with friends and their rooms were equally lovely and different. Will definitely be back!" – Mick Bryd via TripAdvisor
Website: https://www.hotelduvin.com/locations/bristol/            Telephone: 08719 430345
Thirty Eight

Located in the beautiful setting of the Bristol Downs in the picturesque Clifton village, this establishment goes beyond your bog-standard bed and breakfast. On arrival the elegance of the Georgian townhouse makes an outstanding impression which is upheld throughout it's boutique-style interior. Bedrooms offer guests not only a high-quality array of fixtures and artwork, but stunning views of the Downs and city in the distance. Food-wise, delicious cream teas and divine breakfasts are on offer, which can be enjoyed in the intimate lounge room or outside on the terrace – perfect for the summer.
What people say: "Bristol's been crying out for an upmarket b&b for years, and this double-fronted townhouse definitely fits the bill. Billed as a 'boutique and breakfast', it's all clean lines, muted colours and minimal clutter. The 10 bedrooms, all different, all have a designer touch. It feels like a chic Parisian pied-à-terre: wood-panelled walls are painted in shades of duck-egg blue and slate grey (from Farrow & Ball, of course), and retro lamps." – Oliver Berry, The Telegraph
Website: http://www.number38clifton.com/             Telephone: 01179 466905
Future Inn, Cabot Circus

Offering guests a basic but still very comfortable stay, this Future Inn is located just 30 seconds away from the bustling shopping centre of Cabot Circus. Despite being situated in the city centre at a cheaper price than the norm, rooms are spacious and clean with friendly and attentive staff. Free parking for guests is a massive benefit, as parking in the area otherwise is nearly impossible. Free Wifi is also included – which is particularly useful if you are in the city on business.
What people say: "We have just here stayed for 1 night myself, partner and our 7 yr old son, and found this to be a lovely hotel. Very clean, nice large room with 2 queen size beds and an ensuite with shower/bath. dressing gowns and slippers also included. We were overlooking the front of the hotel on floor 2 but didnt notice any traffic noise and had a lovely sleep. " – Maxine via Expedia
Website:http://www.futureinns.co.uk/bristol/             Telephone: 01179 049698
Brooks Guesthouse Bristol

Situated bang in the city centre just a stone's-away from St Nicholas market and the harbour, Brooks was once a hostel and has been since revamped into a boutique guesthouse. Twin and triple rooms are on offer here, which although compact are very high-spec – making this an ideal choice of accommodation for family and friends. The homely but stylish feel, as well as the wide range of high-quality food available for breakfast has earned this establishment a mention in The Guardian, so it's well worth checking out.
What people say: "The rooms are light and clean, the perfect haven in which to drop after a day spent exploring the city. The staff are friendly, the beds are soft, and the hotel makes an unfussy bed and breakfast in Bristol feel like a luxurious home from home. Neat, sweet, and unassumingly chic." – Red Online
Website: http://www.brooksguesthousebristol.com/            Telephone: 01179 300066
DoubleTree by Hilton

Located on Redcliffe Way in the city centre, the DoubleTree offers guest executive-style rooms and serves as an excellent choice of hotel whether you're in Bristol for business or pleasure. Guests will love the professional but friendly hotel staff, as well as the delicious range of food on offer in the hotel restaurant. Being part of the Hilton brand, there are often good last-minute deals on offer – so its well worth looking online to see if you can find yourself a few nights' accommodation at a steal.
What people say: "The hotel was very clean and had lovely decor throughout. Breakfast was fantastic with a nice long time to enjoy it so we didn't feel rushed!" – Hayley via Booking.com
Website: http://doubletree3.hilton.com/             Telephone: 01779 260041

Sometimes when visiting a city it's tempting to restrict your retail therapy to the nearest large shopping centre. But Bristol has so much more than that to offer, so venture to the below for a truly unique shopping experience…
Fig

Located on Gloucester Road, Fig is a truly original little shop set up by six artists who make a range of gifts and jewellery, as well as limited edition prints and cards. Their selection of gorgeous trinkets, which include silver charms, fabric embroideries and hand-stitched portraits, are perfect to brighten up your home with or as a gift for someone special. Their wares have earned Fig a mentioned in The Guardian. If you'd like to see more about Fig before you visits, their blog is full of updates on these six creative ladies' latest projects.
What people say: "Having only been in the area since June this shop, run by a six strong craft collective is a unique glimpse at the production of some beautiful products. I think it's the shop split in half that makes Fig such an enjoyable place to poke my head in: half the shop given to racks for gifts and cards and the other half to the in house artists." – User via Yelp
Website: http://www.figshop.co.uk/            Telephone: 01179 244898
Park Street

With it's massive selection of boutiques, vintage shops and art galleries – it's no surprise that Park Street was shortlisted for the Great British High Street of the Year Award in 2014. Located in Bristol's West End, it plays host to well-known brands like Cath Kidston but also showcases a variety of hidden gems where you can pick up something really unique. Among these are shops providing vintage goodies like The Boot Room and BS8, as well as independent shoe store Fifty Fifty. And once you've worked up an appetite there's a wide array of eateries too!
What people say: "Park Street does not just entice with quirky shops and culinary delights but also with great vistas and a beautiful Georgian setting. Stroll up the hill, admire the architecture, treat yourself to a new pair of shoes on the way up, and enjoy the reward of a nice cup of coffee and spectacular views over the city at the end of it.." – Visit Bristol
Website: http://www.bristolparkstreet.co.uk/             Twitter: @BrisParkStreet
Anna Falcke

With over 15 years experience in fabric design, the team at Anna Falcke offer beautiful hand-crafted women's accessories, including scarves and gloves which have been recommended in the Bristol Post. Certain collections – like the Devoré Scarves – are designed and individually hand painted by Anna Falcke herself and so make a wonderful gift for someone special. That said, their Wristees – which are stylish fingerless gloves – are high-quality and very popular with their many satisfied customers!
What people say: "I have purchased several pairs of Wristees since my neighbour was spotted wearing a lovely turquoise pair. Some I bought from Bath Christmas Market where I was able to chat to Anna and some by mail order. I was delighted with instant delivery accompanied by a handwritten note by Anna." – Louisa W via Anna Falcke website
Website: http://annafalcke.com/             Telephone: 01179 049698
Cabot Circus

If you are shopping with family or a large group of friends, dragging them between independent shops, how ever lovely, may become tiresome. As shopping centres go Cabot Circus does an excellent job of being accessible to all but also providing a few unique stores as well. One such example is Colonel Mustard – three floors of high-end menswear with a barber shop on the second floor. Also available are a wide variety of eateries, well-known high street brands and Jungle Rumble Adventure Golf on the top floor!
What people say: "As we were in the area we decided to do a spot of shopping, have something to eat & go to the cinema. Cabot circus couldn't be more perfect for doing all those things in one place. Car parking was easy and not too expensive. And everything was so close and had everything you could need. Great for a Saturday…" – Emily P via TripAdvisor
Website: http://www.cabotcircus.com/             Telephone: 01179 529361
Cox & Baloney

Wonder down Cheltenham Road and you'll come across this little gem of a shop, which stocks a variety of vintage goodies including upcycled furniture, homeware and crockery. All the items on offer have lovingly hand-picked by their team, which means visitors to the shop get only the very best. And once you've found yourself something really unique, you can unwind in their lovely tearooms – which upkeep the vintage theme with their decor and ambience.
What people say: "This is a gorgeous vintage boutique selling clothing, accessories and furniture. The thing I love most about this boutique is that I can browse for my next vintage piece followed by delicious tea and cake in their tea room." – Niki Whittle, Guide 2 Bristol
Website: http://www.coxandbaloney.com/              Telephone: 01779 443100

Spending quality time with your other half is essential for keeping the relationship fresh. Luckily Bristol is chock-a-block with fun things to do as a couple…
Lido Spa

Located in the picturesque village of Clifton, the Grade II listed Lido Spa dates back to 1849. Facilities include an outdoor heated pool, hot tub, sauna and steam room, as well as a tearoom and restaurant. Full day spa packages start at £92 but given how popular their skilled therapists are with guests it's worth every penny. A swim in the outdoor pool offers a unique experience and the restaurant serves high-quality ingredients cooked to perfection. Perfect for a day of TLC with your loved one.
What people say: "I was very well looked after during my full body massage and left to relax afterwards in the tea room overlooking the pool. And then, what better than a cake and a cup of tea in the café (or a glass of wine and some tapas in the bar)? It's a quirky and sophisticated set-up where you will feel sufficiently spoiled." – Emily Koch, Bristol Post
Website: http://www.lidobristol.com/spa            Telephone: 01179 339530
The Matthew

The Matthew docked at Bristol is a replica of the same ship that John Cabot and his crew sailed to and discovered America (not Christopher Columbus as most believe). Although to have a look around the boat and dock is free, a boat trip is a nice way to hear about the history of the ship and see the city at the same time. For some romantic sightseeing, opt for the Avon Gorge trip – which is a three to four hour cruise down the Avon, under the Clifton Suspension Bridge to Pill and back. The perfect daytime activity with your loved one.
What people say: "This trip is great for spotting wildlife and not just birds, we also saw a deer. The crew are volunteers but are skilled at sailing this replica sailing ship, always ready to answer any question you may have. You can get a cup of tea or coffee and light refreshments during the trip." – Colin M via TripAdvisor
Website: http://www.matthew.co.uk/            Telephone: 01179 276868
Bristol Hippodrome

The grade II listed Bristol Hippodrome offers visitors the chance to revel in the building's history whilst enjoying the wide variety of entertainment on offer. Whether you're into ballets, comedy, opera or theatre – there's something for everyone here. For the perfect romantic evening enjoy a pre-theatre meal out at one of the many nearby restaurants and head to the Hippodrome to see a show. Long-running favourites include Halfway to Paradise and Oklahoma.
What people say: "Saw Wicked last night and it was just that! An amazing show, a beautiful theatre – we were looked after so very well by Hannah the duty manager and her team. And the performances were outstanding. Thank you Bristol Hippodrome. A truly memorable night!" – Debbie Redmond via Facebook
Website: http://www.atgtickets.com            Telephone: 08448 713012
First Flight

If you and your other half are keen adventurers and have always wanted to see Bristol from above this is a great way to do it! On offer are champagne flights where you travel in a small group with other people or, if you're looking for something really special, premier flights where you and your significant other get the balloon all to yourselves! You can fly from multiple locations and previous customers love the knowledge, organisation and consideration to locals demonstrated by the staff, as well as how intimate and personal the flights feel. Don't forget to look out for First Flight at this year's International Balloon Fiesta!
What people say: "After deciding to pop the question in a hot air balloon and quick Google search later, I found First Flight. The personal service provided from the initial call to the actual flight was fantastic, in the week prior to the flight. Nigel was very flexible and kept me updated on the best weather conditions and ideal flight times. The flight itself was a truly amazing experience." – Imesh P via TripAdvisor
Website: http://hotair-balloonrides.co.uk/           Telephone: 01934 852
Puzzlair

If you're after something a bit different and love a high-adrenaline challenge, this is perfect for you! Located in an inconspicuous building on Midland Road, Puzzlair is a real-life 4D escape game where you have 60 minutes to work your way out by collecting evidence, solving codes and finding hidden secrets. Participants will enjoy friendly and knowledgeable staff and two rooms to choose from – meaning you can return and experience something completely different next time! This clever and unique experience will certainly bring you and your beau closer together and has earned Puzzlair a mention inThe Bristol Post.
What people say: "Fantastic hour trying to solve the mystery and find the clues. We didn't succeed but it was great fun. Staff were very helpful. Fantastic birthday present. Would highly recommend this if you want something completely different to do." – Pete H via TripAdvisor
Website: http://www.puzzlair.co.uk/             Telephone: 07706 053498
We hope you enjoyed our Ultimate Guide to Bristol and have found something new within this marvelous city. Remember that there is always more to be discovered, so if you think you've come across a hidden gem we've missed why not share it with us on our Facebook or Twitter pages?
If you're new to or visiting Bristol, our community and events  page is the perfect place to get involved with what's going on in the local area. And don't forget that you can list your own event FOR FREE too!
For more articles like this, as well as competitions and exclusive offers, sign up to our newsletter. It only takes a few seconds and ensures you'll be the first to know about what we're up to!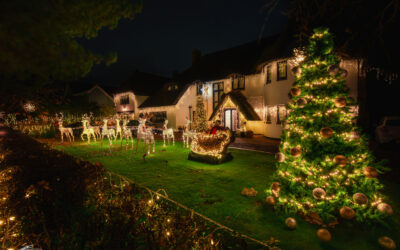 People across Sussex have decided to put up their Christmas lights earlier this year. After a tough year behind us they have decided to spread some festive cheer around the community. Louisa Light from Burgess Hill decided to create a Facebook group for anyone...