Take a step back to the 1870s to help Phileas Fogg on a thrilling immersive theatrical adventure around the world.
You'll need your wits and courage to complete a truly daring quest full of challenges and puzzles across 5 continents. This immersive, interactive theatre experience spreads across 16 adventure areas (by the team that worked on Star Wars, Harry Potter and James Bond to name a few).
It has been carefully created for audience groups of all ages. There are two versions of the adventure, one specially designed for families and children, and a more challenging version for an adult audience.
You will join a small group of fellow adventurers (maximum group size of 12) starting aboard a recreation of a vintage train at Paris as you and your group immerse yourself in a whirlwind tour across five continents, escorted by Phileas, meeting theatrical characters and challenges along the way.
Time is of the essence as you are being pursued by Detective Fix from Scotland Yard so You'll need all your wits and courage to solve the challenges and collect the unique artifacts that will help him complete his mission and prove his innocence.
Once you've completed your mission, you'll be led to the splendidly relaxing Reform Bar (fully licensed) and Indoor Garden Room, where you can unwind and enjoy a well-earned drink or a light bite to eat.
We also have rooms available for private hire for groups, parties, Corporate events etc see the Venue Hire page for more information on these.
Winter Wonderland
Join Phileas Fogg on a magical, fun packed immersive live pantomime adventure around the world to meet Santa.
The Experience runs every weekend until Christmas from 24th November (including 24th December). The experience includes; a whirlwind trip around the world to the North Pole, a Gift from Santa, Access upstairs to the Winter Wonderland Where you can write to Santa using his postmaster.
Enjoy fun and games with Santa's mischievous elves. Decorate gingerbread or make reindeer food with Mrs Claus's helpers. Relax in our bar or indoor garden room surrounded by Santa's helpers, where you can purchase snacks and drinks inspired by the Christmas season.
For more information and to buy tickets for Phileas Fogg's Winter Wonderland, click here.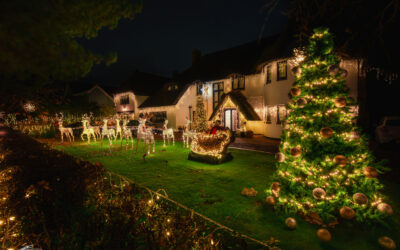 People across Sussex have decided to put up their Christmas lights earlier this year. After a tough year behind us they have decided to spread some festive cheer around the community. Louisa Light from Burgess Hill decided to create a Facebook group for anyone...