This Month at Friday Ad we are highlighting the top industries within the UK and this week we will be concentrating on Transport and Logistics. The field of Transport and logistics offers a wide variety of jobs from drivers and couriers to warehouse managers and operatives. With the convenience of shopping over the internet more and more people are opting out of shopping at the high street and the digital marketplace is booming- therefore so if the Transport and Logistics sector! It is currently the 3rd most popular job sector in the UK.
The job market is getting more competitive and more and more people are having to battle it out in order to secure the jobs they want. In 2014 the top 4 categories of the job section of the Friday-Ad job section are: Hospitality & Catering, Engineering & Construction, Transport and Health and Social care. If you are considering applying to enter any of these fields then keep a look out for our quick guides to the top 4 job categories of 2014 to find out more information about the jobs available in each sector and the salary brackets. All of us at Friday Media Group wish you the very best of luck in your job searching!
Jobs in The Transport and Logistics sector:
Warehouse operatives, couriers, royal mail, Warehouse management, transport management, transport planners, transport and logistics management, inventory management, distribution and public transport operatives.
Top Job in this sector: Logistics and Transportation Manager

Description of Transport and Logistics Manager role :
Logistics and Distributions Managers organize the storage and distribution of goods for large commercial companies such as Amazon and various supermarkets as well as other large companies. In this role you would ensure that the right products are delivered to the right location on time and at an affordable cost to the company. You may be involved in the transportation of the goods, checking stock control, managing the warehouse where the goods are kept and monitoring the flow of goods to make sure they all arrive at their designated destinations. More experienced Managers may have to liaise with suppliers or raw materials, manufacturers, retailers and consumers.
Potential Salary: The starting salary for a logistics and distribution manager is between £16,000 and £19,000 but this pay bracket reflects a low level manager and experience has to be gained to increase the salary margin. As manager complete more training and increase their responsibility their salaries can jump from £25,000 to £35,000 (depending on the company) Middle to senior management level salaries range between £45,000 and £60,000! And there is a potential to reach even higher in large multi-national corporations! Essentially with transport and logistics management, the more responsibilities you take on and the more training you complete the higher your salary will be.
Skills/Qualities needed to become a Transport and Logistics Manager.
Many Universities offer Diplomas of varying levels of Transport and Logistics that can lead to careers in the sector. Larger companies will have training schemes that allow graduates to experience different logistic roles. These schemes typically last 18 months. Many companies require graduates to take professional qualifications such as a diploma or advanced diploma Certificate of Professional Competence (CPC), also available as the international CPC supplied by The Chartered Institute of Logistics and Transport (CILT) UK. Continuing professional development (CPD) is very important in this industry and CILT UK has a CPD scheme to help with this. Membership of a professional institute is advantageous and demonstrates commitment to the profession and to lifelong learning.
To become a Logistics and Transport Manager you will need to posses the following skills:
You will need good communication and customer service skills to succeed in this sector.
Many jobs in this sector require people with problem-solving skills, who can remain calm in a crisis.
Many jobs in this sector do not require educational qualifications for entry.
Apprenticeships are available in many areas. Many large employers offer graduate training schemes.
Most organisations provide training for new entrants, followed by regular in-house courses to update knowledge and
skills. It is possible to study for relevant qualifications, such as NVQs.
You will need to be able to lead a team and show good leadership skills as well as make decisions and work to deadlines.
A knowledge of I.T and Maths is an advantage.
Good problem solving skills and time management skills.
If you are interesting in working in the Logistics and transport industry, take a look on Friday-Ad. You might find the job you're looking for.
Search Logistic and Transport jobs here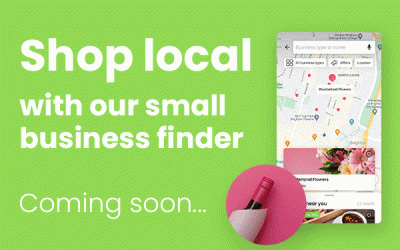 Our Friday-Ad app is launching an exciting new feature exclusively for Brighton. A new 'small business' finder!This is to coincide with Small Business Saturday, an event which takes place on the first Saturday of December for small businesses to run any offers.Our...
read more