Long after you've said your vows, had your first dance and eaten every last crumb of wedding cake, your photos serve as a permanent memento of your special day. Here are some tips for ensuring that you find a photographer who will capture your day perfectly.
Allow yourself plenty of time for research
Photographers are busy and can get booked up well in advance. Once you know the date of your wedding, start researching photographers in your area. You can also ask friends who have recently tied the knot which photographer they hired for their big day. They might be able willing to tell you about certain things that they liked and didn't like, and offer some words of wisdom as you begin your search. Have a look at local photographers' websites and take a look at their portfolios to see what stands out. Do all of their photos look similar? Or is the photographer a bit more creative with a couple's poses and the locations and backdrops?
Making contact
Contact a few photographers you like and see if they are available to cover your wedding day. Compare prices, making sure that you ask for a detailed breakdown of the costs. The total fee charged will depend on how long you want the photographer to spend at your wedding, how many pictures they take and whether you are given a physical album, a digital disc of images or a link to download the pictures yourself. It's also worth finding out about a photographer's terms and conditions, as well as their cancellation and insurance policies.
Arrange to meet with a shortlist of potential photographers
Talking to the photographer in person will let you get a sense of how much passion they have for their work. Arrange a meeting so that you see their work in more detail and discuss your needs before making a firm decision. A photographer who is truly passionate about their job will most likely light up and be very enthusiastic as they talk to you. A meeting will also ensure you feel comfortable with them. The photographer is going to be with you for pretty much your entire wedding day, and you really don't want to be spending what is one of the best days of your life (if not the best) with someone you don't like. You also need to be sure that they have a good attitude, and that they don't come across as forceful or pushy. It may be that you want a mixture of formal lineups and more natural shots, so you need to ensure the photographer you pick is prepared to incorporate both styles. You should ask lots of questions, including about how much experience they have, how they cope with equipment failure or poor weather conditions and how they edit their images. For example, will you get all colour photographs, some black and white, or some with other effects? Ask to see a couple's full wedding album so that you see every shot that was given to a couple, not just the few shots that a photographer prefers.
Once you've made your decision….
Confirm all arrangements in writing and make sure you have copies of any relevant paperwork. If a deposit is required, make sure it is paid and you have confirmation of payment. Give your photographer plenty of information about your wedding venue, reception venue (if different). The more information you can give them, the easier their job will be and the more likely you will get the images you would like. Make a detailed list of any particular shots you definitely want your photographer to capture, such as the bride's parents, the groom's parents, or siblings and their families. While large group photos are common, you don't want to look back after the day and realise you missed some important smaller group shots.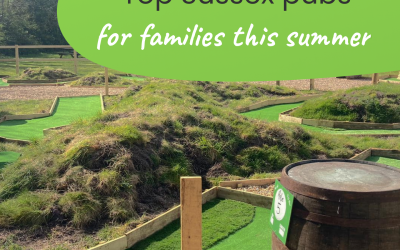 With so many pubs on offer in Sussex, sometimes it can be tricky to find one that's perfect for your family. Ideally you want one that's child-friendly with a nice, warm atmosphere. We've searched up and down Sussex, and compiled a list of a few of our favourites that...
read more