Choosing the best Christmas presents for different members of any family can prove quite the task at the best of times. So we thought we would lend you a hand and show you what's popular and going to get you into everyone's good books, for now anyway…
Parents
Contrary to popular belief, parents' favourite Christmas presents aren't always socks, so we thought we'd have a look to see what else they're into, the majority of which is displayed below…
CD Players/Speakers
Everyone loves music, be it Justin Bieber or The Beatles. A Music System like this is always a safe bet around Christmas time and often a real winner, especially with parents as they now have a platform to showcase their favourite holiday tunes around the dinner table for all the family to enjoy, who doesn't want that?
Slippers
We know what you're thinking, so similar to socks? Think of it as an upgrade, socks' younger, better looking brother! Slippers are in fact, according to research one of the most popular festive gifts for parents! We can guarantee once your parents open these up, they won't be taking them off all day or for most of the festive season.
Jumpers
No, not necessarily Christmas jumpers… But, jumpers in general are a great Christmas gift for your Mum and Dad! Why? Because it's Winter, it's cold and who doesn't love new clothes? Similarly to slippers, we wouldn't be surprised in the slightest if your parents cannot contain their excitement and wear this gift over the entirety of Christmas Day.
Pets
You're only lying to yourself if you say you don't want to get your furry friend a gift this year, they'd most likely be happy with anything you choose. But just in case they aren't, here's our best presents for pets!
Toys
The right toy for your pet will go down an absolute treat and ensure not only they know they are a loved member of your family but, that everyone else knows too! Choose wisely and your pet may well be parading their new toy around with pride all over the festive season and beyond. We would greatly recommended this Cat Grooming Toy, it's so popular and can be found on Friday-Ad!
Jumpers/Coats
Dress your pal up in something that everyone will be in awe of this Christmas, although they are not guaranteed to like it, everyone else probably will, so we think it's well worth it!
Kids
Kids are notoriously the most difficult to please, make sure you take note of this one, or you could spend the next 12 months regretting it and no one wants that…
Games Consoles
This is more for the lads admittedly, but you can't really go wrong in buying a games console. They were popular in the 90's, they are popular now and they will be for many years to come. We recommend buying a console in with a games bundle in order to get the best value for money, many of which you can find on Friday-Ad!
iPhone/iPod Accessories
Let's be honest, they've all got one nowadays, whether it's the latest iPod or iPhone, Apple are taking over the world! So any child will be thrilled with a new gadget to go with their favourite toy, there are tonnes of crazy additions for Apple products that I bet you didn't know existed, nor them so what better what to impress the younger generation?
Sports Equipment
Whether it be a new hockey stick or pair of fresh football boots, all kids adore new sports kit, especially items that will make them stand out from the crowd. So why not step up your game and get them something that they'll be sure to remember? Thankfully on Friday-Ad we have hundreds of different sports equipment items listed, for bargain prices too that will wow the little ones.
All Round Winners
Splashing the cash this Christmas? Avoid those high priced fads that'll be lost in the memory after a few months (Tamagotchis) and ensure you purchase something that'll last and be truly appreciated, for example…
iPads
iPads have so many functions, they can be used for work, to watch movies, or even to play games on, not to mention many more. That is why they make for a perfect family gift, although no doubt you'll all be fighting over who gets to use it most of the time! Their simplicity make them so easy to use for all ages, they also come in different sizes and ranges to fit the majority of tastes and price brackets.
Designer Handbags
This one's for the ladies, we've been well informed that designer handbags go down an absolute treat and will keep you in your woman's good books for the foreseeable future! You may have to spend a little extra cash for the real deal but, it's well worth it! As the saying goes, you really do get what you pay for.
---
Getting the right presents for the festive season can be a real pain! But, we hope you found this article helpful and aids you in getting the best Christmas presents to date, there's no better place online to find these kinds of gifts than the Friday-Ad website, where we offer high-street brands and products, for a fraction of the price.
If you did find this article useful, or if you think we missed out some crucial tips, connect with us via Facebook and Twitter and let us know.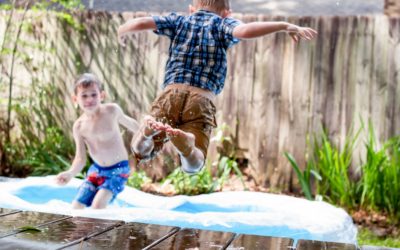 For busy parents, the summer holidays can be a challenging time to keep your children from being bored. So, how can you keep your kids from running riot? Here's 10 fun activities the little ones occupied this summer... Start slideshow... Taking your kids camping is an...