Are you a small beauty business looking to increase your customer base? You don't need the marketing budget of L'Oreal to attract a few more clients. In fact, there are plenty of marketing tricks that don't involve spending a single penny, and are proven to bring in that all important business. Knowing the ropes of effective marketing ideas can work wonders for your beauty business. Follow our 8 simple hacks, and you'll be well on your way to a transformation of your own.
1) Create a decent website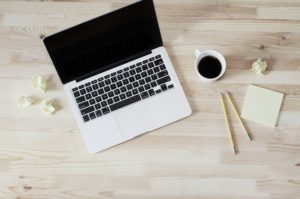 First impressions mean everything, so having a professional website is vital for attracting clients. Remember, this is the first place any potential customers will go to to find out more about your business and what it offers. It's important that it not only looks great but is user-friendly too. You have to bear in mind that most humans are very impatient, so if there's anything on there that puts them off, they'll just flee your site and go elsewhere online. Don't worry though, you don't have to be a tech wizard to have a smart website. If you are on a budget, sites like WordPress and Wix will allow you to build a site for free, or a very low-cost and also come equipped with plenty of free templates, so the work is done for you!
2) Become a social media guru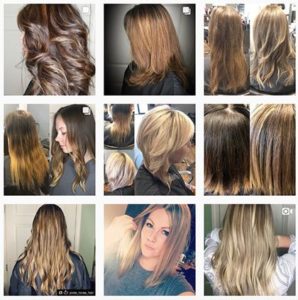 This may sound obvious, but these days this is the first place to start attracting new customers. Social media is vital for building your brand as a whole. Being a beauty business, it's likely that a high proportion of your customer base will be the younger crowd which is also the highest percentage of social media users. Different channels can help your service in particular ways. For example, Facebook is a useful platform for reaching large audiences, targeting certain demographics (for example girls between the ages of 18-30) with paid advertisements linking back to your site. Instagram, on the other hand, is a fantastic way to showcase your skills or services visually like an online portfolio of your work.
Image sourced: https://www.pinterest.co.uk/pin/328903579034942046/
3) Set up a 'Google My Business' page and encourage customer reviews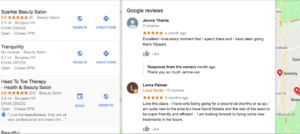 According to research (Business Wire), 87% of potential buyers seek customer reviews as a tool to help make them decide to buy a product or service. So having some positive feedback relating to your beauty service can do wonders for your business! Setting up Google My Business will allow your business to appear on Google Maps but also provide a platform for customers to review your service.
4) Use free online advertising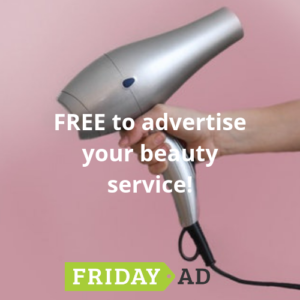 We'd highly recommend advertising on free classified sites such as Friday Ad, where professionals like you can promote your business to thousands of people interested in the service you provide. The best part is, it takes seconds. Simply upload your business info, a few good photos, and you're on your way! What have you got to lose? It's FREE!
Do you offer beauty services? Get your business seen by more people by advertising for FREE on Friday-Ad!
5) Use 'daily offers sites'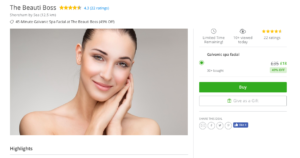 Everyone loves an offer. So by advertising on daily coupon sites such a 'groupon' and 'wowcher', it could help expose your business to a world of possibility. The 'limited time only' offers these sites promote, means you can quickly attract new customers who may not have otherwise heard of you. One thing to note though – always make sure you are making a profit from any deals you offer on there. Sites like Groupon and Amazon have had a bit of a reputation of taking a large chunk of sales on their sites. So watch out for this!
6) Sponsor events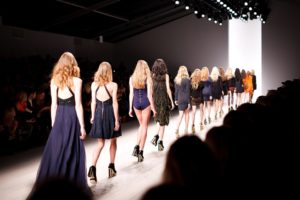 Get stuck in! Straight-forward public relations is a great way to get your business out there. Get involved in the fashion and beauty community by attending more events. For example, you could sponsor a local fashion show? Alternatively creating contra deals with events such as offering your styling or beauty services in exchange for some advertisement at the show. Networking is a great way to become familiar within the industry. Just by mingling with the right crowd, you can soon become the go-to person when your beauty service is needed!
7) Run a competition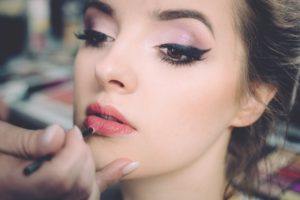 There are two main reasons running a competition is great!
Great for brand awareness

Brilliant tool for accumulating contacts which could eventually convert into customers.
Have a brainstorm of low-cost prizes you could offer. How about giving away a free manicure? Or a makeover for two? People love freebies, so offering prizes like these is a very effective method for encouraging people to engage with your business. They cost you little to nothing, but get people talking about you!
8) Build Business Buddies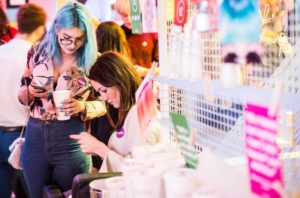 A great inexpensive way to reach out to new customers is to cross promote with other businesses within the same industry. The way this type of partnership works is if you share the same clientele but offer different services. For example, if you're a tanning salon, you're likely to attract the same customers as a nail manicurists. Therefore, you could set up some sort of loyalty scheme, so that when one customer visits one, they'll get a discounted rate if they were to visit the other.
Do you have a beauty service to offer? Join thousands of other people within the industry advertising their service on Friday-Ad for free!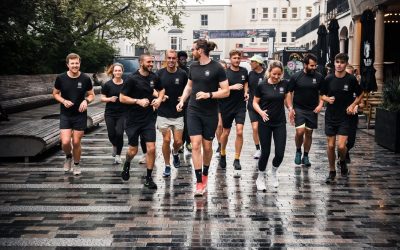 Run The Lanes brings a brand new fitness community to the heart of Brighton. They provide group-based strength training classes and a social running club to the people of Brighton, helping you to move more and move together. Through their run club, fitness classes and...
read more