Neutrals are definitely in fashion, but without a little colour in your home, they can seem drab and boring. The good news is that you can have that stylish neutral colour scheme and perk it up with colourful accents. Here are the ten best ways to liven up your living space with a bright, beautiful colour.
1) Hang Colorful Artworks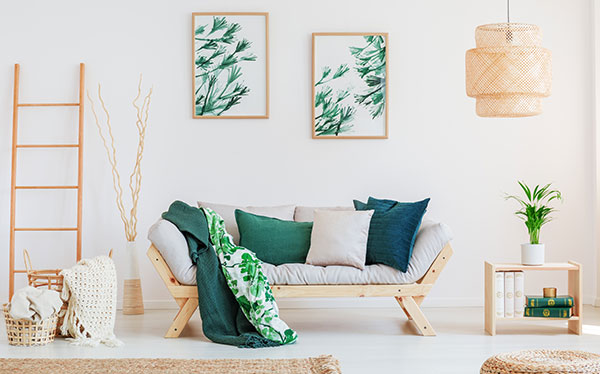 Art is not only interesting, but it also offers a virtually unlimited number of color combinations. Find a piece of art you enjoy and hang it in any room. For a big impact, choose a large painting. If you're on a budget, you can often find pictures at a local art fair.
You could also pick out a brightly-hued art poster or a colorful sculpture. Or, you can simply get some paints, brushes, and a canvas and create your own. 
2) Throw on Some Accent Pillows
A steel-gray couch may be the height of fashion, but adding bright accent pillows can make it even more appealing. In fact, any neutral color makes the perfect backdrop for the pops of color you can inject into your home décor with colorful throw pillows. Primary colors make a dramatic impact, so don't be afraid to choose bright reds, yellows, or blue pillows.
You can also find pillows with stripes, geometric designs, or floral patterns that combine two or more colors.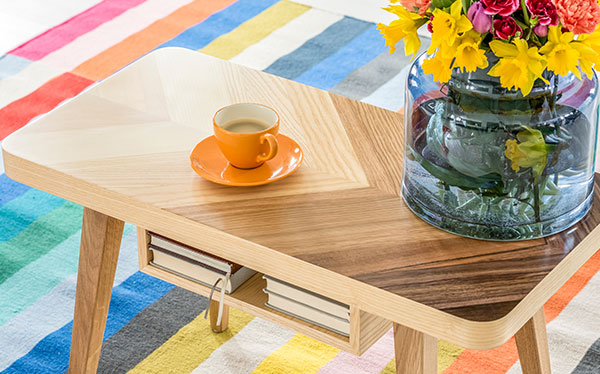 A vividly-colored rug gives your rooms a lively look. If you already have the furniture you want, choose a rug that works with it.
For living room furniture that has a solid color, look for a striped or patterned rug. If your furniture has a pattern, select solid-colored pillows to avoid making the room look too busy. The key is to balance the colors and patterns to create a peaceful but interesting space.
4) Bring Flowers into Your Rooms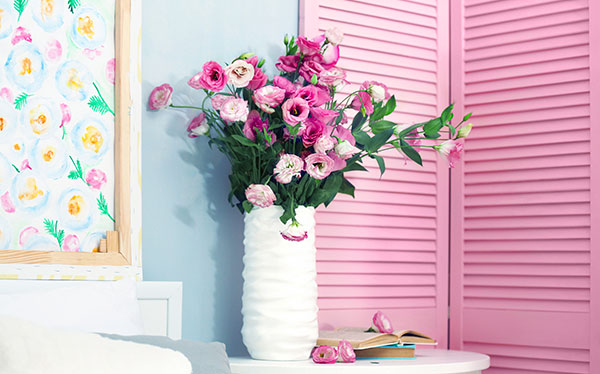 Flowers have some of the loveliest colors on earth. Dress up your room with fresh flowers whenever you can. For yellow accents, choose flowers like calla lilies, gerbera daisies, or chrysanthemums. Bring in splashes of red with roses, ranunculus, or dahlias. Blue flowers like delphiniums or irises work, too.
Order flowers online, cut them from your garden, or grow them from seed. Add an assortment of flowering plants that bloom at different times to keep the color going. 
5) Put a Tapestry on the Wall
Tapestries are known for their intricate designs and fascinating weave of colours. Hang a tapestry in your entryway, your living room, or your bedroom.
You can choose from vivid hues as well as more subtle colour combinations. If you don't want to lay out the cash for a new tapestry, look to get a second hand one such as online marketplaces like  Friday-Ad, thrift stores or even at yard sales. You may even find an attractive tapestry hidden away in your attic!
6) Choose colourful curtains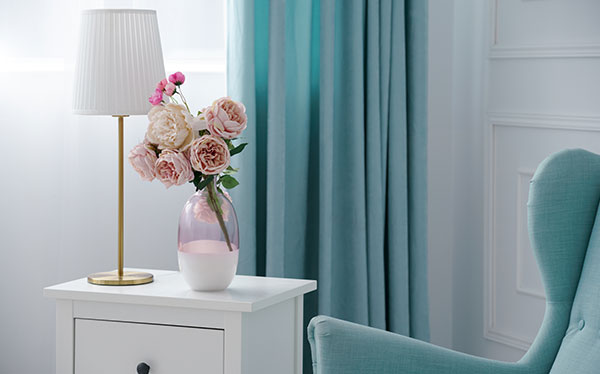 You don't have to match your neutral furniture with neutral curtains or drapes. Why not choose curtains that add a little pizzazz to your room? Choose one intense color or a gorgeous combination of colors. Create whatever look appeals to you.
A great thing about brightening up your room with colorful curtains is that you can easily change them out for a different set if you ever want a fresh look.
7) Go for brightly coloured furniture
With all this talk about neutral-colored furniture, you might think you can't have a bright red couch or a purple chair. But of course, you can. You probably won't want the entire roomful of furniture to be brightly colored, but one colorful piece can make a huge difference.
You'd be surprised what unique furniture finds you can spot on Friday-Ad!
When you think of adding color to your décor, you might not consider the lighting. Because lights usually serve a practical purpose, it's easy to overlook them when you're planning your color scheme. However, lamps and light fixtures are available in a wide variety of colors.
If you're renting your home, you can bring in lamps with colorful shades and bases. If you own your home, you can go a step further and replace boring light fixtures with almost any color you want.
9) Paint Your Ceilings in Bright Hues
How many ceilings have you seen that are plain white? Probably more than you can even remember. By painting your ceiling in a colourful shade or pattern, you bring a fascinating look to your room. You also create a sense of spaciousness as your guests look up to the ceiling.
10) Opt for Colorful Appliances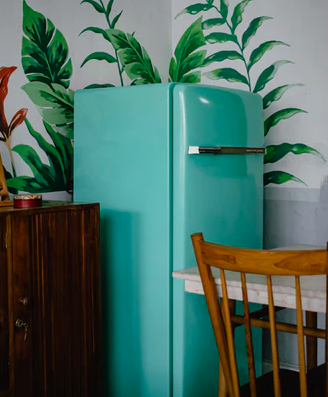 This suggestion works perfectly if it's time to replace your old kitchen appliances. When you're shopping for your next stove, refrigerator, and dishwasher, try to find models that come in different tones other than standard white, brown, or stainless steel. Your kitchen will be a much more cheerful place. It will also be uniquely yours as you decorate the rest of the room in complementary colors. 
Color certainly can give your home décor a much-needed boost in interest, attractiveness, and cheerfulness. With all these options to choose, you can create a space you'll truly enjoy.
Article written by Sydney Tierney, Guest Blogger
Author bio: Just recently finished her studies; is working her way into the world of content writing as a digital marketing assistant. She writes for clients that specialise in wedding bands, velvet pouffes, all the way to Gaming PCs!